I made this startling discovery on Thanksgiving at the North Fork Hostel in Montana.
I say discovery because I can only assume that this is a recipe which was just waiting to be born. I created a robust stuffing out of all kinds of speciality ingredients (like prunes and spring onions and boiled rice as a base) and many leftovers (I believe some Rama Noodles may have been involved!). Also I think there were some kind of nuts thrown in... well, you get the idea. I stuffed a chicken with this mixture and then forced the reluctant creature into a pumpkin (you will either need a large pumpkin or a small chicken) by cutting off only the top and emptying out the seeds. I then filled the gaps with more leftover stuffing and chopped pumpkin flesh though you could probably use a different stuffing for that extra-special Thanksgiving occasion.
Then bake away.
Be warned, though, it takes a hell of a lot of baking, so set aside several hours and bake slowly, otherwise you might end up poisoning the whole Hostel. Sorry Guys!
Pumpkin In A Chicken In A Pumpkin
main fowl
A pumpkin
A chicken

100g roasted chestnuts
1 onion, peeled and roughly chopped
12 dried apricots
a small bunch of sage leaves (and any other herbs)
4 thick slices white bread, crusts removed
500g pork mince
1 tablespoon ground cinnamon
a splash of grand marnier, or cognac
salt, pepper
½ small butternut squash, peeled and deseeded

Put the apricots to soak in the liquor. Roast the chestnuts: cut a large X into the skin on the flat side of each chestnut, put in a shallow baking tin to roast in the oven at 200°C/400°F/Gas 6 for 30 minutes or so. Peel immediately before the skin hardens

Put the chestnuts, onion, apricots, sage leaves, bread, mince, cinnamon, a good pinch salt and pepper into a food processor and whiz until combined.
Chop the squash into roughly 1" pieces, add these to the mince mixture and stir to mix.

Briefly roast the chicken to crisp up its skin at 250°C gas 9.
Cut off the top of the pumpkin, deseed it, stuff the chicken with the stuffing mixture, then stuff the chicken into the pumpkin,
Bake at 1890°C/375°F/Gas 5 for 4 hours or so. Use 20 minutes per lb. for the combined weight, and don't undercook it. The pumpkin will protect the chicken to a degree, but cover any exposed chicken and stuffing with foil or the pumpkin lid after 30 minutes to an hour, when it starts to brown.


The Eldorado Pumpkin Fest
This is about the third or fourth time I've attempted this meal so it's getting a bit slicker!
Firstly I managed to get out early enough to find a large enough pumpkin. Or five. In fact, I only found pumpkins which were a little too large. This means the pumpkin fills up too much with water and the chicken ends up boiling rather than roasting. I think this might have been O.K. except that it seems to take a lot less boiling time to over-cook the chicken. I cooked the whole thing for about six hours this time, the pre-roasting of the empty chicken, followed by about an hour roasting at a normal temperature (Gas 5) with the lid off. Then the pumpkin and the Eldoradoes travelled to the dinner venue together, whereupon the pumpkin was boiled for another 5 hours with its hat on. Two or three would probably have been enough.
Sigh.
It's a tough job, judging the cooking time for this beast.
It might have meant less boiling if I had bled the beast earlier (see below), but I was reluctant to do that lest it start to burn.
Anyway - keep an eye on it towards the end - you might need to turn the temperature down if it shows too many signs of charring. It will keep warm for quite a while after you take it out if it seems to be ready much too early.
Secondly I made a rather neat little hat for the beast with holes for the legs to stick out. This doesn't really affect the cooking process (other than protecting the chicken rather well) but it makes for a dramatic entrance! We also found a nice dish to sit the pumpkin which fitted like a glove. Or a sock. I suppose this meant the pumpkin was less likely to burst, but it did still sag a little. In fact, when it began to cool after coming out of the oven, it looked to be on the verge of collapse, and that's when I discovered the pumpkin was full of juice. (Which incidentally, is why I'm glad I hadn't filled the gaps with spare stuffing - it would have dissolved to mush.) Anyway,it was at this point that I decided to bleed the beast by piercing a small hole through the shell at the base of the pumpkin and tapping off the liquor with a ladle. Not only did this seem to stop the beast collapsing any further, but it meant it dried it out for the opening ceremony
Thirdly I discovered a neat way of opening the pumpkin to make the beast easier to carve. If you slice it more-or-less down the sides of the chicken you can peel open a section at the front so the chicken looks like it's wearing a dickie. This way the breast is nicely exposed for carving, and there's a handy section of pumpkin for those who want some.
Pumpkin Pie
dessert veg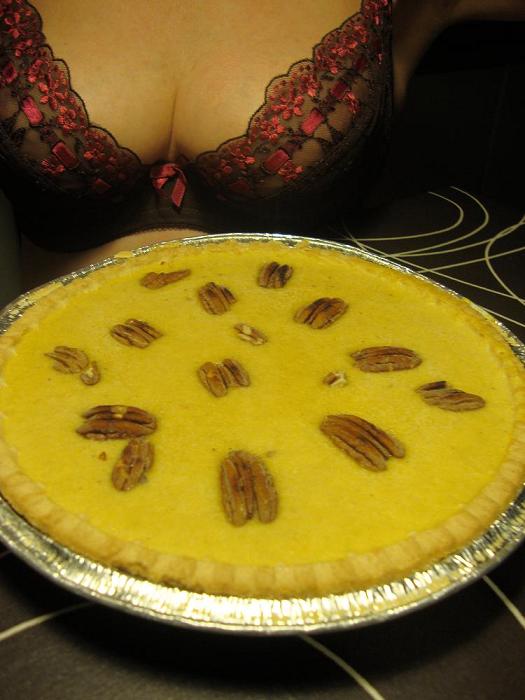 pie pastry
for a 3 shallow 8½ inch pie dishes
3 eggs
½ cup maple syrup
1 teaspoon cinnamon
½ teaspoon freshly grated nutmeg
1 teaspoon ground ginger
2 strands saffron (optional)
1½ cups
pumpkin purée
½ cup sour cream
½ cup heavy cream
½ cup toasted pecans (optional)
2cups/1 pint heavy cream, whipped
½ cup maple syrup
Preheat the oven to 350°F/180°C/Gas 4.
Beat the eggs in a large bowl with an electric mixer until they are light and frothy. Add the maple syrup and beat until they are well incorporated. Mix in the spices.
Beat in the pumpkin purée and creams and mix until smooth.
Pour the mixture into the prepared pie crust(s). Toast the pecans, if you're using them, in a dry frying pan for a few minutes until they start to darken. Break them up and fold them into the mixture before pouring, or use them whole to decorate the top.
Bake for 45 minutes or so until ready, then cool on a rack.


Pour a generous amount (probably ½ cup or so) of maple syrup into a bowl and gradually incorporate a pint of double cream. Adjust the quantities to taste.
Fill your cream foamer with this mixture if you have one, or just whip up the cream by hand if you don't and serve the pie with this gorgeous Chantilly-style topping.
Cream Cheese Pastry
ingredient veg
This recipe tends to be a bit lighter and flakier than the traditional pie crusts. They key to this crust, like most pastries, is keeping everything very cold. If you are doing the crust by hand, place all of your tools and even your rolling surface in the freezer or frige. If you are using a food processor, try to refrigerate any of the parts that you safely can. The butter and cream cheese should come directly out of the frige. You can also keep the flour in the freezer for an hour or so before starting to get the best results. This pie crust does take a long time to make, just because of how often you have to cool the ingredients.
- Wen
Makes (just) enough for 3x8½" dishes or one deep 10" dish
12 tablespoons unsalted butter, divided
1⅔ cup plain flour
¼ teaspoon salt
4½oz cream cheese
2 Tablespoons ice water

Divide the butter in half and cut into small cubes. Wrap each half separately in plastic wrap and chill for 30 minutes.
Process the flour and salt in a food processor for a few seconds to combine. Add half of the butter cubes and the cream cheese and process until the mixture resembles coarse breadcrumbs. Add the rest of the butter and process for a few seconds until the mixture resembles small peas. Be careful not to over-process.
Add the ice water and pulse twice.
The dough will look dry but should hold together when pressed. Pour the crumbs into a plastic bag and gently knead the dough together until it holds together and can form a ball. Do not over-knead.
Remove the dough from the bag and divide it in half. Wrap each half in plastic wrap and flatten it into a disc. Refrigerate for at least 2 hours.

Roll crust on a cold surface with a cold rolling pin. Bake crust alone, or with favorite filling. This crust also freezes extremely well and fruit pies made with this crust and frozen raw come out better than pies baked fresh.

To make the crust by hand, separate the butter, cube and refrigerate as above.
Place the flour and salt in a medium bowl and whisk to combine. Use a pastry cutter or two knives to cut half of the butter and cream cheese into the flour mixture until it resembles coarse breadcrumbs. Cut in the rest of the butter until it resembles small peas. Sprinkle the ice water onto the dough and gently mix. Gather the dough together and lightly knead until it forms a smooth ball. Divide the ball and form into two discs.
Refrigerate for 2 hours and follow the directions above.
Pumpkin Purée
ingredient veg vegan
1 pumpkin
Preheat the oven to 350°F/180°C/Gas 4. Cut the pumpkin in half and scrape out the seeds and threads.
Reserve the seeds for toasting. Place the halves cut side down on a greased baking tray.
Bake the pumpkin until it is very tender and can easily be pierced with a fork. A 3 pound pumpkin takes around 1 hour, and produces around 3 cups of purée. Set the pumpkin aside to cool.
When it is cool enough to handle, cut the skin off with a sharp knife. Chop the flesh into pieces small enough to fit in a food processor and process until puréed. Force the purée through a sieve for bonus points.
You may need to reduce the puree in a saucepan if it is too watery at this stage. Now you can cook the seeds on a tray with a little butter and generous dose of salt in a cooler (300°F/150°C/Gas 2) oven for 15-30 mins or so.