Fish 'n' Chips
A meal guaranteed to go down well with fussy girls.
Or at least, the chips are.
Cod fritters with chilli ginger tomato sauce
main fish
Serve any leftover sauce with barbecued meat or fish
Prep time: 30 minutes
Cook time: 45 minutes
Do ahead: You can part cook the fish an hour before using. The sauce will keep for several days in a jar, chilled.


plain flour seasoned with salt and pepper, for dusting
1.5-2 litres vegetable oil
6 x 75-110g skinned fillets of line-caught cod
potatoes for chips

125g plain flour
½ teaspoon baking powder
½ teaspoon bicarbonate of soda
50g cornflour
a little ground coriander (optional)
a pinch of ground cumin
225ml cold lager

8 decent-sized vine tomatoes
2 large red chillies, sliced lengthways and deseeded
2 cloves garlic, peeled and chopped
1 small onion or shallot, peeled and sliced
5cm piece root ginger, peeled and sliced
1 tablespoon dark soft brown sugar
1-2 sprigs lemon thyme, leaves only
65ml olive oil
a squeeze of fresh lemon juice

To make the dry batter mix all the ingredients except for the lager in a bowl with some seasoning.
Preheat the grill to high.
To make the sauce, cut a small cross in the top of each tomato and place on the grill pan with the chillies. Scatter over the garlic, onion ginger brown sugar and thyme leaves.

Place under the grill until the tomatoes have softened and the skins are a little charred, 10-15 minutes.
Blitz in a blender and push through a fine sieve into a bowl. Add the oil, a little lemonjuice and salt and freshly ground black pepper.
When you are ready to cook the fish pour the lager into the dry batter and mix everything together using a fork; it's fine if there are a few lumps as this will produce a lighter batter.
Spread the seasoned flour on to a plate.
Pour about 5cm of vegetable oil into a large deep-sided saucepan. Over a moderate heat, bring up to a temperature of 140-160°C, using a thermometer; or drop in a little batter to test the temperature. If it rises straight to the top and fries, then the temperature is correct.
Dust and coat each fillet with the seasoned flour then dip them into the batter mix to coat well. Drop the fish into the hot oil (in batches or the temperature will drop). Turn each piece over and, when they are just coloured, remove with a slotted spoon and drain on kitchen paper. Either bring the oil back to temperature and re-fry the fish until golden to serve immediately or leave to re-fry later (up to 1 hour is fine).
Drain the fish thoroughly on kitchen paper before serving with the warmed sauce and maybe a green salad.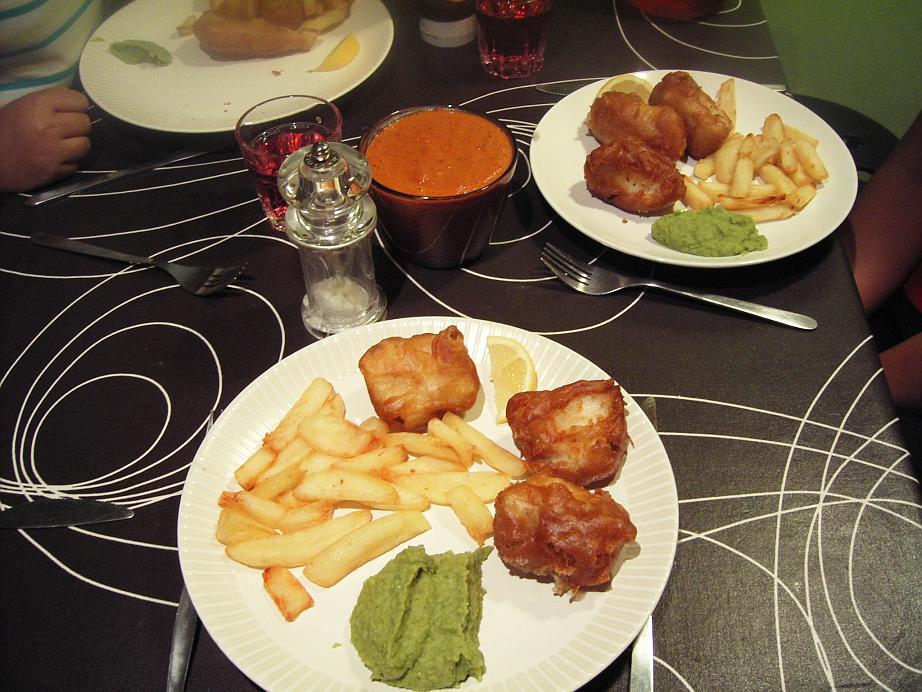 Purée Peas
side veg
butter
1 onion, chopped
lemon thyme leaves
Fresh peas, podded
white wine

Gently fry the onion and thyme in butter until softened without colouring. Add the peas, then moisten repeatedly with the wine and braise until the peas are tender.
Purée in a liquidizer, then pass through a sieve. You may need more wine/water/stock to do this.