Anno Domini 2017...
As summer turned into autumn I turned the corner of my circumnavigation of Britain at the Isles of Scilly - the furthest point in the UK from my home port of Edinburgh - and began working my way back northwards again. Or at least the Scillies
would
be the furthest point, if it wasn't for those pesky Channel Islands, which I don't count since they should really be part of France!
As I laboured my way up the rocky Cornish coast I dropped into Padstow - a delightful little harbour town and very handy berth for a small passing yacht. For a very reasonable price too, and right in the centre of the gastronomic action. Really, if it wasn't for all the bloody tourists, the place would be perfect!
Padstow is the south coast's version of an upmarket Whitby - full of quirky shops run by old hippies who've all hit upon the innovative idea of combining their speciality store with a bar or restaurant for consuming product on the premises. Thus we have a fishmongers which doubles as an incredibly cramped restaurant called
PR

a

WN

o̲

N TH

e

L

a

WN
, and there's a tiny uncomfortable bar in a wine shop called
BinTwo
which is surprisingly popular with dog owners. And the parents of small children. Curiously the two categories rarely intersect.
Notwithstanding the plethora of overwrought eateries, and much to Rick Stein's chagrin despite his
opening
about four fishy fooderies,
Paul Ainsworth's No.6
is still the only Michelin starred dining to be had in town.
And so I duly had it...
After discovering the joy of Cornish potato vodka at the bar I was seated at a table in a small alcove with a fine view of Paul's kitchen through a corridor window. And is this the cleanest kitchen in the world? Not an awful lot of cooking going on though - it seemed to be more assembly than production.
Competent enough, to be sure, but nothing that really pushed the Michelin star envelope.
:
Bloody Mary with Cornish potato vodka Aval Dor - bloody delicious!
:
Hunky sourdough bread was served with a couple of brilliant flavoured butters as well as the regular kind:
Browned Butter - sweet like caramel and absolutely gorgeous.
Cod Roe with Pork Crackling - bloody delicious!
Unfortunately the bread was too strongly flavoured to be able to properly appreciate the butters, so I asked for a white bread. Disappointingly they had only gluten-free white rolls, which were unpleasantly spongy in that characteristic glutenless way, but at least I could taste the butter!
I couldn't make my mind up between two appealing starters. So I had them both.
:
cured pork ~ green apple ~ fennel
Oysters rolled in panko breadcrumbs, deep fried and served on a bed of julienned green apple and fennel and topped with a slice of cured pork salami.
I actually thought the oysters had been reconstituted in some way, they seemed too uniformly sized and the contents seemed oddly mousse-like, but my waitress assured me otherwise.
:
grilled bread ~ august damsons
An excellent rabbit terrine, absolutely packed with a parfait, presumably of the rabbits liver? and run through with fat carrot sticks and layers of trompet mushrooms. I also thought I'd discovered a tiny egg, but my waitress assured me not, so perhaps it was one of the rabbit's kidneys? I certainly hope that's what it was ;)
It's served with grilled bread and a damson compote.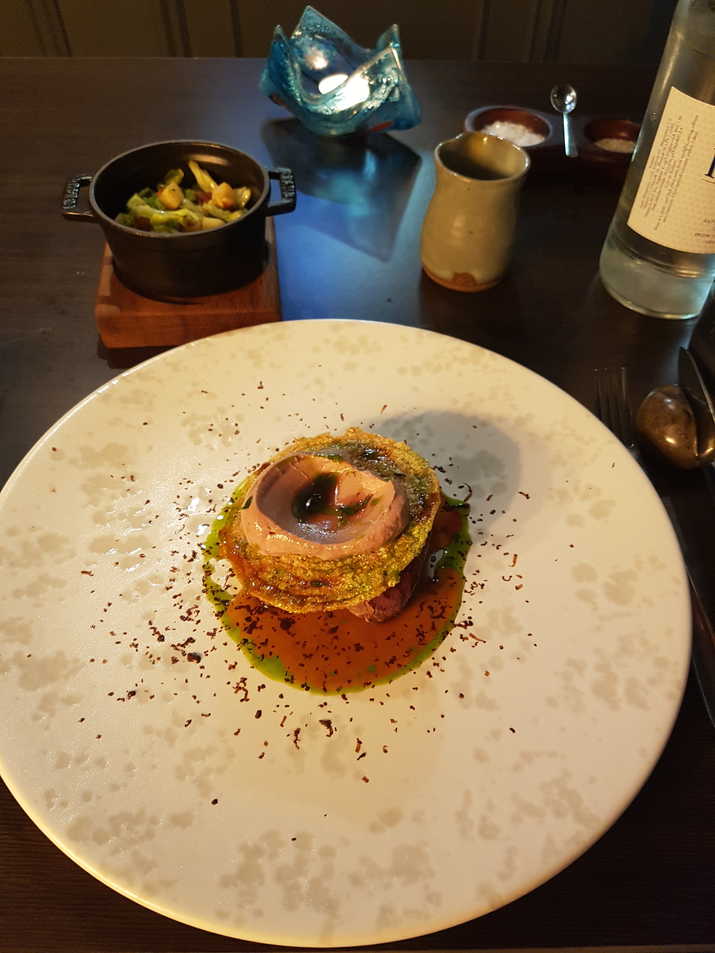 :
'pâté en crackling ~ duck fat roasted cabbage
The hunk of venison is topped with a coiled disk of crackling (presumably pork skin is boiled, rolled, chilled, sliced then fried) and a blob of bird's-liver pate.
The dish is scattered with a grating of Michel Cluizel 100% chocolate and served with a side jug of demi-glace.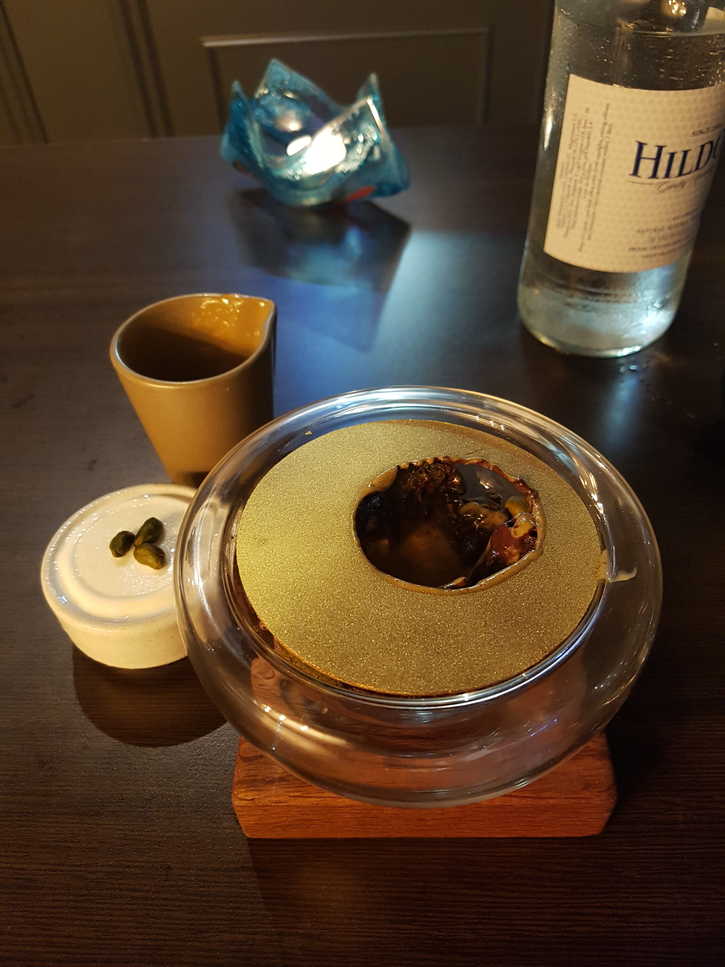 :
pistachio ~ olive oil sponge ~ caramac
Your dessert bowl arrives containing olive oil sponge (!!) topped with a chocolate disk sprayed with edible gold. The waiter then pours into it a jug of hot caramac sauce which theatrically melts its way through the disk and blends delightfully with the sponge below.
Dinner
and
a show!
It's also served with a side of some kind of pistachio-ed sour cream mousse, but I didn't find it went with the chocolate pudding at all, and left most of it.
:
Fine fudges and chocolates, but one speciality - passion fruit juice blended with white chocolate and melted butter was particularly brilliant.