Ever since trying out the title dish from Andrew Pern's
fabulous furry cookbook
I've fancied calling on him to try out the real thing. Just recently I've had occasion - in fact too many occasions - to drive past Harome, where Andrew keeps his
Star Inn
restaurant on my way to visit my ailing Mum. So I decided to take the opportunity to drop in.
It's a bit of a drive down winding country roads to get there, but trust me it's worth the visit. The Inn itself retains all of its 14th Century country charm; thatched roof and creaking sign, and the bar you first enter could be any smoke-beamed, rough-plastered olde worlde pub in the land.
Further inside there is a choice of dining in a traditionally panelled somewhat cramped room that has the disadvantage of acting as a corridor through the pub, or a more modern and airy room in the back which has spacious booths and good lighting. I recommend the latter.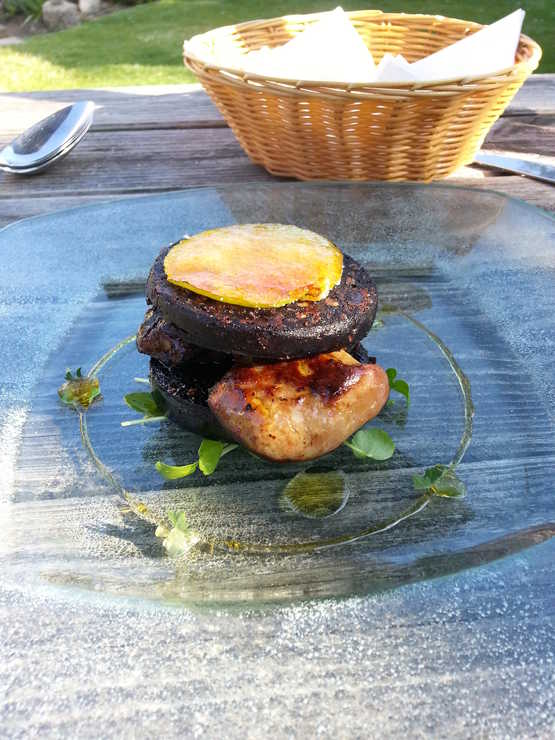 The first time I visited I just popped in for lunch and had to try their justly famous . It was better than
mine
:(
For one thing their chutney seemed crunchier and fresher than mine - probably I overcooked it.
Not surprisingly the foie gras was cooked to absolute perfection - crisp and golden on the outside without having wasted away to nothing in the middle. The assembly was beautiful, and the result just exquisite.
I was already looking forward to my next visit.
For which I had the full meal monty. In fact, while I settled in with a complimentary pot of chutney served with provocatively crumbly crisp-bread and lavender butter, I found myself torn between two equally intriguing starters so I ordered them both, and was pleased to have done so. The was lovely and inspired me to
rip it off almost entirely
- imitation being the highest form of flattery right? The beetroot relish and mackerel work particularly well together. The sweetness of the beetroot perfectly contrasting the sour oily fish.
I think the only reason I also ordered the
was to find out what
Woof
is, and to see how they handled their samphire. I've got a sort of love/hate relationship with samphire. I find it challenging to do well, and love it when it is, but find it very easy to turn out watery, over-salty rope.
I wasn't disappointed - the samphire was adroitly prepared, scattered with tiny brown shrimps, and ingeniously flavoured with lovage - a marriage I haven't come across before but which worked so well I immediately decided to
try it out for myself
.
Oh, and it turns out that Woof is some kind of wolffish. I suppose there's a dog and catfish joke in there somewhere but I can't be bothered.
Not being satisfied with
two
starters I was also unable to resist the massive special of the day - a locally raised (the provenance of all their produce is of intense interest at the Star Inn) featuring:
A variety of beef cuts including shin, tongue, the classic tournedos (filet mignon), together with shaved summer truffles, foie gras and patê de foie gras and a rich Madeira demi-glace.
Like
Tournedos Rossini
but with more than just the tournedos. I did ask if this beer-happy local farmer also massaged his cows a là Japanese
wagyu
, but that information was not (officially) available.
Every. Single. Hunk. Of meat in this dish was done to absolute perfection - the generous scoop of their own patê de foie gras was a delight, and the entire ensemble just fantastic. I managed to finish the lot, but only just.
Time for a
very
light dessert of . It turns out that grapefruit sorbet is absolutely stunning by the way (sorry no photo - too full!).
A full meal monty indeed!
Worth a long detour and worthy of a Michelin star - are you listening Michelin Guide?