Sainsbury's July Magazine
Cucumber gazpacho
soup veg
2 green peppers
1 cucumber
1 bay leaf
1 clove garlic
1 stick celery
1-2 teaspoons creamed horseradish
dill
basil

Soften 2 deseeded and chopped green peppers in a little oil over a gentle heat.
Whiz in a blender with 1 peeled, deseeded and chopped cucumber, 1 bay leaf, 1 peeled fat clove garlic, 1 a handful each of chopped dill and basil, 1 chopped stick of celery, 1-2 teaspoons creamed horseradish and 100ml-150ml of cold water until smooth.
Season and chill.
Serve in small bowls garnished with dill or basil and chopped toasted almonds.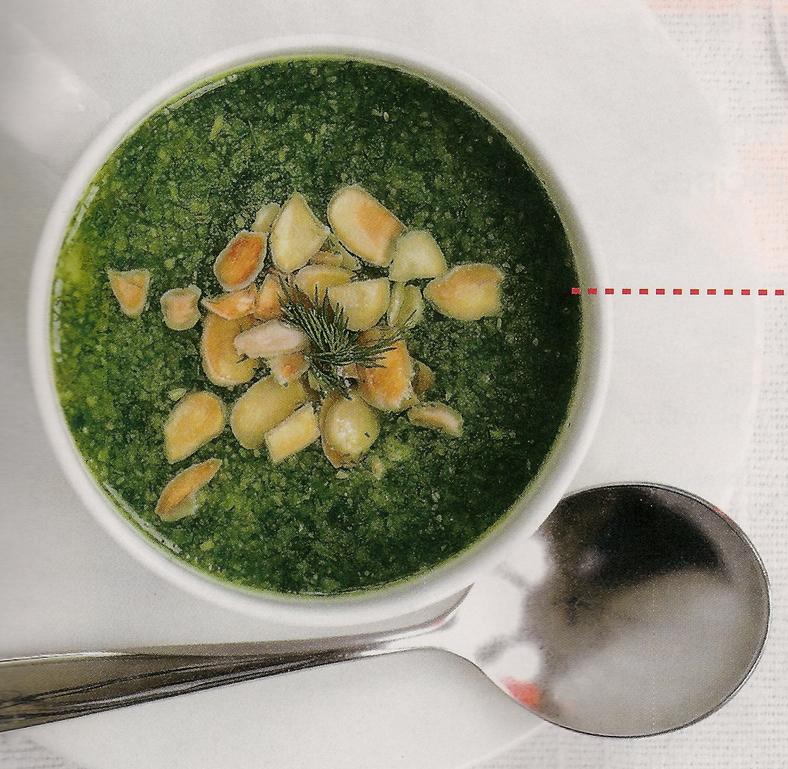 Tomato and almond salsa
salad dip veg vegan
Bake the almonds, bread and garlic until they are just golden, any more and it will be overpowering. It is astonishing how much the almond flavour comes through the sauce, I've made a delicate version of a flaming Catalan salsa but, if you like it hot, just add more cayenne pepper.
This sauce is excellent with beef, fish, grilled vegetables or halloumi.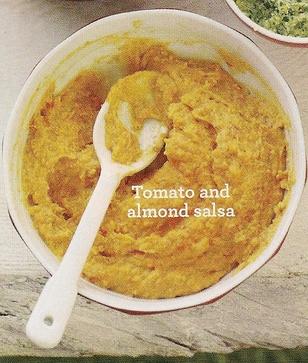 Prep time:
lO minutes
Cook time:
l0-15 minutes
Do ahead:
Make up to 2 days in advance, chill, but use at room temperature
Serves:
6 generously
2 slices white bread
30g whole blanched almonds
2 cloves garlic, peeled
5 tablespoons extra virgin olive oil
½ red pepper, deseeded and chopped
2 plum tomatoes, cores removed then chopped
1½ tablespoons red wine vinegar
cayenne pepper(or paprika)

Preheat the oven to l90°C, fan l70°C, gas 5. Cut the crusts off the bread then slice into cubes about the same size as the almonds. Place on to a small baking tray then toss with the almonds, garlic and 1 tablespoon of the olive oil. Bake for 10-15 minutes or until everything is golden brown.
Transfer to a food processor or liquidiser, then blend until everything is finely chopped. Add the chopped red pepper and tomatoes, and the red wine vinegar. Blend until smooth, then add the remaining olive oil in a slow, steady stream.
Season to taste with salt and cayenne pepper or paprika. Set aside until needed.
Limoncello Gelato (Lemon Ice Cream)
dessert raw veg
Simple to make and deliciously refreshing.
Prep time: 20 minutes, plus 30 minutes standing and freezing overnight
Do ahead: Will keep in the freezer for a month
Serves: 8-10

3 fat, juicy lemons, plus 8-10 lemons, if making gelato wedges (optional)
200g icing sugar, sifted
450ml double cream
3 tablespoons Limoncello, ice cold from the freezer (optional)

Finely grate the zest of the 3 lemons into a bowl,then add their juice.
Stir in the sugar and leave for 30 minutes.
Whip the cream with the limoncello (or 3 tablespoons of ice-cold water) to make soft peaks, then beat in the lemon juice mixture. Turn into a plastic tub, cover and freeze overnight.
To make limoncello gelato wedges, halve lemons lengthways, scoop out the flesh, fill with the ice-cream mixture and freeze. Cut in half again lengthways to serve.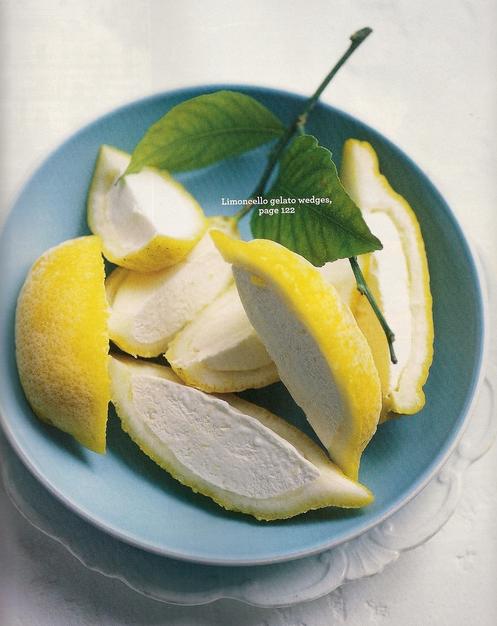 Red Onion and tomato salad
salad raw veg vegan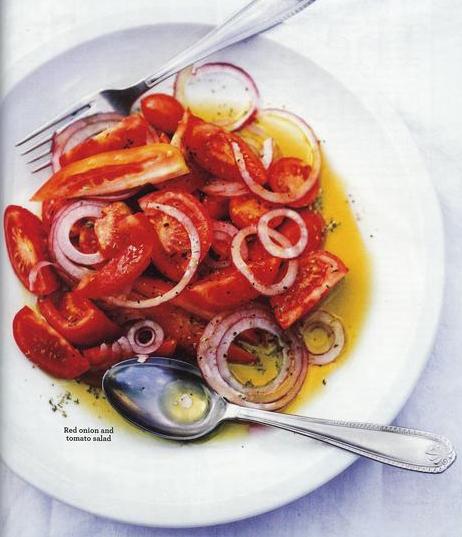 Serves: 4-6

1 small red onion, finely sliced in rings.
6 ripe tomatoes, cut into wedges or sliced
2-3 teaspoons dried oregano
good extra virgin olive oil
white wine vinegar

Gently layer everything together,
season, then drench with the olive oil,
but go lightly on the vinegar - a tiny splash is enough.
Maximum Mojito
drink veg vegan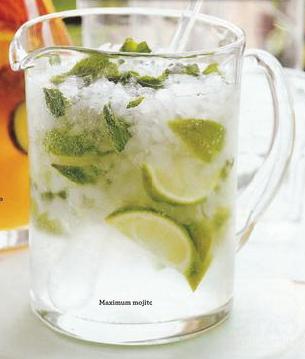 Stuff a pitcher with crushed ice, mint and quartered limes.
Stir and muddle.
Add 1 part white rum to 4 parts soda
and stir in sugar syrup to taste.
For an extra dimension,
splash in a few drops of angostura bitters
and try stirring in a jot of lime cordial.
Cod Fritters