My Ideas. Mine. Mine. Mine.™
Wasabi Chinese Crackers
oriental side fish experimental
Like those Prawn Crackers you get from a Chinese takeaway, but with
Wasabi
.
eh? eh?
Game Crackers
veg experimental
Seeing as how much I dislike game chips for being hard and tasteless (though
waffle fries
do look promising), I thought I might be able to improve them by using my prawn cracker experience to produce something more along the lines of
Roysters bubbly crisps
.
A mix of mashed potato and tapioca, steamed, sliced then deep-fried perhaps?
Tomatoes
I'm thinking of tomatoes...
...of slow-poached tomatoes.
...of tomatoes filled with egg.
...of tomatoes filled with cheese.
I'm thinking of a poached tomato filled with vanilla stewed tomatoes, topped with tomato sherbet. That's English
sherbet
(powder), not American sherbet (ice), which is just a dessert for people who can't pronounce sorbet.
I tried a little Amuse Bouche last night - a cherry tomato scooped out and refilled with Dolcelatte then grilled. Partly 'cos I like the idea of working on some tiny canapês, and partly 'cos I'm getting too fat to eat a whole dish. The baby tomato was nice, but it could have done without the skin, and probably the tomato flesh wasn't quite cooked enough.
Slow-Cooked Tomatoes
starter veg vegan experimental
I recall having some absolutely wonderful
tomatoes
at
Bouley
in New York, which David told me were gently poached for around 24 hours. I remember the tomatoes being peeled, but still firm. How he managed that without the flesh falling apart I don't know. I suppose that's why he's the cooking genius. Sigh. Something to work on.
- So here I've been working on them...
Round One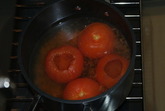 Since Rachel's fancy new oven has total temperature control, I cooked a selection of sample fat tomatoes for 24 hours at exactly 90°C on the non-fan-assisted setting.
Since I wasn't quite sure about how David had prepared his, I had one tomato peeled and hollowed, one peeled, one hollowed and one whole. I put them in a pot, covered them with pure warmed water (and a splash of white wine - though I'm not sure that helped), then stuck them in the oven.
24 hours later, out they came for a taste.


Round Two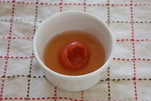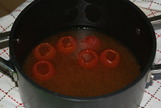 So I used the tomato water on a second round of tomatoes, this time peeled, hollowed out little cherry ones that I cooked for only 12 hours.


Round Three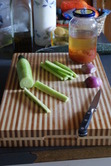 The tomato water makes the base for a delicate but tasty cucumber and tomato soup too
- sweat some sliced shallots in a little butter (or was it olive oil?),
add a couple of seeded, peeled chopped cucumbers,
add the tomato water,
simmer briefly then strain very thoroughly through muslin.

Serve with a few torn coriander leaves.
Egg Stuffed Tomatoes
starter side veg experimental
I love the combination of
egg
and
tomatoes
.
(The down and dirty combination of thickly buttered wholewheat toast, a smothering of tinned chopped tomatoes simmered in a small but heavy pot of fried diced bacon, and a crispy-edged, runny-centered, olive-oil fried egg topping? Delicious!)
so I was thinking about baking or poaching an egg in a tomato.
Possibly with a bit of cheese.
Round One
Set the oven to Gas Mark 5, blanch your (largeish) tomatoes, peel and empty them. Pour some prepared tomato water (boil up some spare tomato parts and strain them) into the bottom of a small soufflé dish. Place your hollowed-out tomato in the dish, add a smear or two of butter, break in an egg, cover with baking parchment and bake in the oven for 15-20 minutes.


Round Two
Round Two
Sophie's Cheese & Tomato Rolls
bread starter veg experimental
An idea of Sophie's that needs a little developing - peel and hollow out
small tomatoes
, fill them with
cheese
, then wrap in
bread dough
and bake as a roll.
We tried this with a full-sized tomato and it leaked quite badly, and was a bit too much to handle, but a scaled down version might work really well!
Carrots Ricard
side veg
Had some carrots the other night that tasted randomly aniseed-y. I thought they were quite nice and wondered how they'd be sweated in Ricard with some black olives and blue cheese?

3 carrots, peeled, julienned
3 cloves garlic, pressed
knob butter
glass Ricard
glass white wine
black olives, stoned, quartered
St Agur





Cut the carrots in half crossways, then quarter those lengthways and slice thinly into juliennes. Place in a pan with the crushed garlic cloves and a knob of butter or olive oil. Heat gently then add the glass of Ricard, and white wine if you like, cover and sweat gently until soft.
Serve as the cheese melts through.


When the carrots are soft, uncover and throw in the black olives, shake up to warm through, then decorate with crumbled blue cheese.
Julienne the carrots, crush the garlic. Sweat them together a little in a knob of butter. Throw in a glass of Ricard, cover and allow to steam. When the Ricard dries off add the juice of a lemon.
When this has also evaporated and the carrots are soft and juicy throw in a teaspoon or two of demerara sugar, stir through and caramelize briefly before adding the grated peel of a lemon and leaving to infuse off the heat before serving.
Julienne the carrots, crush the garlic. Sweat them together a little in a knob of butter. Throw in a glass of Ricard, cover and allow to steam. When the Ricard dries off add the juice of a clementine.
When this has also evaporated and the carrots are soft and juicy throw in a teaspoon or two of demerara sugar, stir through and caramelize briefly before adding the grated peel of a lemon and leaving to infuse off the heat before serving.
Blue Cheese Monkfish
main fish experimental
Working on the combination of
blue cheese
and
monkfish
- which I thought went quite well together when I
combined them by accident
today.
Round One
I pan-fried monkfish pieces (about 1" or 2" cubes) coated in seasoned flour. Whether because this isn't the ideal method of cooking monkfish, or the fish wasn't as fresh as it might have been or I didn't quite cook the fish for long enough, the pieces were still somewhat rubbery.
But they did go nicely with a
blue cheese dressing
.
It might be better to try stuffing the fillet with blue cheese and grilling/roasting it, or maybe bacon-wrapped monkfish kebabs with the blue cheese dressing?
Round Two
Eskimo Nell's Breasts
. Pretty good combination, though the dressing was just a little bit too, well, blue really.
Ease back on the sauce?
Tahini Chicken
main fowl experimental
An attempt to give a roast chicken a spicy tahini crust.
I had the idea of combining tahini with roast chicken like a kind of giant saté.
The result's been a bit disappointing really, but I reckon the idea could still go somewhere.
Possibly just roast the whole chicken in saté sauce.
lemon
tahini
chicken
ginger
crushed red chillies
I marinated a whole chicken in the chopped ginger, the grated peel of a lemon, the juice of two lemons, a handful crushed red chillies and a generous dose of tahini (in fact rather more than I thought would be good) for a day.

I roasted the chicken slowly (gas 4½-5) for a couple of hours drizzled with a little olive oil and surrounded by small potatoes.
It was actually quite tasty although the tahini flavour doesn't really penetrate the chicken. Since I had no silver foil I cooked the chicken uncovered, and the tahini formed a crisp crust, with little flavour. It might have been better to have covered the chicken, at least for most of the time, to produce a more tahini-flavoured coating paste. Still the crust did result in a juicy chicken.
Works In Progress
A few other dishes I'm trying to find the time to play with at the moment...
Like the Chestnut Sprouts (below) - we didn't get time to try these at Christmas but I still fancy giving them a go!

Teriyaki Gratin

It turns out that Teriyaki flavour and a creamy gratin go really nicely together.
There's a dish in there to develop! Perhaps with a layer of miso paste instead?

Teriyaki Crisp

I fancied I might be able to make a crispy teriyaki caramel shell for pieces of salmon, but it didn't work out. Too much toffee and not enough crisp.
But maybe there's a way of doing it with a hard-setting gel like Gellan or Agar?

Pesto and Peanuts

Made myself a tasty salad chock-full of crushed peanuts and with a green pesto dressing. I thought it was a pretty nice combination, I'm sure there's something more I could do there.
There's something more I did here, but it left definite room for improvement.

Lamb and Oyster Sausages

Since I got a meat grinder for Christmas I really need to get on and grind some meat. .
I quite fancy trying some sausages following the flavours in a Saddle of Lamb Stuffed with Oysters dish I made. Probably with some watercress and lemon in there too.
Alternatively, I do like tomato flavoured sausages - so sun-dried? .

Glazed Carrots with Sage

I've actually tried these - just glazing with butter and sage, and they aren't TOO bad. Might be nicer with a little orange, ginger or stock to give it some depth. Perhaps a liqueur of some kind?

Philadelphia and Marmite Sandwich

I thought a sandwich with Philadelphia cream cheese, smoked salmon, cucumbers and Marmite might be nice, but though interesting, the combination wasn't really quite right. I think mixing soy sauce into the Phili might be better, perhaps along with some melted butter.
Works Which Have Progressed
...and a few recipes which I've finally made something of.
Rachel really likes chestnuts and I'm still trying to get that perfect Christmas sprout dish sorted out. Maybe in time for next Christmas?
For Christmas. Not that weak, sugary, insipid stuff you get these days though. Real mincemeat. Like the Vikings used to make.
Just about my favourite brunch. Now I just need to start curing my own Canadian ham...
For some reason we keep ending up with a collection of left-over egg whites, and since we seem to be institutionally incapable of making decent meringue we needed to find something else to do with them all.

I fancied working up a Sambuca sauce, and first tried frying up some green beans then finishing them with Black Sambuca and a dash of soy sauce. But the beans didn't quite complement the flavours, so I tried it with mushrooms instead.
It's a bit on the sweet side (and needs the soy sauce to bring in some contrast), but works brilliantly!
Yep, that's a decent combo, and after an illuminating visit to David Bann's I figure the chocolate sauce would go rather well with chips too.
A fine addition my sausage armoury! Hmmm, can you have a sausage armoury? How lethal could a sausage be anyway?
Ever since my sometime flatmate Andy mentioned enjoying avocado and chocolate smoothies, I've fancied having a go at a similar ice cream. Maybe with some coconut in there too?

Tony Singh introduced me to corn-on-the-cob with farty salt, and I think the combination could make quite a good starter using the farty salt as the basis of a sauce for sweetcorn fritters perhaps?
And of course, I'm always working on ideas for Cooking For Philistines. Watch this space...