Teriyaki Toffee Salmon
I usually try to plan my evening meals with Flora a few days in advance. I try, but I rarely succeed. What usually happens is I end up wandering around my local Fucking Supermarket™ at lunchtime trying to put ingredients together in my head. Sometimes it comes off and sometimes it doesn't. Today Flora demanded noodles I thought I'd make some neat little bundles of pasta and a few other vegetables cut into noodle-like ribbons (so we aren't just having noodles) by shaping them with ramekins. So most of my wandering around the aisles was looking for noodly vegetables. I was thinking courgettes and apple, but then I noticed the Asian pears
I also had an idea that ribbons of sharon fruit (persimmons) might go nicely with carrot, but they didn't have any persimmons. Though they had some lemon grass. So I went with that.

The notion of caramelizing fish popped into my head while I was buying my lunchtime roll-mop herring. I fancifully imagined wrapping salmon pieces in a thin, teriyaki-flavoured, crispy shell, but the result was a lot more sticky toffee than brittle crunch.
I wonder if a bit more experimenting, perhaps with making the coating thinner, cooking off more of the soy sauce from the caramel, coating the fish with something powdery to dry off the surface might produce better results?
Or the idea might just be doomed - I see that Heston makes a fishy shell based on Gellan (a polysaccharide gum), but I haven't been able to figure out how hard it is - I get the impression it's soft and springy like jelly.
Teriyaki Toffee Salmon
main side fish
Salmon in a Teriyaki caramel coating, served with ribbon courgettes, carrots, and pasta.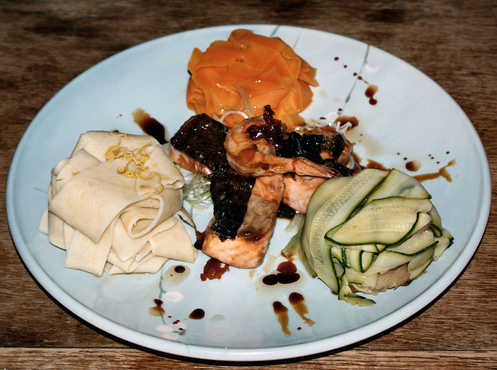 A (failed) attempt to coat pieces of salmon with a crispy teriyaki-flavoured shell, that was still a very tasty meal.
Serves 2
2 salmon fillets
4 prawns
spring onions, shredded for garnish
a few strips of lemon zest for garnish


1 egg
4 oz semolina
grated peel of a lemon
drizzle of oil


2 carrots
juice of 2 satsumas
1 stick lemon grass, split
knob of butter
salt


2 courgettes
½ Asian pear
rice wine vinegar
1" piece ginger, thinly sliced or shredded


ginger, julienned
¼ cup soy sauce
¼ mirin
1 tablespoon dark sugar


100g caster sugar
1 tsp glucose
1 tsp rice vinegar
Turn your oven on low and put the plates in to warm.
Make up the pasta dough adding the grated lemon peel and leave to rest.
Make up the teriyaki sauce:
Simmer the soy sauce with an equal amount of mirin, 1/5 the volume of sugar and the ginger until it starts to thicken. Leave to cool and strain out the ginger.
Clean the salmon, removing any stray scales and bones and cutting into nice pieces.
De-shell and de-vein the prawns.

Use a peeler to cut thin strips of the courgettes and Asian pears.
Set aside the pears in a little rice wine vinegar to stop them turning brown. Fry the courgettes gently with a small amount of ginger in a little butter and oil, until softened but nowhere near breaking up. Throw in the pears towards the end.
Pack into a ramekin, drizzle in any leftover rice wine vinegar and keep warm in a low oven.

Use a peeler to cut thin strips of the carrots, simmer gently in a little satsuma juice with a split lemon grass stalk, a little salt and a knob of butter until tender.
Pack into a ramekin and keep warm in a low oven.

Lightly smear the salmon skin and the prawns with oil and rub with Maldon sea salt. Get a heavy skillet smoking hot and put in the salmon skin-side down and then the prawns. Fry until the salmon is cooked about half way through, flip the prawns, then put the skillet in the oven to keep warm, and finish cooking the fish.
Roll out the pasta, cut into wide ribbons and simmer for 2-3 minutes until cooked through. Pack into an oiled ramekin and keep warm in a low oven.

Carefully dry the salmon pieces and prawns and place on a piece of oiled foil or parchment.
Drizzle a little water and the rice vinegar and glucose onto the sugar and stir. It should look like wet sand. Heat slowly in a heavy pot until caramelised to a dark, reddish-brown about the colour of an old copper penny or dark honey (just past the point at which it begins to smoke). Caramel is formed at 170°C/340°F, when the sugar molecules break down.
Carefully add about half the reduced teriyaki sauce then dump the pan a bowl of cold water to halt the cooking process, before pouring the caramel artfully over the pieces of salmon.

Invert a ramekin of the courgette, carrot and pasta ribbons onto each plate. Make a pile of shredded spring onion in the centre and place on the salmon and prawns. Dress with a little sesame oil and teriyaki sauce and serve.