Onion Bhajis
Baji, bhaji, bhajji or bajji - however you spell it you make them with gram (chickpea) flour. Delicious they are too.
Onion Bhajis
starter curry veg vegan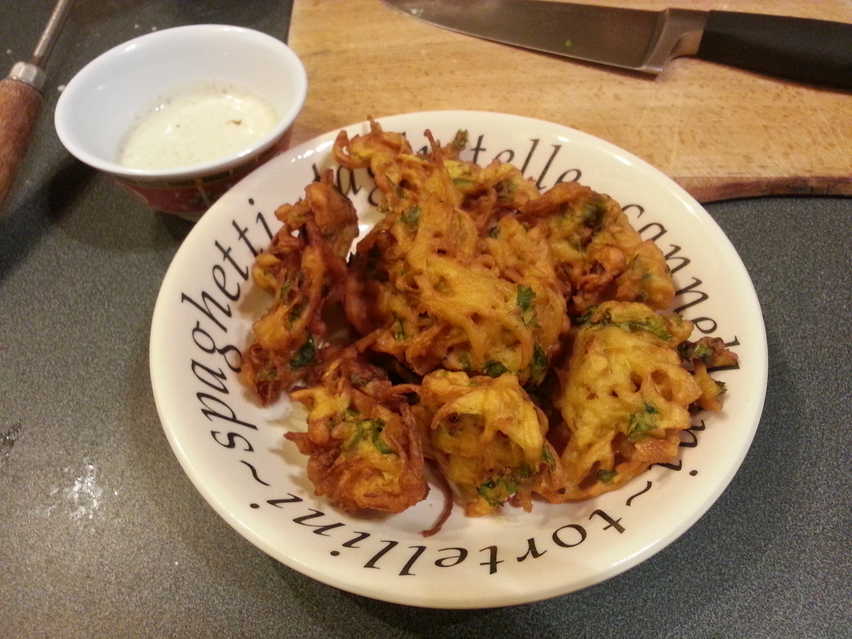 Felicity Cloake suggests adding garlic, ginger and curry leaves to the mixture - I can see the ginger, but I don't fancy the garlic, and I've never tried fresh curry leaves. Felicity says don't bother with dried leaves though - I imagine because they're far too crunchy.
Makes 8
2
60g gram flour
30g rice flour
1 tbsp ghee or butter, melted
juice of ¼ lemon or 1 tbsp vinegar
½ tsp turmeric
½ tsp salt
1 tsp cumin seeds, lightly crushed
½ tsp fennel seeds, lightly crushed
2-4 hot green chillies (to taste), finely minced
small bunch of coriander, chopped
oil for deep frying


2 tsp root ginger, finely grated
2 cloves of garlic, finely chopped
2 fresh curry leaves, chopped (optional)
Lightly crush the seeds in a pestle and mortar.
Sift the flours into a mixing bowl, then stir in the ghee and lemon juice and just enough cold water to bring it to the consistency of double cream. Stir in the spices, aromatics and herbs and add salt to taste. Stir in the onions so they are well coated. Heat the oil in a deep-fat fryer to 180°C, or fill a large pan a third full with oil and heat - a drop of batter should sizzle as it hits the oil, then float. Meanwhile, put a bowl of cold water next to the hob, and a plate lined with kitchen paper. Put the oven on a low heat.
Once the oil is up to temperature, wet your hands and shape tablespoon-sized amounts of the mixture into balls. Drop into the oil, being careful not to overcrowd the pan, then stir carefully to stop them sticking. Cook for about four minutes, turning occasionally, until crisp and golden, then drain on the paper and put in the oven to keep warm while you cook the next batch.
Serve with chutney, pickle or nice
yoghurt sauce
.