Eldorado Salads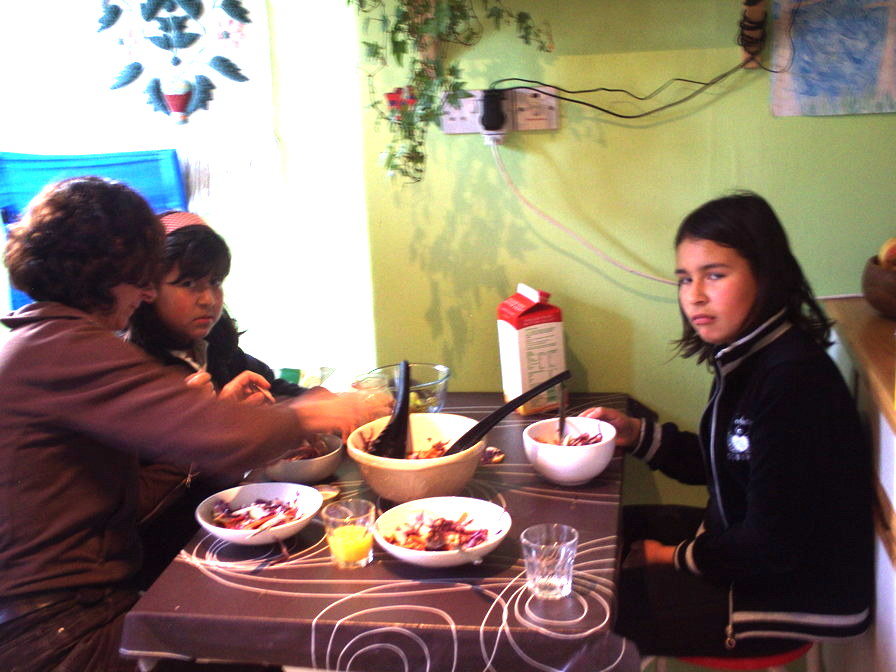 You're looking for a better reaction than
this
!
Avocado Salad
salad raw veg
serves 2
1 avocado
½ red onion
2 tomatoes
double handful spinach


4 oz Old Amsterdam mature gouda
2 red chillies


Greek Yoghurt
Olive oil
Tahini
Tamari Soy Sauce
Balsamic Vinegar
Crushed Garlic
Dash Tabasco

salt & mixed peppercorns

Mix the dressing and shake. I used a generous amount of soy sauce, about the same amount of olive oil, dash or two of balsamic, couple of crushed garlic cloves, good grating of mixed peppercorns, couple of tablespoons of tahini, then topped up with yoghurt.

Slice the tomatoes, onions (thinly!), avocados, red chillies. Lay a bed of spinach, drizzle with the dressing, lay on the onions, tomatoes, avocados, sprinkle with grated cheese and sliced chillies.
Melon and Blackcurrant Salad
salad veg
Melon
Blackcurrant
Honey / Demerara Sugar
Lemon Juice
Arrowroot
Made a rather tasty sauce by poaching blackcurrants in lemon juice mixed with honey and demerara sugar (perhaps the sugar was superfluous, but I had a rather strongly flavoured honey) until soft and sieving the mix.
I was also ready to thicken with a little arrowroot, but it wasn't necessary in the end.

Pool the sauce on a plate, mound pieces of melon on top, decorate with reserved blackcurrants and mint sprigs.
Faux Sushi
salad fish
Lightly Smoked Salmon sheets or fillets
You could use Crab meat also
Avocado
Courgette
Asparagus tips
Exotic tiny mushrooms
Dill
Mascarpone
You could use cottage or other cream cheese
Chives
Passion Fruit
Lemon/Lime
Wasabi

Slice the courgette lengthwise using a vegetable peeler.
Cut the smoked salmon fillet into chunks of around 1cm square cross-section or small slices if using sheets, about the width of the courgette slices.
Slice the avocado into similar chunks. Cover them in a drizzle of lemon/lime juice to keep the avocado green and flavour the salmon.
Cut individual mushrooms and asparagus tips to suit the width of the courgette slices. You'll want to leave a little poking out of the top.

Put a smear of the mascarpone and a dab of the wasabi on the end of a courgette slice, place the salmon on top, pile on the vegetables with a sprig of dill to decorate and roll the whole thing up together.
Tie the roll up with a chive stalk, then stand the sushi rolls in a puddle of passion fruit seeds to serve.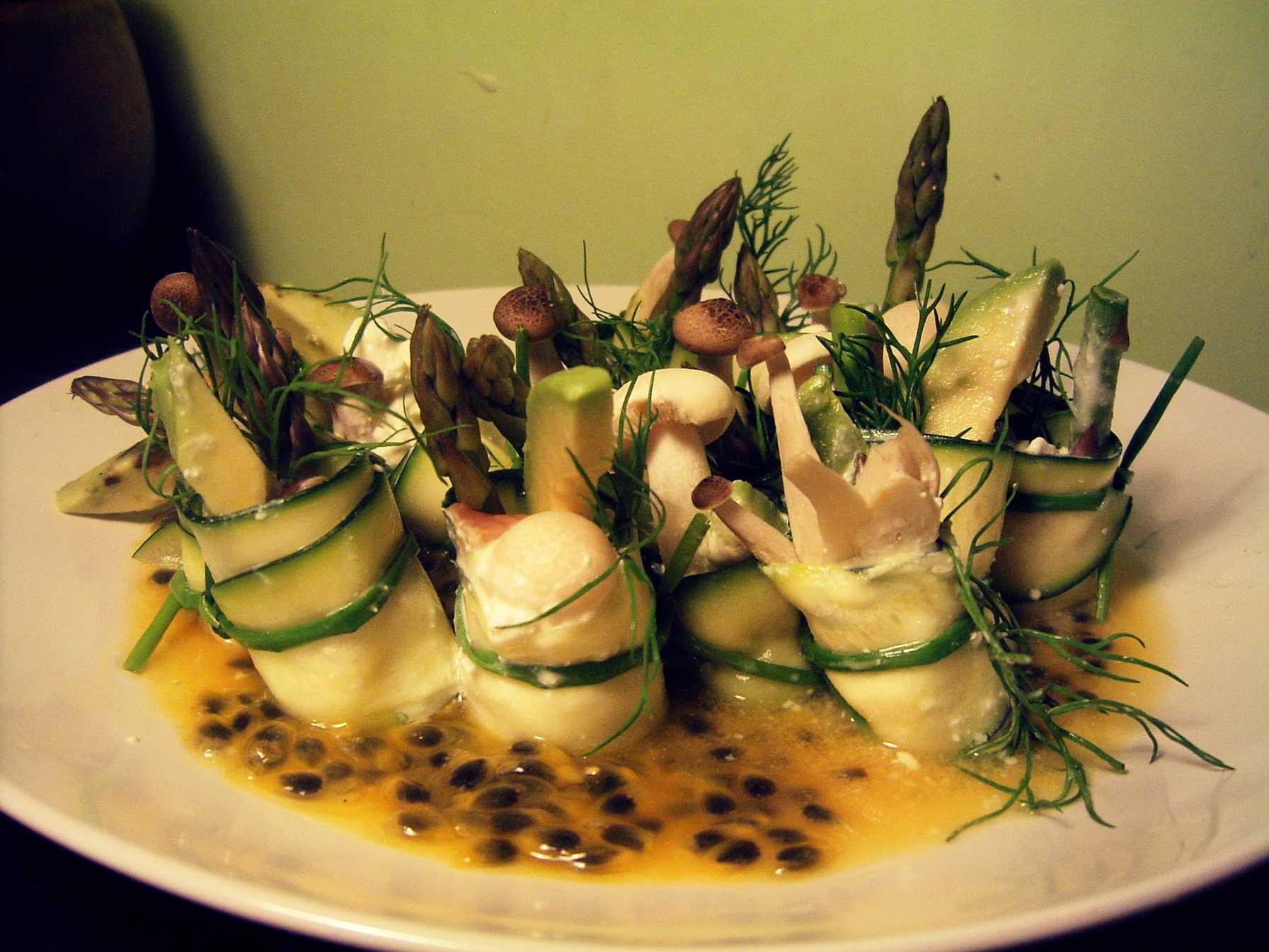 Hummus
salad veg
1 cup dried chickpeas
¼ cup Tahini
2 garlic cloves
1 tsp salt
juice of 1 lemon
spoonful yoghurt
3-4 Mint Leaves
olive oil, cumin to taste

Soak the chick peas overnight , wash and simmer them until soft (approx 1 hour). Blend in a food processor
Add the yoghurt to keep the mixture smooth, and the mint leaves to give a hint of freshness
Add the tahini
Crush the garlic cloves with salt and add to the hummus with the lemon juice. Add cumin if you fancy it. Adjust ingredients to taste.
Serve drizzled with olive oil, paprika, cayenne, some parsley or whatever else you fancy.
Sweetcorn Salad
salad raw
2 Sweetcorn cobs
4 Tomatoes, chopped
1 Red Onion, thinly sliced
1 Red pepper, sliced
1 Head Broccoli, cut into small florets
Bunch Coriander leaves, torn
Little Gem lettuce leaves


4 part Olive oil
1 part Cider vinegar
1 part Mandarin Orange juice
dash fish sauce
crushed garlic cloves
salt & pepper

This dressing goes nicely with leftover cold shredded chicken if you have some to scatter on top
Yoghurt
half quantity double cream
Dijon mustard

Slice the corn kernels from the cobs with a sharp knife. I suppose you could cook the cob first if you wanted particularly tender corn, but raw is nice.
Mix up the salad vegetables with the coriander, dress and serve on the lettuce leaves.
Mango Salad
salad raw
Mango
Tomatoes
Cucumber
Mozzarella


Juice of 1 lime
1 heaping teaspoon honey
Olive oil
Splash Nam Pla (fish sauce)
Salt & pepper

Peel and slice the mango into oval rounds, thinly slice the tomato, thinly slice the cucumber at an angle, slice the mozzarella as thinly as possible into similar shaped pieces.
Mash the honey into the lime juice until it dissolves, add a generous dash of Nam Pla, about 2-3 times the quantity of olive oil, and season to taste.
Arrange the salad slices in individual dishes, dress and serve.
Rachel's Green Salad
salad raw veg vegan
Peas, blanched if necessary
Mushrooms, soaked in a garlic vinaigrette
Cucumber, quartered and sliced
Avocado, chunked
Spring onion, sliced diagonally
Lettuce leaves torn
Basil leaves, torn

Make a garlic vinaigrette with olive oil, garlic and white wine vinegar and marinate the mushrooms for about an hour.
Mix in the other ingredients.
Serve.
Blanch the peas if they're hard or bitter.
Yet Another Avocado Salad
salad raw veg
1 avocado, cut into chunks
1 red onion, chopped
1 small head broccoli, broken into florets
1 cup cashews, lightly crushed
dozen cherry tomatoes, halved or quartered
dozen salt-cured black olives, de-stoned and quartered
few slices pepperoni or chorizo, chopped
mature cheddar cheese
spinach leaves
rocket


juice of 1 orange
juice of 1 lime
2 teaspoons tahini
1 cup greek yoghurt
olive oil
a good splash of Tamari soy sauce
a dash hot sauce
a small dash Balsamic Vinegar
a few garlic cloves, pressed
salt & pepper

Mix the salad ingredients.

Vigorously shake up the tahini and the orange/lime juice in a jar.
Add the other liquids and the garlic.
Add about the same volume of olive oil and shake again.
Add about the same volume of yoghurt, or to your taste, and shake.

Serve the salad on the mixed leaves, surround with the dressing and grate over a little nice mature cheddar (if you fancy it).
Joyce's Beetroot and Horseradish Salad
salad veg
cooked (not pickled) beetroot
yoghurt
horseradish cream

Chop the cooked beetroot into bite-sized chunks, mix with the yoghurt and the horseradish.