Old Salads
Some Salads I made earlier...
Cabbage and Pear Salad
salad raw veg
Cabbage/Carrot
Bell Pepper (optional)
Firm Pear
Capers
Tomato

Thinly slice the cabbage (shoestring) and the pear. Dice the tomato, throw over the capers, perhaps some sliced peppers. Might be nice with grated carrot with or instead of the cabbage.
Orange juice
crushed garlic
generous olive oil
shake of sesame oil
splash of balsamic vinegar
yoghurt.
Shake together.
The Completely Green Salad
salad
Peas
Lettuce
Kiwi fruit
Spring Onions
Parmesan
Olive Oil
Lime


This is a quite delightful and marvellously monochromatic salad.
Slice some (crisp might be nice, but don't you dare to use iceberg) lettuce, spring onions (use mainly the green portion) and thinly slice a kiwi fruit (don't overdo the kiwi). Blanch (quickly i.e. for about 10 secs.) some pod peas and cool them (I first made the salad with fresh peas but I think there was just an edge of bitterness to them that way). Mix these ingredients and lavish them with olive oil. Grate a generous amount of Parmesan over them (or perhaps a green cheese if you can find one which works as well), and season to taste. When ready to serve drizzle over freshly squeezed lime juice and enjoy!
Avocado & Spinach Salad
salad raw veg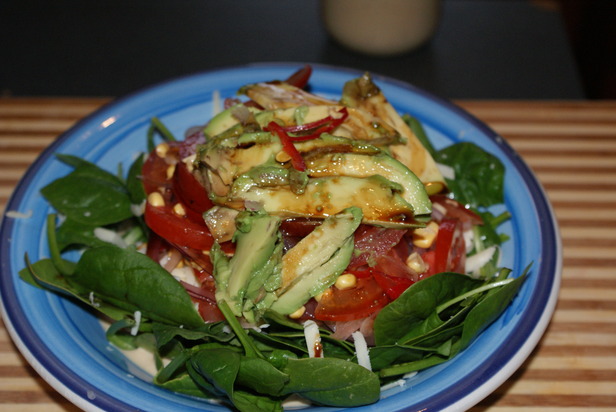 Spinach
Avocado
Onion
Cheese

freshly squeezed lemon juice
soy sauce
hint of balsamic vinegar
crushed garlic
generous olive oil.
Mix together.
Make the dressing above with orange juice (clementines are nice) instead of lemon, and use mayonnaise instead of (most of) the oil.
Feel free to add hot sauce.

Make the dressing from a yoghurt and tahini base with orange or carrot juice , added to the above dressing ingredients for instance (reduce the amount of olive oil).
Again, feel free with that hot sauce.

Strawberry mayonnaise
works pretty well too - make up a garlic vinaigrette with
jus de fraises
and a splash of balsamic, and then blend that into mayonnaise.
Or you could try just
mashing in some strawberries
, though it might end up a bit pulpy.
It's tricky to get this salad to look as nice as it tastes
- probably because you need so much of the delicious dressing and tasty cheese to get the balance of flavours right that the rest of the salad tends to disappear.

So;
First pour the dressing into a bowl, particularly around the edges.
Next lay a bed of spinach,
then grate over the cheese
then layers of the sliced onions ,
then tomatoes,
any other vegetables.
Nicely slice the avocado and fan it out across the top of the salad.

Ideally each of the layers will be slightly smaller, like a step pyramid, revealing a coquettish amount of the layer underneath so you get to see the whole salad.
Sprinkle with sliced chilli, leftover grated cheese, bacon bits, nuts or whatever other topping you've chosen.
The perfect finish is a drizzle of toasted sesame oil and a sprinkle of soy sauce.

Yum!
Add tomatoes (which is my most common and successful variation)
Add sliced chilli
Add rocket or herbs to the spinach
Add ground almonds
Add crushed cashew nuts
Add sliced banana(!)
Add crispy bacon bits
Add chorizo or pepperoni
Add sliced black olives
Add a sliced or chopped hard-boiled egg
Other vegetables like broccoli or cauliflower florets
Sweetcorn kernels
shavings of duck pâté
top with a poached egg
Tomato Salad
salad raw veg
Tomatoes
Red Onions
Green olives
Mozzarella

Yoghurt
Olive Oil
Lemon juice
Creme Fraiche

Chop up some tomatoes, slice some red onions, mix with pared green olives (preferably marinated in lime and coriander) and chopped mozzarella. Make a dressing from blending together yoghurt, olive oil, lemon juice (don't overdo it), and creme fraiche (which all blends smoothly).
Tomato Salad
salad raw veg
Tomatoes
Red Onions
Basil
Goat's cheese
Red wine vinegar

A beautiful salad of tomatoes, red onions, shredded basil and soft goat cheese, all marinated in a very sweet balsamic vinegar. Actually, according to the eponymous cookbook, red wine vinegar was used.
Swiss Cheese Salad
salad raw veg
6 oz Tilsiter cheese, sliced
½ small cucumber, sliced
1 small onion, peeled and sliced
½ red pepper, cored, sliced
10 small radishes, sliced
6 oz mixed pickles, chopped
1 Tablespoon capers
4 Tablespoons double cream
soya sauce, to taste
garlic powder, to taste
salt & pepper
chopped chives to garnish

Mix the cream and soya sauce and garlic powder to taste and season with salt and pepper.
Pour over the salad and leave to marinate for 1 hour.
Garnish.
German Salad
salad meat
10 oz Fleischwurst or Lyoner sausage
10 oz Limburger or Romadur cheese, sliced
½ cucumber
3 Tablespoons wine vinegar
½ teaspoon German mustard
1 onion, peeled and finely chopped
3 Tablespoons oil
mustard & cress or parsley
salt and pepper and sugar to taste

Slice the sausages. Halve the cucumber lengthwise and cut each half into slices. Combine the sliced cucumber, sausage slices and cheese slices in a serving bowl.
Make a dressing by combining the wine vinegar with the salt, pepper, sugar, mustard and oil. Season to taste.
Add the onion and pour the dressing over the salad and leave to marinate for 30 mins.
Garnish.