Potato And Kale Soup
Potato And Kale Soup
soup meat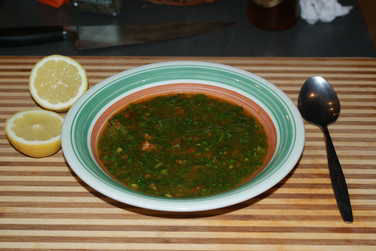 Not pretty. But pretty delicious.

This also turned out to be a pretty good use for the jar of goose stock that I had left over from last Christmas. Or was it the Christmas before? It seems to keep astonishingly well in the back of the fridge if you thoroughly sterilize the jar and lid by boiling them, then add the hot boiled stock and screw the lid on straight away. This also sucks the vacuum seal in just like factory-filled jars. Maybe it helped having a nice thin layer of fat covering the stock too.
Serves 6
8 oz Chorizo, skinned, quartered lengthwise, cut into ¼" pieces
3 shallots, minced
2 sticks celery, minced
2 heads fresh garlic
1 generous lb (about 2 large) baking potatoes, peeled, cut into 1" pieces
8 oz curly kale, finely shredded
1 pint of chicken stock
Chop the chorizo into ¼" pieces.
Mince the shallots, quarter the celery sticks lengthwise and mince them.
Peel the garlic cloves. Remove the thick stem ends but leave the cloves whole.
Remove the thick kale stems and finely slice the leaves.
Peel the potatoes and cut into 1" pieces.

Fry the chopped chorizo gently until browned in a little oil if necessary.
Add the minced shallots, celery and garlic cloves. Fry gently until softened. Add the potato chunks and cover with the stock. Simmer gently until the potato is soft.
Remove the potato and garlic with a slotted spoon and mash with a fork, then add back to the soup.
Add the kale and simmer for 5 minutes until it's tender.

Season with salt and pepper if it needs it.