Onion and Rosemary Sauce
This is a handy sauce to have lying around - it's easy to adapt to a cheese sauce or for a pie filling, and it seems to keep quite well in the fridge for weeks!
Onion and Rosemary Sauce with Mint
sauce veg
A milky roux sauced flavoured with onion and rosemary. Now with added mint.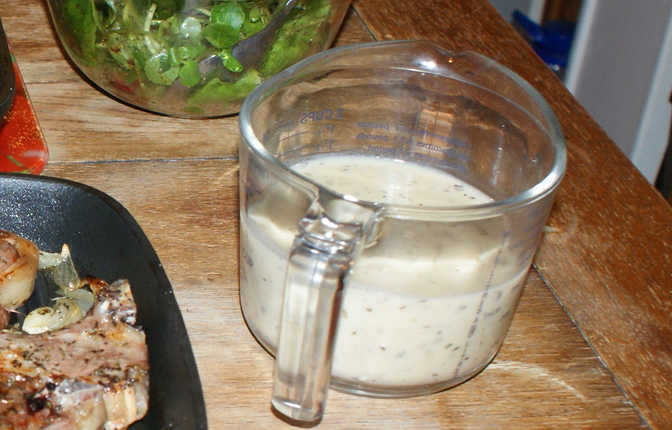 Well, onion and mint sauce in my case.
I didn't have any rosemary so I used dried oregano, and I threw in a teaspoon of mint sauce at the end.
Add the juices from the roast, if you have one. Or your
roast frozen lamb chops
.
To be honest, my lamb chops were tasty enough without this sauce, but it's an interesting idea.
Though it does look slightly anaemic - milky as it is.
Serves 6
1 large onion, peeled and chopped small
1 rounded tablespoon rosemary leaves
1 oz (25 g) butter
1 oz (25 g) plain flour
6 fl oz (175 ml) milk
6 fl oz (175 ml) vegetable stock
1 teaspoon mint sauce
2 tablespoons cream, whipping or double
salt and freshly milled black pepper
In a small saucepan, melt the butter and sweat the onion over a very gentle heat for 5 minutes. While that's happening, bruise the rosemary leaves with a pestle and mortar to release their oil, then chop them very, very finely and add them to the onion. Then continue to cook gently, uncovered, for a further 15 minutes without letting the onions colour too much.

Next, using a wooden spoon, stir in the flour till smooth, then gradually add the milk followed by the stock, bit by bit, stirring vigorously and finishing off with a balloon whisk.

Season with salt and pepper and let the sauce barely simmer for 2 minutes, then remove it from the heat, liquidise half of it and then combine that with the rest, along with the cream. Taste to check the seasoning, then pour it into a warmed serving bowl or jug and cover the surface with clingfilm until the chops are ready.