Crispy Seaweed
Or cabbage. It's cabbage mostly. Those inscrutable Chinese eh? Maybe when they're at home they actually use seaweed?
Crispy Seaweed
side veg vegan
Crispy cabbage, really. No seaweed involved!
You can use any kind of dark spring cabbage crispy seaweed.
Make sure the cabbage is completely dry to ensure that it remains crisp when deep-fried. A salad spinner is ideal.
Serves 4
1kg curly kale
1 tsp Chinese five spice powder
1 scant tsp salt
2 tsp sugar
500ml vegetable oil or groundnut oil, for deep-frying
Cut away the thick stalks from the leaves.
Wash and thoroughly dry the leaves, then shred them finely.
Heat the oil in a wok or deep pan until slightly smoking, and deep-fry the shredded greens in batches (of about 100g) for about 30 seconds or so until they turn a slightly darker green and begin to crisp. Remove them immediately using a slotted spoon and drain on kitchen paper.
Pour off any excess oil from the wok. Add back the crispy cabbage and sprinkle over the five spice powder, sugar and salt to taste. Toss well and transfer to a serving dish.
Serve warm or cool.
Goshen's Crispy Cabbage
side veg vegan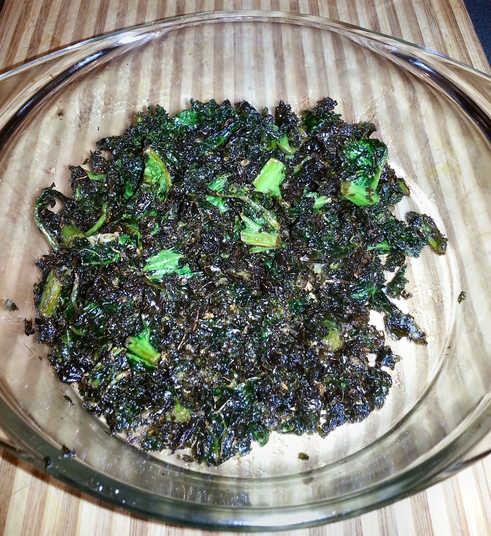 I have a distant memory of crispy cabbage or kale, but I can't quite remember how I made it, so I thought I'd try this out with some packet kale.
It does the job, but it can end up very greasy, so maybe make sure the cabbage is completely dry and cook in batches in more oil as for crispy seaweed, then try and pat it dry as much as possible. You'll also need to watch the cabbage like a hawk to make sure it doesn't burn. Mind you it probably didn't help that my kale was pre-cut quite thickly.

You could also try baking cabbage or shredded kale tossed in olive oil, salt and if you like, minced garlic, or a drizzle of vinegar.
Serves 4
1 clove crushed garlic
1 large Savoy cabbage
4 juniper berries
1 teaspoon caster sugar
1 scant teaspoon salt
¼ cup/60ml vegetable oil
Finely crush the juniper berries. Crush the garlic. Finely shred the cabbage.
Heat a frying pan and add the oil and when it is hot add the cabbage and stir fry for 3-4 minutes, until crispy. Remove the crispy cabbage and pat dry with a paper towels. Reheat the frying pan and return the cabbage to it . Add the garlic, sugar, salt, and crushed juniper berries and toss with the cabbage in the frying pan. Then mix all well until thoroughly coated and mixed with flavorings .
Serve immediately or serve cold.