Hot Prawn Cocktail
Hot Prawn Cocktail
starter fish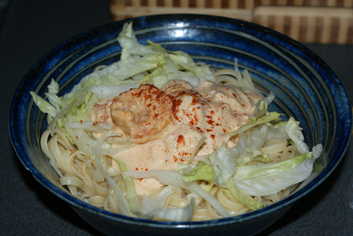 I fancied a hot (temperature) version of a
Marie Rose sauce
to make a prawn cocktail pancake filling.
But it makes a decent starter on a bed of shredded (or whole) lettuce leaves, and a really tasty pasta sauce too (with the shredded lettuce for added texture).
Serves 4
olive oil
4 garlic cloves, minced or pressed
1 red chillie, de-seeded and minced
1 tablespoon tomato purée
4 plum tomatoes, peeled, de-seeded, diced
3 Tblsps brandy
3 Tblsps double cream
300g/10 oz raw prawns, shelled
juice 1 lemon
3 Tblsp mayonnaise
pinch or two of paprika
2-4 crispy lettuce, shredded
Peel and de-seed the tomatoes and chop into ¼" dice.
Peel the prawns (I had a dozen king prawns), carefully remove the black line of intestine that runs down their back. Slice in half lengthways if you want them to be a little more delicate.

Heat olive oil and gently fry the garlic, then the chillies, then add the tomato purée until the oil separates a little. Add the chopped tomatoes cook briefly until they soften, then flame off the brandy.
Add the prawns, then as much cream as you need to make a thick sauce.
Remove from the heat and stir through the mayonnaise and the lemon juice.
Serve on the shredded lettuce garnished with paprika .