French Onion Soup
French Onion Soup
soup meat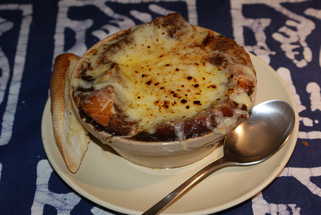 Remember - it's all in the onions.
And the stock.
And some in the red wine.
And maybe a bit in the port and cognac.
Anthony Bourdain uses dark chicken stock, traditionally you would use 50/50 beef and chicken, but most people just use beef, and since I had some
awesome
beef stock made from the juices of an earlier
simple dinner
that's what I did.
Serves 4
3 oz butter
4 large onions (or 6 small onions or dozens of shallots)
1 fl oz port
1 fl oz balsamic vinegar
1 cup red wine
1 fl oz cognac
1 litre rich beef stock
1 bouquet garni or herbs of choice
1 baguette for croutons
6-8 oz gruyère, grated
seasoning
Slice the onions thinly and evenly. It's easiest to use a mandoline for this. Sprinkle them with a little salt which will help to draw out the moisture and promote caramelisation.
In a large pot, heat the butter over medium heat until it is melted and begins to brown. Add the onions and cook over a medium heat, stirring occasionally, until they are soft and browned (an hour or so).
Increase the heat to medium high and stir in the cognac and reduce to a thick, sticky bubble, then the port and reduce, then the vinegar and reduce, then the wine and reduce, scraping all that brown goodness from the bottom of the pot into the liquid. Add the stock and the bouquet garni.
Reduce to a simmer and cook for 45 minutes to an hour, skimming any foam off the top with a ladle. Remove the bouquet garni. Season if necessary. Cut 8 thin diagonal slices off the baquette, place them in an oven tray, drizzle with olive oil and bake in the oven (around Gas 7) until they colour and start to crisp through.
When the soup is finished cooking, ladle it into individual ovenproof crocks. Float two croutons side by side on top of each. Spread a generous, even heaping amount of cheese over the top of the soup. You do want some extra to hang over the edges.
Place each crock under a preheated, rip-roaring broiler () until the cheese melts, bubbles, browns and even scorches slightly in spots.
Serve immediately (and carefully).
You might want to lay out forks too - it's a bit tricky to eat with just a spoon.

If your broiler is too small or weak to pull this off, you can try it in a preheated 425°F/220°C/Gas 7 oven until melted. Once the mound of grated cheese starts to flatten out in the oven, remove each crock and, with a propane torch, blast the cheese until you get the colours you want.