Dips
You put your left chicken leg in
Your left chicken leg out
In, out, in, out
You shake it all about...
Sweet Chilli Sauce
dip sauce pickle veg vegan
A nice easy looking recipe which I'm sure I'll get around to trying.
I believe that the first time he made this up John used fresh tomatoes rather than the purée
100ml white wine vinegar (malt will do, but white wine is nicer)
100g muscovado (or other light brown) sugar
1 tbsp tomato purée
2 tbsp water
3 hot green chillies, finely chopped, seeds included
Mix the white wine vinegar and sugar together and put in the smallest pan you can find (we're only making a small amount). Bring to the boil and turn down the heat to a gentle simmer. The liquid will begin to darken almost immediately as the sugar caramelises.

Mix the tomato puree and water then add to the pan.

Drop in the chillies and continue simmering until the liquid has reduced to the desired thickness.

If you don't want chunks, you can strain the liquid through a metal sieve or tea strainer to get a smooth, glossy sauce, but it's much nicer with the chillies left in.
Wasabi Mayonnaise
dip veg
Makes a small pot
½ cup mayonnaise
2 Tablespoons crème fraîche
2 teaspoons wasabi paste
Mix 'em all together.
Hot Artichoke Dip
dip side
See Casey used to be married to Stacy. Who became Staci or Stazi or some shit, and started going with Steve, then Alex, then Andrew, in fact she pretty much worked through everyone on the haunted house. Especially the women. In my dreams.
Sigh.
So where was I? Oh yeah, Casey, well Casey used to make a bitchin' artichoke dip for parties. Before he got all depressed about Stacy, who finally settled on Andrew and got married to him too. Or instead. Probably.
And here's his recipe. Via his friend
Duncan
. Not sure if Stacy went there at all.
Makes about 1 Pint - Enough Dip for 4
2/3 cup Parmesan cheese
2/3 cup mayonnaise
1/3 cup heavy whipping cream
1 (14 ounce) can artichoke hearts, drained and chopped
2 tablespoons thinly sliced green onion
1 tablespoon chopped pimento peppers
Preheat oven to 325°F (165°C). Lightly grease a medium baking dish.
Blend together the cheese, mayonnaise and whipping cream. Stir in the artichokes, green onions and pimentos. Mix well, and transfer to the prepared baking dish.
Bake 25 minutes in the preheated oven, until lightly browned.
Now, I'm not saying I don't trust Duncan or nothing, but just in case here's a similar recipe that I found on the web, just for comparison purposes.
1 (8 oz.) can drained and chopped artichoke hearts (unmarinated).
1 (4 oz.) can diced green chilies, drained (or 4oz chopped green chillies).
1 cup real mayonnaise
1 cup Parmesan cheese
small bunch green onions, chopped.
Chop artichoke hearts after draining. Mix all ingredients in baking dish. Bake 1/2 hour or until brown and bubbly (350 degrees).
Sundried Tomato Tapenade
dip fish
Not really a dip, more of a paste.
You could try stuffing white fish with it!
anchovies
sundried tomatoes
black olives
green peppercorns (in brine)
basil leaves
juice from tomatoes
Blend it all together.
French Onion Dip
dip veg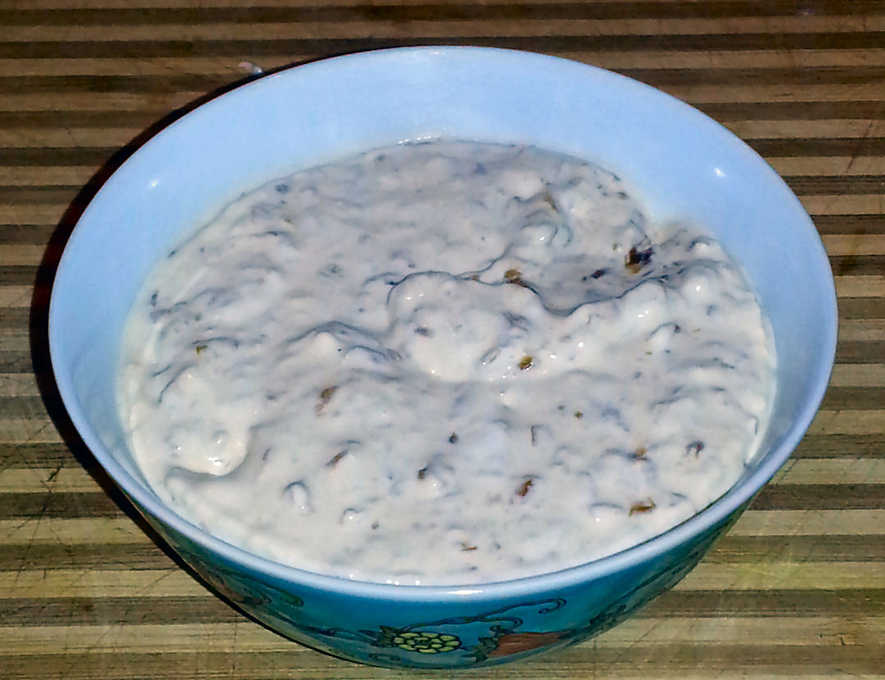 You can make this with just sour cream, but a touch of yoghurt is quite nice.
Just about any of the ingredients, well, I suppose apart from the browned onions, are optional. You could also try pretty much any combination of cream, sour cream, yoghurt, cream cheese, and mayonnaise to make this dip.
Makes enough dip for 2 bags of Doritos
2 smallish onions, finely chopped
a bit of sugar, perhaps a teaspoon
crushed fresh garlic, or garlic powder
splash of vinegar, perhaps a teaspoon
300ml sour cream
chives or spring onions
salt
pepper


mayonnaise
lemon juice
Worcestershire Sauce
Hot sauce
Finely chop the onion, then cook gently in a little oil or oil and butter stirring occasionally for 30-40 minutes until thoroughly and evenly caramelized. Don't let them burn. Add a little sugar towards the end to help things along.
Add a splash of vinegar, mix in the garlic, then remove from the heat and allow to cool.

Stir sour cream into the onions, add a little bit of mayonnaise or yoghurt and flavour with lemon juice, Worcestershire Sauce, hot sauce or anything else you fancy. Season with salt an pepper.
Chop the chives or spring onion, or both and mix into the dip.
Leave the flavours to mature for a couple of hours then serve with chips or crudities of choice.