Indoor Barbecue 2
This time I half planned the backup rainy day alternative of grilling the kebabs. It had to be done though - I've been promising Rachel something in a Satay Sauce for ever.

Oh, by the way - if you ever get to cook on a real barbecue - blackened pineapple slices (about ½" thick) are absolutely lovely. Peel off the outside, but don't core them or they'll fall apart.
Tomato and Feta Salad
salad raw veg
Cherry tomatoes, quartered
Red onion, sliced
Mixed salad leaves
basil leaves
Feta cheese, diced

1 lime, juiced
Olive oil
Seasoning

Quarter the tomatoes, slice the onions, dice the Feta into generous cubes and mix with basil leaves.
Wash the salad leaves and serve piled with the tomato salad.
Serve.

Mixed Kebabs
main meat fowl fish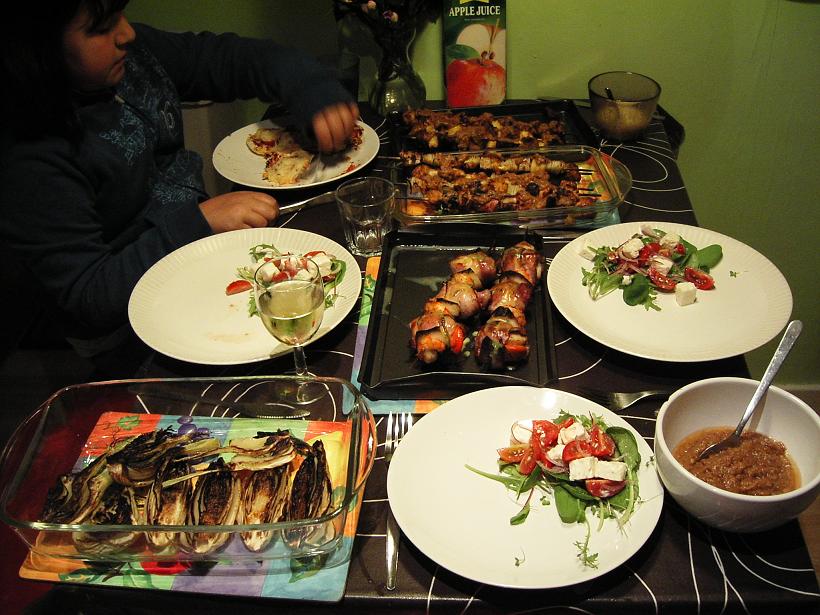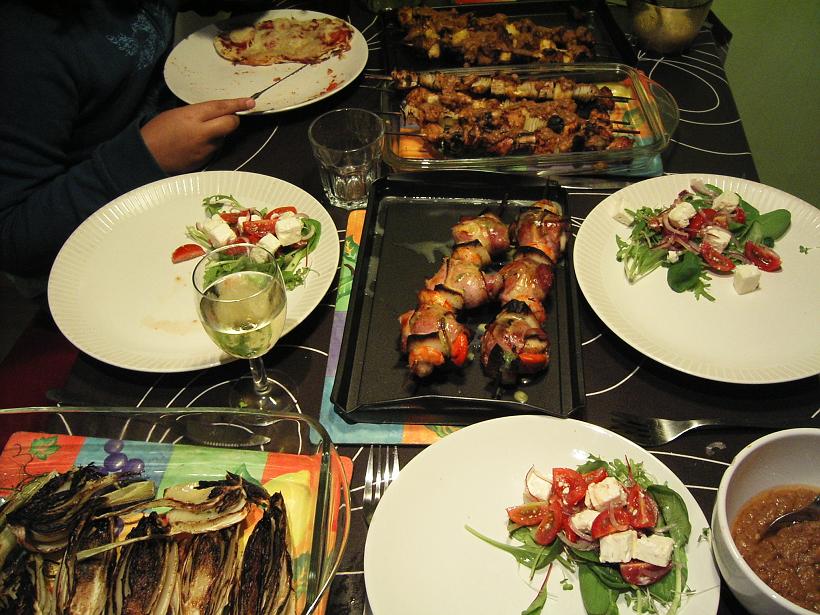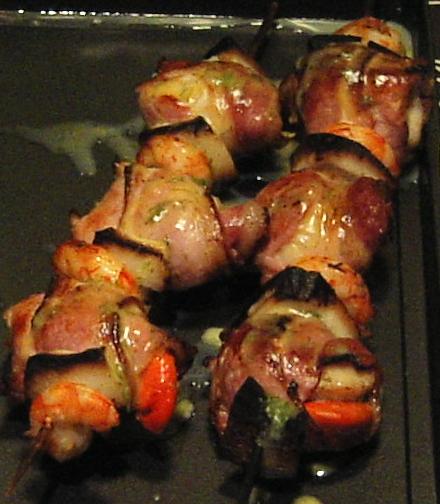 Fennel bulbs, quartered or wedges
Chicory heads, halved


Bamboo skewers, soaked

Chicken breasts, cubed.
Banana chunks

Pork fillet, cubed
Fresh/tinned pineapple chunks
Onion segments

Scallops
Bacon
Prawns, peeled
Fresh coconut flesh pieces



1 small onion, chopped
3 garlic cloves, chopped
4 Tbsps soy sauce
finely grated rind of 1 lime
1 tsp ground cumin
1 tsp ground coriander
1 tsp ground turmeric
1 tsp ground paprika
1 tsp dark muscovado sugar



6 fl oz/¾ cup coconut milk
6 Tbsp crunchy peanut butter
couple garlic cloves, crushed
2 tsp soy sauce
1 tsp dark muscovado sugar
splash fish sauce
a touch of chilli paste



1 lime, grated and juiced
1 egg yolks
6 Tbsps melted butter
feathery fennel leaves


Place the onion, garlic, soy sauce, lime rind, spices and sugar in a blender or food processor. Add two pieces of pineapple and process until the mixture is almost smooth. Add a little lime juice if necessary.


Marinate the pork and chicken pieces.
Wrap the scallops in the bacon
Thread the skewers with pork, pineapple and onion, with chicken and banana, and with wrapped scallops, prawns and coconut.


To make the sauce, pour the coconut milk into a small saucepan and stir in the peanut butter. Stir in the remaining sauce ingredients and heat gently over the barbecue, stirring until smooth and hot.
Cover and keep warm on the edge of the barbecue


Place the egg yolk the finely grated rind and juice of 1 lime in a small bowl and whisk until pale and smooth.
Gradually whisk in the melted butter and continue whisking until thick and smooth. Finely chop the reserved feathery fennel leaves and stir them in. Season to taste.

Serve the pork and chicken kebabs with the satay, the seafood with the lime butter and salad and lime wedges on the side.

A More Complicated Satay Sauce
dip veg
2 garlic cloves, crushed
4 asian shallots, finely chopped
1 lemon grass stalk, white part only, finely chopped
2 tsps Thai curry powder
1 Tblsps tamarind purée
1 Tblsps chilli paste
1 cup unsalted roasted peanuts, roughly chopped
1 ½ cups coconut milk
2 tsps palm sugar

Heat 1 tablespoon vegetable oil in a saucepan and fry the garlic, Asian shallots and lemon grass for a minute.
Add the Thai curry powder and stir until fragrant.
Add the remaining ingredients and bring slowly to the boil.
Add enough boiling water to make a spoonable sauce and simmer for 2 munutes.
Season with salt to taste.


Another Satay Sauce
dip veg
Another, simpler, satay sauce recipe found amongst an old recipe collection.
1 onion, sliced
2 garlic cloves, crushed
1 tblsp oil
½ tsp chilli
1 cup water
½ cup peanut butter
1 tsp sugar
1 tblsp soy sauce
1 tblsp lemon juice
Slice the onion and saute with the crushed garlic in 1 tablespoon oil until transparent.
Add the chilli, water, peanut butter and sugar.
Stir well and bring to the boil, then stir in the soy sauce and lemon juice.
Jamie's Satay Sauce
dip veg
Jamie Oliver's Amazing Satay Sauce. Very popular on the interwebs. Apparently.
½ a small bunch of fresh coriander
1 fresh red chilli
½ a clove of garlic
3 heaped tablespoons good-quality crunchy peanut butter
soy sauce
a 2cm piece of fresh ginger
2 limes
Put the coriander (stalks and all) into the food processor with the chilli (seeds and stalk removed), peeled garlic, 3 heaped tablespoons of peanut butter and a lug of soy sauce. Peel and roughly chop the ginger and add. Finely grate in the zest of both limes, then squeeze in the juice from 1 of them. Add a couple of splashes of water and whiz to a spoonable paste. Season to taste. Spoon into a nice bowl and drizzle with extra virgin olive oil.