Brighton Rocks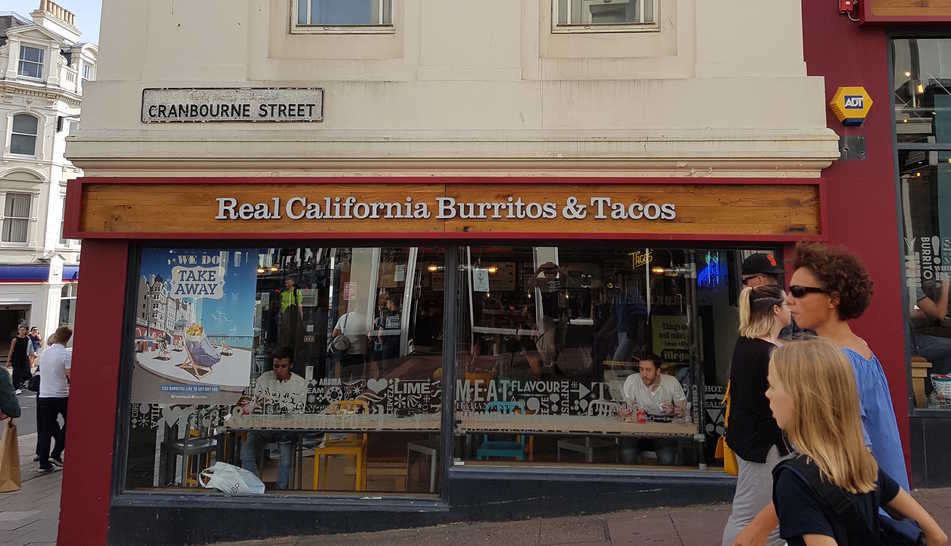 Or at least,
Brighton Blue cheese
rocks.
Brighton not so much.
Just along the coast from my birthplace, on which day the sea froze for the first time in living memory as my Mum never tired of pointing out every time I denied being the anti-Christ, Brighton is another sad reminder of Great Britain's Victorian heyday. Run-down and decrepit, you can still find small signs of it's former grandeur:
The skeletal sea stump remains of the old West Pier, the rusting rails of Volk's electric beach railway, a closed and faded Peter Pan playground, and the endless, endless cast iron and massively cemented seafront parade.
Like an abandoned palace they feel simultaneously magnificent and empty and lonely.
Still, the chavtastic town centre has one irrefutable claim to faim -
Real
California Burritos & Tacos. Finally!
Brighton marina (a long walk from the town centre) is massive, expensive, but incredibly welcome after the exhausting 60 mile crossing from St Valery-en-Caux. It's also well-catered with a chandlery and an up-market shopping mall, boasting an ersatz delicatessan selling unlikely cured meats and Brighton's Blue cheese.
I made good use of the latter in a few onboard pasta dishes.
And then cooked a few non-blue-cheese pasta dishes just to cleanse my palate.
Enjoy!
Blue Cheese Linguine
pasta
Simple, tasty, and you don't have to use Brighton Blue cheese.
Serves 1
linguine
olive oil
1 shallot, sliced
2 cloves garlic, sliced
half a dozen cherry tomatoes, quartered or eighthed
zest and juice of 1 lime
couple teaspoons capers
Brighton Blue cheese, cut into pieces or grated
mixed peppercorns, ground
sea salt, ground
Slightly under-cook the linguine, drain, retaining a couple of tablespoons of pasta water.
Season the pasta with ground mixed peppercorns and ground sea salt, lubricate with a little olive oil and set aside.
Re-using the pasta pot, fry the sliced shallots and garlic in a pool of olive oil until they soften and begin to caramalize around the edges.
Add the tomatoes and lime zest and cook until they begin to soften, then add the capers, thin with some of the pasta water and add the pieces of blue cheese.
Stir until the cheese melts, add the lime juice, mix the sauce through the pasta and serve.
Tomato Gastrique and Blue Cheese Linguine
pasta main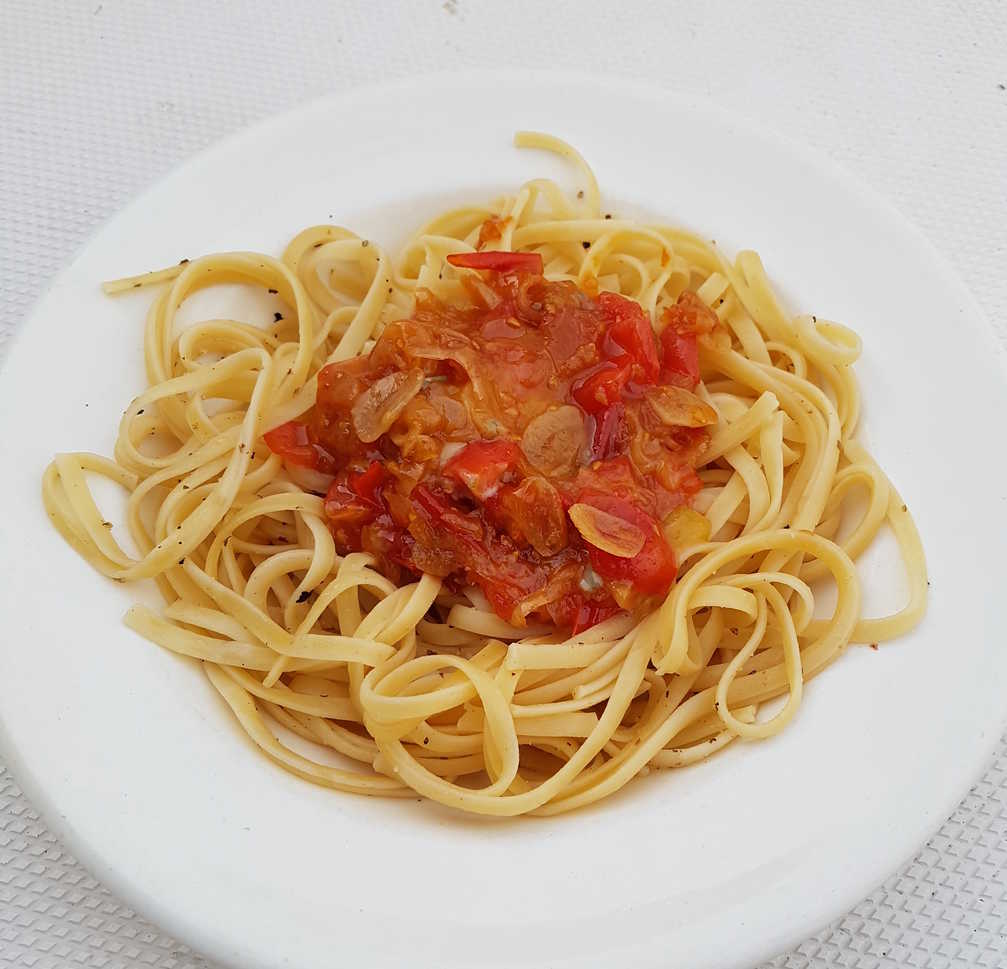 A boat filled with many vinegars (not to mention the grains, beans and the hundreds of kinds of flour). What's a sailor to do?
Serves 2
linguine
1 shallot, sliced
2 cloves garlic, sliced
1 tblsp honey
2 tblsps red wine vinegar
half dozen cherry tomatoes, quartered, or eighthed
200g Brighton Blue cheese, chopped or grated
mixed peppercorns, ground
sea salt, ground
Slightly undercook the linguine, drain retaining a couple of tablespoons of the water, then grate some mixed peppercorns and sea salt into the pasta, lubricate with a knob of butter or olive oil and set aside.
Re-using the pasta pot, add the honey, vinegar, sliced shallots and sliced garlic. Simmer and reduce until the mixture begins to caramelize. The stronger (and less sweet) you like it, the darker you should cook it.
Add the chopped tomatoes and cook until they begin to soften, loosen the sauce with the reserved pasta water and add the pieces (or gratings) of blue cheese
Pour the sauce over the pasta and serve.
Linguine with Smoked Salmon and Horseradish Cream
main pasta fish
linguine
smoked salmon, chopped
red pepper, grilled, peeled
horseradish, grated
lemon juice
salt
double cream
crème fraîche
parmesan
Quarter the red pepper, remove core and seeds, lay on an oven tray and grill until the skin chars. Leave to cool in a plastic bag, then remove the skin and cut into chunks.

Grate the horseradish and mix with lemon juice and a little salt, set aside.
Grate a little parmesan for topping .
Cook the pasta, drain, stir through chopped smoked salmon, horseradish mixture, double and sour cream.
Serve dressed with a grating of parmesan .
Pasta con Jalapeño Tequila
Mexican pasta. Ay, Caramba!
meat pasta
I still have a jar of tequila-pickled chillies (not, unfortunately, jalapeños which would have been more appropriate I guess) left over from some
David Bann inspired chilli margaritas
, so I tried to get rid of them...
pasta
tequila with chillies
ham
double cream
soured cream
parmesan, grated
Cut the ham into thick matchsticks, pack into a small bowl and (barely) cover with chilli-flavoured tequila. Leave to marinate for an hour or two.
If you're using tequila with whole chillies in it then feel free to slice in some of them too.
Cook the pasta and drain.
Heat a 50/50 mixture of cream and soured cream without boiling, add some grated parmesan (or other cheese), stir to melt then add the ham and tequila and heat through without boiling. Mix with the pasta.
Serve with additional grated cheese.