A Supper in Brown

Well, it's Valentine's Day - time for another lonely dinner. They
are
the best kind.
My workmate Ewan Ratbird brought in a haystack-load of rosemary he'd trimmed off the bush in his garden, so I thought I'd have another go at René Redzepi's
Aromatic cauliflower in vinegared whey
with warm butter yoghurt and horseradish cream but this time without the cheese. And with the whey.
I served it up to myself with a fried pork chop,
pan-roasted mushrooms
and, best of all, microwaved, frozen mashed potato. The shame (thanks ex-flatmate Peter).
Yumsk!
Pity, when I planned the meal, I hadn't considered how very brown the thing would be. A sort of Anti-Valentine Day Dinner if you like.
Meanwhile, I've finally used up the last of my (un-frozen) haggis. Plus the last few scraps of my gold leaf to decorate a particularly scabby looking
Golden Haggis
™ Mark II.
Not my finest hour!
On a slightly more colourful note...
It's been time once again to scrub the 707s ready for their next season of sailing. I decided to make a Thermos of soup to take along, and remembering how Rachel once said she'd like to try some
borscht
I thought I'd give that a go.
Make the most of it girl - once you get yourself a boyfriend you'll be back to doing all your own cooking!
Borsch, Borshch or Borscht
Beetroot Soup
soup meat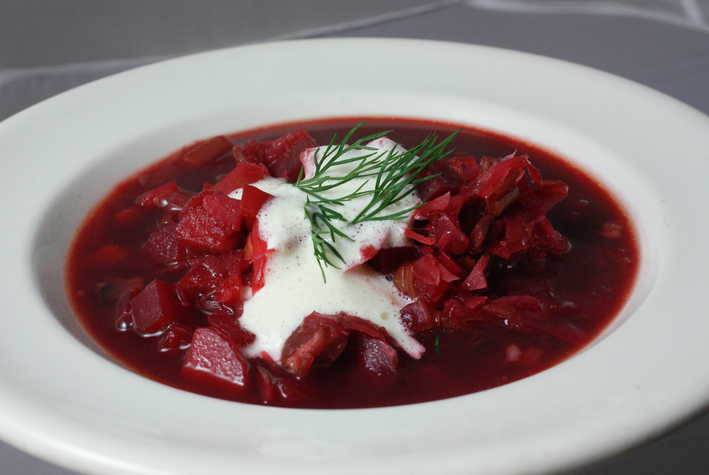 Borscht. So good they named it three times.
If you want to start a fist-fight between a Ukrainian, a Russian and a Pole, just ask them who invented Borscht, how to spell it, or how to make it.
I created this recipe from a combination of ideas by
Keith Floyd
,
John Torode
and
Felicity Cloake
A borscht purist would probably not include the apple, and replace the butter with
salted pork fat
. They might make a stock with pork (or beef) bones and the first round of vegetables, strain it, then use this to cook grated (or juiced) beetroot only to make a clearer soup. You could then also add little mushroom dumplings (
uszka
) too.
Choose a dice (or slice) size for the vegetables that suits you. (Or your Thermos)
Personally I like adding beetroot juice at the end, rather than grated beetroot. It doesn't need cooking so you can just heat and serve - and it retains it's fresh earthiness. And vivid colour.
Serves 6
50g butter
1 onion, chopped
1-2 sticks celery, chopped
250g bacon or pork fat
1 carrot, diced or sliced
1 parsnip, diced or sliced
300g beetroot, peeled, chopped
1-2 litres beef stock
3-4 allspice berries
couple bay leaves
2 floury potatoes, peeled, diced
½ cabbage, sliced
a few fresh or dried mushrooms, chopped
1 leek, sliced, washed
1 apple, peeled, cored, chopped
about 500g beetroot, juiced
4-6 cloves garlic, crushed
couple tablespoons cider vinegar
sour cream
vodka
a few dill sprigs
Chop the onion, celery and bacon or pork fat.
Dice (or grate, if you prefer) a medium-sized (300g) beetroot. Juice the rest.
Dice, grate or slice the peeled carrot. Dice or slice the peeled parsnip Dice the peeled potato. Slice the leek and wash thoroughly. Thinly slice the cabbage.
Sweat the onions, celery, chopped beetroot and carrots in the butter and/or pork fat until well coated and the onions have turned glassy.
Pour over the stock and add the allspice, bay leaves, parsnip and potatoes. Cook until the vegetables have all softened (10-15 minutes).
Peel and chop the apple into generous chunks, then add them the leek and the sliced cabbage and cook until soft - about 10 minutes.
Add the crushed garlic, vinegar, the beetroot juice and reheat.

Serve with a dollop of sour cream and a few dill fronds.