Babysitting With Tradition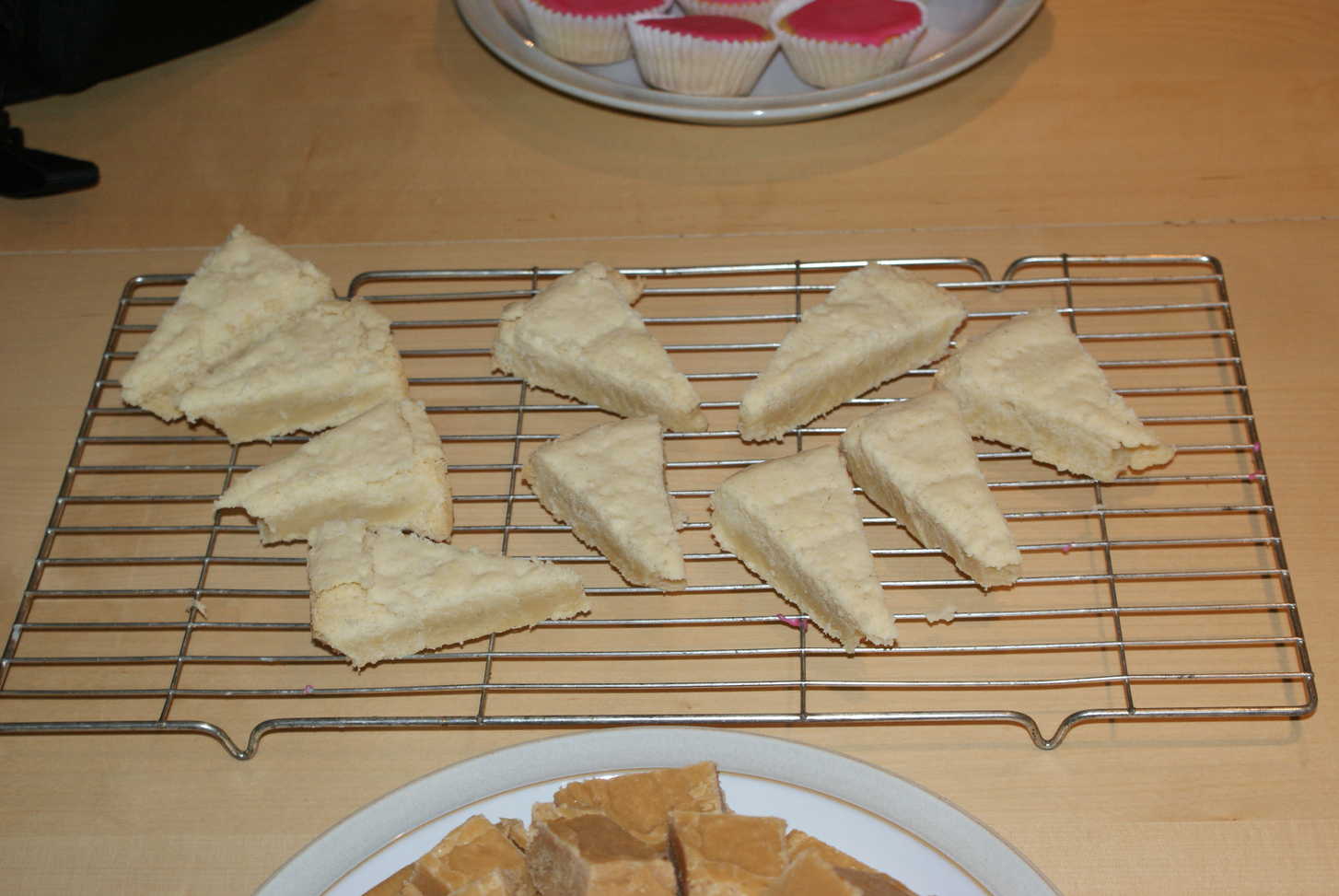 Well, it's time to roll up my regular babysitting visits to Rachel's house, they have been becoming quite a habit, if not exactly a tradition.
And it seems like now would be a good time to put a bit of a brake on them, what with the family just about to trek off to Mexico to catch up with their absent father and all.
Not that I'm never going to see them again or anything. Just not on such a regular footing. In fact I already had my arm twisted to promise Georgina another
stuffed chicken dinner
and a
sushi evening
for Sophie, but I did extract from them the price of getting their Dad's famed ceviche recipe.
It seemed pretty appropriate to end on a traditional note so we whipped up a batch of Scottish tablet, and a tray of Scottish shortbread.
They both turned out edible enough, but since it was my first attempt at both recipes, the could definitely have been done better.
The tablet not quite as mouth-wateringly smooth as most Scottish Grannies seem to manage, and the shortbread definitely undercooked.
I'll get them next time!
One disturbing thing I noticed as I stirred up the tablet, was the appearance of lots of little black dots in the bubbling mixture.
They turned out to be bits of Le Creuset's non-stick coating, which seems to be now non-sticking to the pan.
This, obviously, is hugely disappointing in a pot which is only a year old. And by no means cheap.
A call to
Le Creuset
might be in order, eh Rachel?
Tablet
sweet veg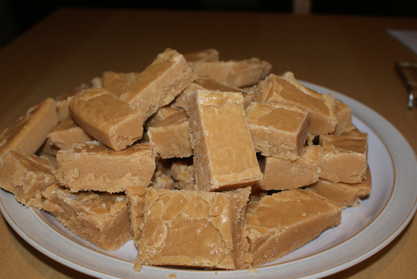 There's a
terrific guide to making tablet
on the interwebs which illustrates the process much better than I could.
It pretty much went as described, except that at the end when stirring the mixture off the heat like a madman it didn't really start to feel "gritty", though it did stiffen and cohere. I think you're better pouring it as soon as you feel the mixture thicken.
Makes TONS
1kg white cane vanilla granulated sugar
1 tin (approx. 400g) sweetened condensed milk
100g unsalted butter
a little more than ½ cup fresh milk to damp sugar
Butter a 10"x20" baking tray.
You can use plain or vanilla sugar for this (just leave a vanilla pod in the bag for a week or two). Or other flavours I suppose.
Damp the sugar with enough milk to moisten it. About ½ cup. It doesn't matter if you add more milk, it will just take longer to boil off, but too little and you might burn the sugar.
Add the butter and melt it in over a low heat then add the condensed milk and turn the heat up reasonably high.
Stir the mixture for about 10 minutes until it comes to a foaming boil (it will almost double in volume), then turn the heat down low to keep it simmering. If you start to get brown streaks then turn the heat down, or stir more frequently.
Simmer the mixture, stirring occasionally until it darkens to a nice caramel colour - about 20 minutes or so.
It's a bit up to you how well-cooked and strongly-flavoured you like your tablet apparently, but you can tell when it's ready to set by plunging a teaspoon of mixture into a cup of cold water for a minute or two after which the mixture should form a soft ball which oozes slowly off the spoon.

vigorously until you feel it start to thicken slightly - it starts to cohere at this stage and hold together a bit more as you stir it, coming away more cleanly from the sides of the pan.
Make sure you keep scraping the excess off the sides back into the mixture as you stir.
Now it's ready to pour into the buttered baking tray.
Once it's poured you can score the surface where you will be cutting into squares later, and then you have to leave it to set completely before turning it out. Preferably overnight, though it's hard to wait that long :)
Vanilla Shortbread
sweet veg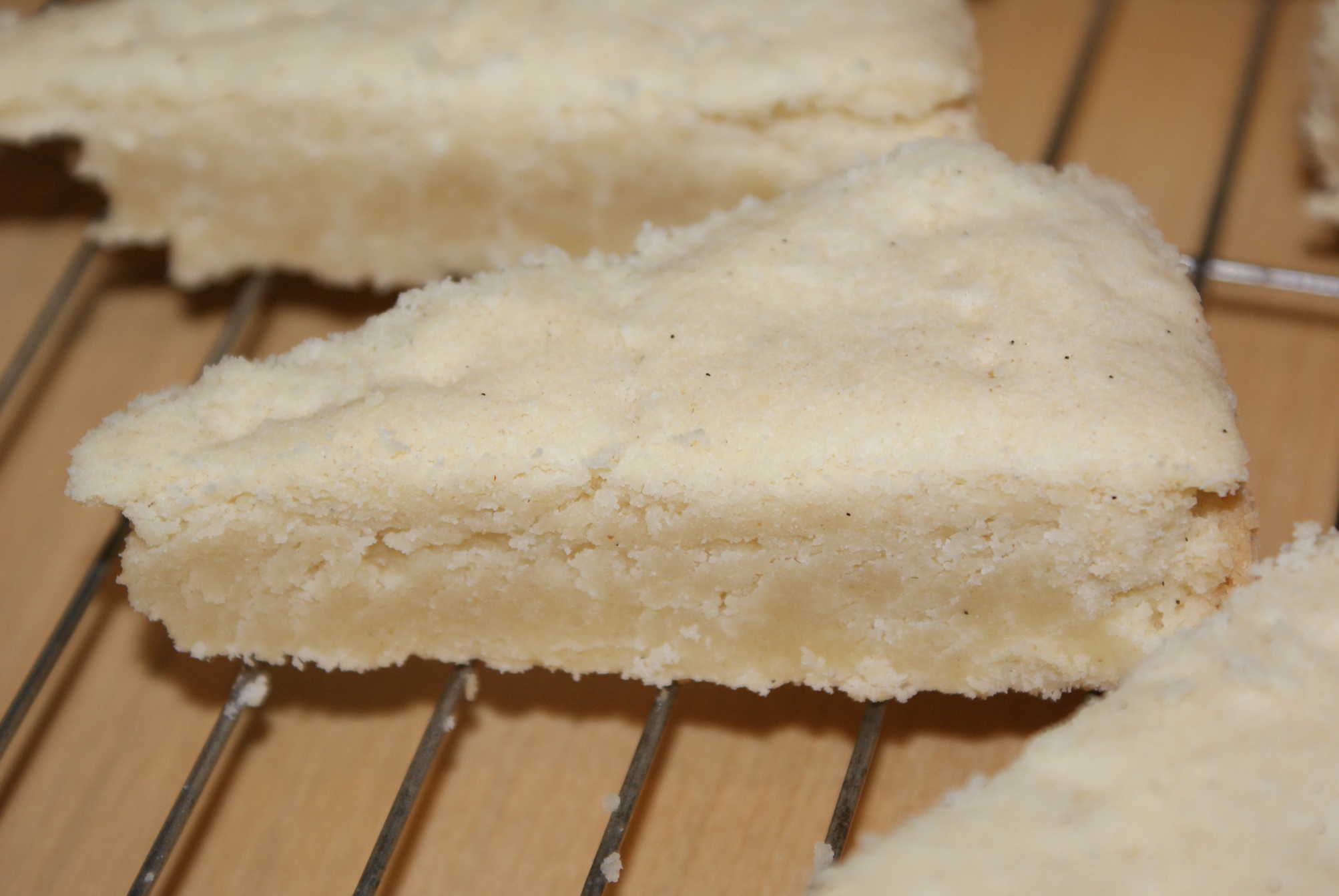 We followed a straightforward Nigella recipe for this from her
Forever Summer
collection.
She managed to leave out enough instructions like how large a baking tin to use, and whether or not it should be greased to make the result slightly unsatisfactory.
It will probably be a lot better the second time around.
Makes 12 fat fingers
100g icing sugar
200g plain flour
100g cornflour
200g very soft, unsalted butter
seeds from 1 vanilla pod
vanilla or ordinary caster sugar for dusting
Preheat the oven to 160°C/Gas mark 3
Lightly butter a 13"x10"x½ swiss roll tin and sieve icing sugar into it.
Put the icing sugar, plain flour and cornflour into the bowl of a food processor fitted with a double-bladed knife and give them a quick blitz. Cut the vanilla pod in half, then slice each half open lengthwise and scrape out the seeds with a sharp knife. Add these and the butter to the bowl and process until the soft mixture coheres and begins to form a ball, loosely clumping around the blade.

Turn the dough out into the baking tin and press it in to form an even layer. Use your fingers, and finish off by rolling a small glass across the top.
Make cuts to mark out the fingers you'll want to eat, and then use a fork to press holes into each finger. Bake for 20-25 minutes, until the shortbread is still pale but starting to turn pale gold and feels firm in the centre.
Remove from the oven and when it's cool, prise out the marked pieces with a palette knife, sprinkle with sugar and leave on a wire rack to cool completely.