O Christmas Tree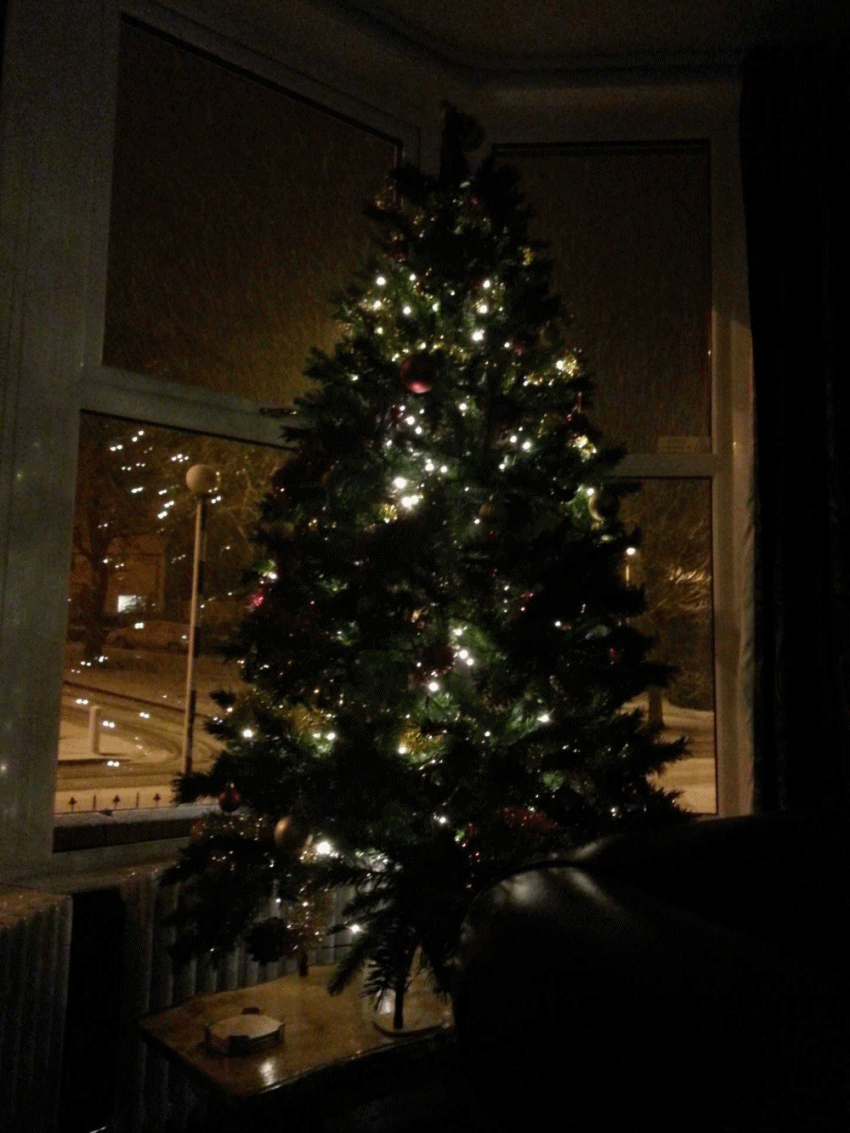 Finally I can stop baking and start roasting.
Evidently
sauerkraut and mushroom pierogis are a Polish Christmas Eve staple, so I thought I'd give them a go as
this year's starter
with a piscine twist.
I decided this year we'd also try a
spiced cranberry and apple stuffing
as recommended by Mum and Delia Smith. What could go wrong?
Things we (re-)learned this Christmas:
Sauerkraut and mushroom stuffed filo pastry parcels are much too fiddly for a Christmas starter.
Mum's favoured spiced cranberry and apple stuffing is far too tart and practically inedible in any quantity. Just goes to show you can't trust anyone these days. Maybe next year I'll have a go with a potato-based stuffing for a change?
Kurt's new gas oven still cooks a 10lb (pre-stuffing) goose in under 4 hours.
Kurt really needs a meat thermometer.
You can leave the crusts in your bread sauce, but I still say it's a bit weird.
Don't forget to add the leftover goose to the pilaf - it's the whole bloody point!
No one eats liver paté at Christmas - no matter how seasonal it is.
You can never have too much bacon.
You can have too much cheese.
And those things without which no Christmas would be complete:
Filo Parcels with Prawn, Mushroom and Sauerkraut
fish starter
I stole the leek
ribbons
from
Susanna Booth
in the hope it would impress Kurt's kids enough that they'd try eating some. But it didn't :(
Mushroom and sauerkraut pierogis are a Polish thing, according to my cute (Polish-ish) landlady. I was so impressed by the way the samples she brought me went with my
clam chowder
(not sure why I thought I'd try them together, but I did) that I decided to add some fishiness right in there.
Yum!
The lady in the Polish deli recommended
Edmal
's sauerkrauts. I think she was right.
Makes about a dozen parcels
filo pastry
2 medium onions, finely sliced
30g butter
300g button or chestnut mushrooms, finely sliced
a few cloves garlic
350g sauerkraut
1 large king prawn, or several smaller
few tablespoons sour cream
a few spoons of fish or mussel stock
olive oil for brushing
a leek, thinly sliced lengthways for decoration


300g soured cream
small bunch dill, about 15g
a little wine vinegar
Peel and cut the onions in half, then slice them finely. Melt the butter in a large pan and add the onions, letting them soften. Peel and slice the garlic and add to the onions.
Set aside.

Slice the mushrooms finely , refresh the pan with butter, and cook the mushrooms for 5 minutes or so until they lose most of their moisture.
Set aside.

Drain and rinse the sauerkraut, briefly, in a colander under cold running water, then shake or pat dry. Make up a sauerkraut, onion and mushroom stuffing mixture according to your taste - I find about the same volume of sauerkraut and onion isn't bad. Perhaps a little less onion.
Peel the (raw) prawn(s), remove the intestine that runs along its back, cut into small pieces a few millimetres cubed and add to the onion and mushroom mixture. Moisten the mixture with fish stock, stir through a few tablespoons of sour cream, mix well, season with salt and black pepper and set aside.

Preheat the oven to Gas Mark 4.
Cut the filo sheets in half, then in half again . Brush a little olive oil across the surface of each (internal) sheet and then arrange them neatly in stacks of three.
Place a small pile of filling into the centre of each square of three sheets. Fold the corners inwards, overlapping slightly, until you are left with a square parcel - brush each corner with oil before you fold in the next one, so that they all stick to each other.

Flip the parcels over and place on a baking tray. Brush the top with a little oil. Bake for 20-30 minutes until the pastry has turned crisp and golden.

To make the ribbons, clean and peel the leek, but trim away as little of the green as possible. Cut the leek in half lengthways and remove the pale green centre. Slice into 12 thin strips, boil until soft , then drain on kitchen paper. For each parcel, you'll need a strip lengthways and widthways (tuck the edges under the parcel), plus one extra to look like the knot on top.


Loosen the soured cream in a small bowl with a fork. Finely chop the dill fronds and the most tender part of the stems. Stir the dill into the cream and add a little salt and black pepper and a few drops of vinegar.

Serve the parcels with the sauce.