Pre-Christmas Dinner
Stuffed Roast Artichoke
starter
Artichokes stuffed with breadcrumbs and a creamy dip, then baked.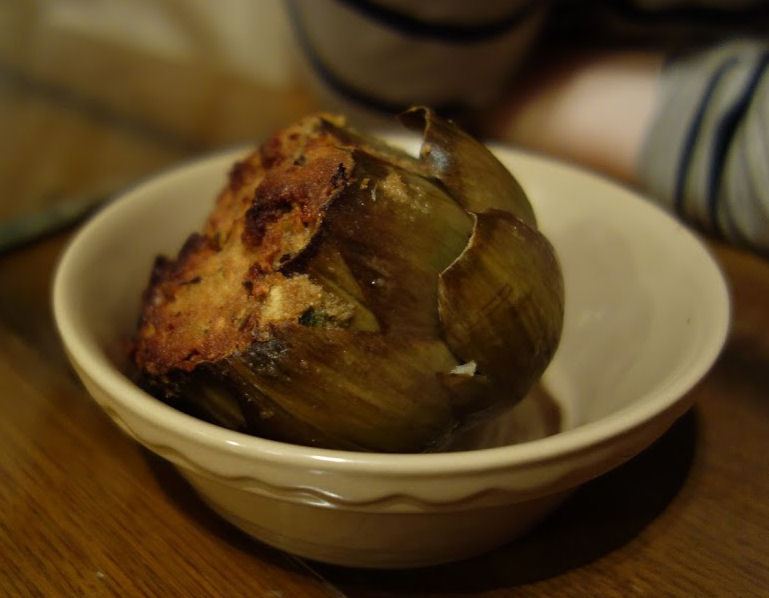 I had the idea of re-creating a favourite
hot artichoke dip
but using fresh artichokes and stuffing them with the dip mixture.
They make a great starter actually - the breadcrumbs add a nice crunchy texture whilst the mayonnaise mixture provides a pleasant tang.
You need to keep an eye on their baking and adjust the temperature so the artichokes are cooked when their tops are browned, covering them for a while if necessary.
It might also be possible to bake them all the way from raw without bothering to par-cook them first.
Serve one artichoke per person
artichokes
lemon


dried breadcrumbs
mixed dried herbs
half mayonnaise
half sour cream
pickled jalapeños, chopped
garlic, crushed
spring onions, thinly sliced
Parmesan, grated
First you can make up an Italian-style breadcrumb mix. Dry some crust-less bread slices in the oven or grill. Process them to fine golden crumbs in a blender. Stir in your preferred mixture of dried herbs, any from
oregano
marjoram
thyme
basil
onion powder
garlic powder
black pepper
Mix with about the same quantity of grated Parmesan.
Stir together half mayonnaise and half sour cream, and fold in some chopped pickled jalapeños from a jar, crushed garlic, and some shredded spring onion
Set aside.
Now prepare the artichokes: cut off the stalks close to the body so the bulbs will stand up. Remove the darker, thicker, lower leaves (probably just one layer). Cut the top of the artichoke off about half an inch down taking off the top layer of leaves. Halve a lemon and rub the cut parts of the heads with the lemon, or drizzle with lemon juice. With a pair of scissors snip away the tips of all the remaining leaves to remove their hooked barbs, then take a teaspoon and carefully scoop out the hairy choke from the centre of the head. Drizzle in some more lemon juice. Put the artichokes upright in a steamer or a tightly-closed pan with enough water and steam them for about 5 minutes to par-cook. They should have softened enough for a knife to penetrate their bottom, but not so much that they are fully cooked and falling apart.
Preheat the oven to Gas 4-5/180°C/360°F.
Once the artichokes are cool enough to handle, stuff them thoroughly with the prepared mixture, using a dessert spoon to prise open the leaves and force stuffing into every gap.
Arrange them upright in a baking tray or oven-proof dish, pour in enough water to come about half-way up and bake them until the tops are golden and their leaves pull away easily.
Mini Christmas Puddings
dessert veg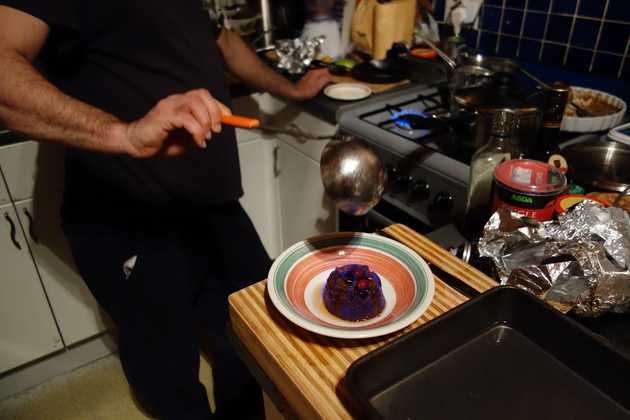 Serve with a rum sauce, crème fraîche or brandy butter.

Serves 4
2½ oz (60 g) self-raising flour
½ teaspoon baking powder
½ rounded teaspoon ground mixed spice
1 medium egg
1 oz (25 g) butter, softened
1½ fl oz (40 ml) black treacle
2 fl oz (55 ml) Irish stout
1 tablespoon dark rum
1½ oz (40 g) Bramley cooking apple, peeled, cored and finely diced
½ oz (10 g) chopped roasted hazelnuts
3 oz (75 g) currants
½ x 400 g jar mincemeat
grated zest ½ orange
grated zest ½ lemon
12 fresh cranberries, to serve
1 tablespoon brandy, if flaming the puddings
Pre-heat the oven to gas mark 4, 350°F (180°C).

First sift the flour, baking powder and mixed spice into a medium bowl, then add the egg and softened butter. After that, measure the treacle into a glass measuring jug, add the stout and rum and mix these together.
Next, pour this mixture into the bowl and, using an electric hand whisk, whisk everything very thoroughly together. Now add the apple, nuts, currants, mincemeat and, finally, the grated orange and lemon zests. Then mix everything together very thoroughly, and divide the mixture among 4 well-buttered 6 fl oz (175ml) pudding basins. Top each with a small circle of buttered baking parchment, followed by a 7 inch (18 cm) square of foil large enough to fold under the edges of the basins, making a pleat all the way round to seal.

Now place the basins in the tin and place the tin in the oven. Next pour in 1 inch (2.5 cm) of boiling water from the kettle and leave to cook for 45-50 minutes, or until the puddings are springy and firm to the touch in the centre. Then remove them from the oven and let them stand for 10 minutes before carefully running a small knife around each one to turn them out on to warm serving plates.

Garnish each pudding with 3 cranberries on top. If you want to flame the puddings as they go on the table, warm a ladleful of brandy over direct heat and as soon as the brandy is hot, ask someone to set light to it using a long match. Place the ladle, now gently flaming, on top of the pudding — but don't pour the brandy over until you reach the table. When you do, pour it slowly over the pudding, sides and all, and watch it flame to the cheers of the assembled company!

Note: If freezing the cooked and cooled puddings, defrost thoroughly, then place in a loose parcel of foil with a couple of tablespoons of brandy sprinkled over. Re-heat on a baking tray in an oven pre-heated to gas mark 4, 350°F (180°C) for 25 minutes.