Spanakopital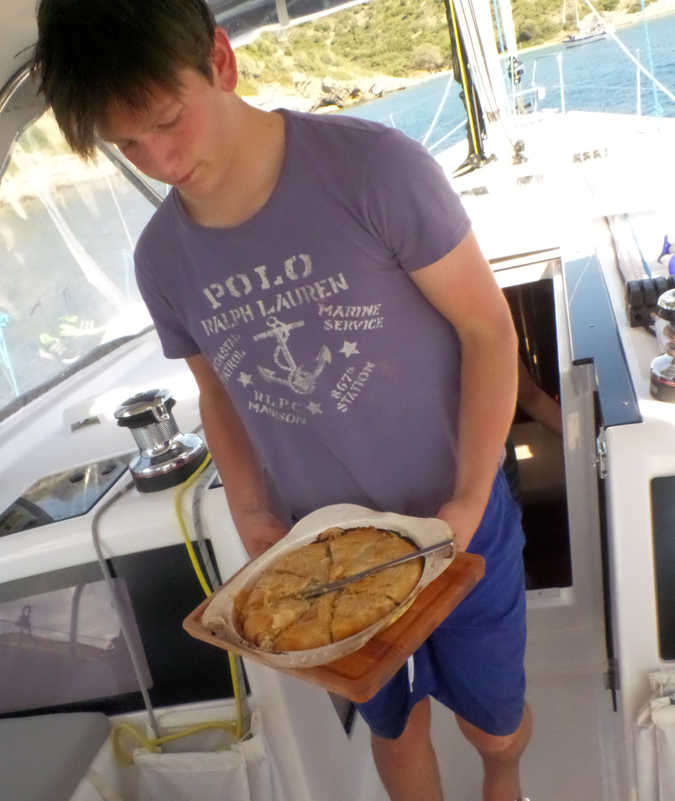 Inspired by
recent Greek adventures
, or perhaps just my natural genetic inclination, I quite fancied knocking up a tasty-looking but distinctly ersatz
spanakopita
. We ate quite a lot of lunch-time Greek spinach pies while we were sailing there, but made none of them; they came pre-packed in a sealed plastic containers from the fridges of every corner shop and grocers, but surprisingly good they were. Just stick them in the oven and you're good to go.
Don't think I've noticed them in this country, but I don't suppose we'd have the discernment required to force a supermarket to stock one worth eating in any case. Those foreigners have all the best food.
Super-Carrots
make a fine accompaniment, and a Greek salad, obviously. Preferably dressed with the olive oil you brought back from your latest visit.
Perhaps one day I'll actually have a go at making my own filo pastry?
Creamy Garlic Chicken Spanakopita
main fowl
According to the font of all wisdom,
Spanakopita
is a Greek portmanteau term for spinach pie, so calling this a chicken spanakopita seems fair game. Scrunching up the filo (phyllo?) pastry topping gives a nice crunchy texture as well as making it look pretty.
The original recipe calls for baking the pie in the skillet used for cooking, but I used a separate casserole dish, and took the opportunity to line the bottom of it with extra filo pastry to soak up more of those lovely, lovely juices. Yum.
Serves 6
1 pound fresh baby spinach leaves, washed
6 tablespoons unsalted butter, divided
1½ lb boneless, skinless chicken breasts or thighs, chopped into 1-inch chunks
salt and freshly ground black pepper
6 medium cloves garlic, minced
2 tablespoons all-purpose flour
1 leek, sliced, washed
glass wine
½ cup chicken stock or as required
¼ cup cream
6oz feta cheese, crumbled
3 scallions, white and light green parts only, chopped
1 small bunch dill, chopped, plus more for garnish
6 to 8 sheets phyllo dough, thawed and covered with a towel
Heat a large cast iron skillet over medium heat. Add spinach, a handful at a time, until the pan is full; you may have to cook the spinach in batches to ensure that it cooks evenly. Turn the spinach often until just wilted, then transfer to a colander and press out as much water as you can. Continue until all of the spinach is wilted and pressed.

Fry the leek slices until they take on a little colour. Set aside.

Preheat oven to 425°F/220°C/Gas Mark 7. Melt 2 tablespoons butter in same skillet and add garlic. Cook until fragrant, about 1 minute, then mix in flour. Stir together until the mixture forms a golden paste. Whisk in a glass of wine, if you have one. Whisk in ½ cup chicken stock

Add feta cheese, scallions, and dill and stir, allowing the feta to melt. Return the chicken and spinach to the skillet, mixing well, bring back to almost simmering and remove from heat. If the sauce has thickened too much, add more chicken stock to reach the desired consistency, keeping in mind that the mixture will thicken even more when baking in the oven.
Season with salt and pepper.

Melt the remaining 2 tablespoons butter in a small saucepan or in the microwave. Lay a sheet of phyllo on a work surface. Brush with melted butter, then scrunch up the sheet and set it on top of the spinach mixture in the skillet. Repeat with remaining phyllo until the skillet is completely covered. Bake until phyllo is golden and crisp on top, about 20 minutes. Remove from oven, garnish with additional dill, and serve warm.
Pour off any excess water in the skillet and place back over medium heat. Melt 2 tablespoons butter in the pan and add the chicken and a grind of pepper. Cook, turning once, until the edges are lightly golden, about 4 minutes. Remove from heat and set aside.
Super Carrots
Carrots cooked in carrot juice
side veg vegan
I've
read that
carrots make excellent candidates for sous vide cookery, which method intensifies their flavour to great effect.
A
super carrot
if you will.
So I decided to attempt a poor man's super carrot by cooking them
gently
in their own carroty juices.
The result is pretty good actually, with the carrots retaining much more of their natural carroty goodness than steaming or water-boiling would achieve, but it
is
quite a lot more effort.
And takes a lot more carrot!
Serves Surprisingly Few
Select a few straight carrots of dimensions that will give you a uniform collection of cuboids.
Trim your selected carrots down to a rectangular core by slicing away four long sides, then cut the core into cubes.
Juice enough carrots to produce liquor to cover the carrot cubes . Season lightly with salt and sugar.

Put the carrots and juice in a small pot, bring up to the boil then leave at the gentlest of simmers until the carrots are tender (perhaps half an hour). You may need to raise the pot over a gas ring, if that's what you're using, to avoid boiling. Serve immediately, or leave the carrots to cool in the juice.
Because the carrot juice separates when cooked producing a suspension of orange flecks, you should quickly rinse the carrots with hot water to clean them before serving.