Another day, another
meat dish
. Or
two
.
I fed Flora cassoulet, in return for her generous gift of
Kraky
The Octopus - my new boat mascot. Did I mention I have a new boat?
Then she made a ginger cake from a kit. A kit. I didn't even know there were kits for cakes. She took the cake to work for her students to feast on, but that didn't stop her enjoying the icing.
If you have an
enormous
vat of cooked cassoulet and only want to heat up a single portion you can do worse than decanting some into a smaller pot, topping with a fresh batch of crispy breadcrumbs and baking that for a half hour at Gas Mark 5.
Have some random meat.
Cassoulet
A meaty duck (or chicken) stew
main meat fowl stew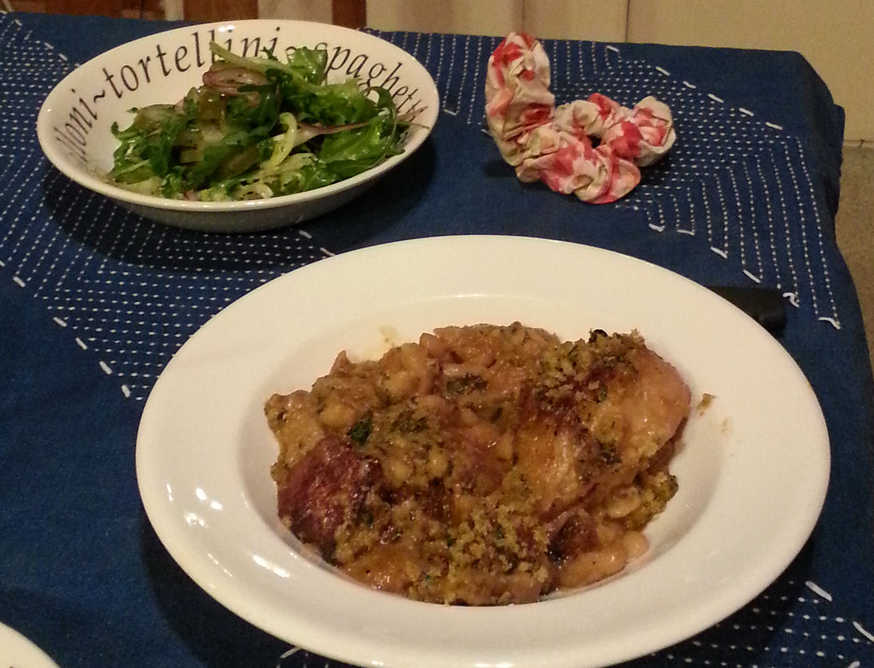 I had to make this to use up all the lovely stock I juiced out of my Christmas goose.
Had to
- this being the end of February and all!
I also substituted my Christmas goose fat for the recipe's traditional duck.
A cassoulet is just a way the Gascons have of using up their preserved winter meats, so would usually contain duck (or goose!) confit, salt or cured pork, dried beans and possibly cured ham. Feel free to substitute what meat you like, I couldn't get any salt pork so I just used a (skinless) chunk of belly pork and some hunks of mildly smoked pancetta.
If you had a ham hock you might cook it with the beans then add the stripped meat to the stew.
You can shred the duck meat or add the pieces whole - but I actually went with chicken pieces (4 thighs and 3 drumsticks - a bit much really) which take on the lovely meaty flavours really well.
Smallish white beans seem to work best such as haricot or cannellini.
Locals would use a fresh garlicky Toulouse sausage, but I found a cooked Polish garlic sausage worked reasonably well, cut into chunks before frying.
A
proper
cassoulet should also develop a delicious crust as it cooks - and you might want to enhance this with a layer of breadcrumbs. Either way you're supposed to stir the crust back in to the beans seven times to thicken it during cooking, but I thought twice was enough!
Felicity suggests drizzling the crusty stew with walnut oil to serve, but I found that a sprinkling of sherry vinegar more effectively highlights the flavours. Save the walnut oil for the salad.
You can do the final cooking in a slow cooker, but with a lid on you're not going to get the same crust development - even if it otherwise probably tastes just as good.
The secret to this (particularly un-breadcrumbed) crust is a good gelatinous stock. So if you haven't made your own which adopts a nice jelly-like consistency when reduced and cooled, then you'll need to add some gelatine to achieve the same effect.
This ridiculously meaty stew goes down well with crusty bread and perhaps a sharply-dressed green salad. Possibly one with gherkins or other pickles in it.
And red wine :)
Serves 6-8
1 pound dried cannellini beans
1 large onion, peeled, quartered
2 carrots, washed, cut into 3-inch sections
2 stalks celery, cut into 3-inch sections
1 whole head garlic plus 6 cloves
2 bay leaves
sprigs of thyme
sprigs of parsley
2 pints of good strong homemade chicken stock
or
2 pints shitty commercial chicken stock with 2 packets (¾oz/20g/4tsp) unflavored gelatin
6 tablespoons duck fat
1 small, unsmoked ham hock, skin on
½ pound salt or belly pork cut into 1" cubes
½ pound pancetta cut into 1" cubes
6 pieces of chicken thighs and drumsticks, or 3 whole chicken leg quarters separated
or
3 confit duck legs and their fat
Freshly ground black pepper
1 pound garlicky Toulouse sausage (2 to 4 links depending on size)
a dozen small onions (about 300g)
couple of cloves
2 tbsp sun-dried tomato paste 120g


4 oz white breadcrumbs
2 tbsp walnut oil
good bunch of curly parsley leaves, chopped
1-2 tablespoons duck fat
Cover the beans with water in a large bowl, add a pinch or two of bicarbonate of soda (to soften) and leave to soak overnight.

Place the stock in a large liquid measuring cup and sprinkle gelatin over the top . Set aside.
Peel the large onion and cut into quarters, held together by the root. Peel the small onions. Cut the carrot and celery into manageable pieces.
Drain the beans well and put in a large pan, cover with an inch of water then add the large onion, whole head of garlic, carrot, celery, the herbs, and bring to a boil. Skim off any foam which rises (keep doing this until it stops), then cover and simmer gently for about 1½-2 hours until the beans are tender but not falling apart.
Allow to cool and drain (if very wet) retaining the cooking water, discard the vegetables, and herbs but squeeze the cooked garlic cloves from their skins, and set aside.
Crush the fresh garlic cloves with a little salt and a couple of cloves to a paste, then mash in the reserved cooked garlic, 4 tablespoons of the duck fat and the sun-dried tomato paste.

Now cook the meats and onions in batches; avoid overloading the pan for each round - you may need to cook each ingredient in 2 or 3 steps. Make sure there's enough, but not too much fat in the casserole at each stage:

Heat a couple of tablespoons of duck or goose fat or a little oil in a large casserole over high heat until shimmering. Add salt or belly pork and cook, turning occasionally, until browned all over, about 8 minutes. Transfer to a large bowl and set aside.
Add pancetta chunks and cook, turning occasionally until browned all over. Transfer to the bowl with the pork.

Season chicken pieces (or the confit duck) with pepper (do not add salt) and place skin side-down in the casserole. Cook without moving until well browned, 6 to 8 minutes. Flip chicken pieces and continue cooking until lightly browned on second side, about 3 minutes longer. Transfer to bowl with pork.

Fry fresh garlic sausage whole, then cut into chunks afterwards, otherwise cut pre-cooked or cured garlic sausage into large chunks first. Add sausage to pan and cook, turning occasionally, until well-browned on both sides. Transfer to bowl with pork and chicken. .

Add whole, peeled, small onions to pot and cook over a lower heat, turning occasionally until golden and softening, about 10 minutes. Set aside with the meat. Drain excess fat from the pan.
Preheat the oven to 140°C/275°F/gas mark 1 .

Over a low heat, grease the bottom of the casserole with the fatty garlic and tomato paste, then tip in the beans, the rest of the garlic paste and the meat. Stir, then top with the pieces of chicken skin-side up. Add enough stock and reserved bean water to just cover the beans.
Transfer to oven and cook, uncovered, until a thin crust forms on top, about 2 hours, adding more water by pouring it carefully down the side of the pot as necessary to keep beans mostly covered. Check for salt, but it will probably already be plenty salted from the meat.
Leftover Meat Stew
meat stew
main meat stew
This random stew made with all the meat left over from one of our sailing cruises was surprisingly tasty really. I think the pomegranate gives it an interesting kick.
If you have acquired some
Linie
- the second-worst aquavit in the world - then here's a good opportunity to use some up.
Serves a Ship
2 star anise
6 cloves
about 1kg loin chops
500g gammon steaks
2 carrots
½ head celery
6 cloves garlic, chopped
2 onions, chopped
2" ginger, in fat slices
4 bay leaves
1 tsp oregano
glass of Norwegian Linie Aquavit
2 tablespoons pomegranate molasses
4 small beetroot, peeled, chopped
one orange and one green bell pepper , seeded, chopped
a few fresh runner beans, sliced
2 handfuls butter beans, soaked
2 handfuls flageolet beans, soaked
2 potatoes, peeled, chopped
10 prunes
salt & pepper


some pomegranate salad dressing with sliced red onion
Soak your choice of beans overnight (those above are suggestions only - it's
your
leftovers after all).
Heat some oil and fry the whole spices until they release their fragrance.
Fry up the meat to brown it and set aside.
Fry the onions until glassy, then add the celery, then the garlic.
Degrease the pan with a glass of Linie Add the remaining ingredients, bring to the boil, season and simmer until the vegetables are cooked.
Serve with a dollop of red onions marinated in
pomegranate salad dressing
.