Bonfire of the Pumpkins

Remember, remember, the fifth of November. Pumpkins and butternut squash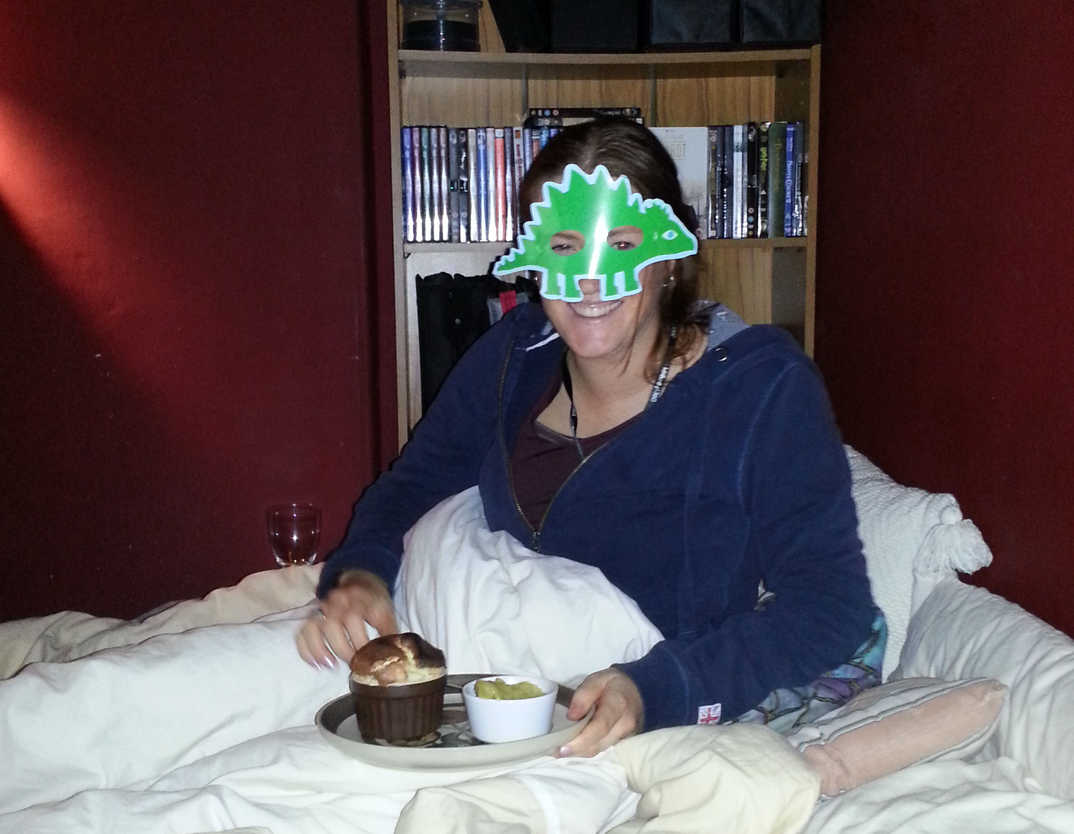 Aline my cute landlady and Flora my cute sailing buddy were good enough to help out with road testing some elements of my upcoming
Pumpkin Palooza
dinner party.
To which neither were invited - sorry girls!
I had a couple of soups to try, along with a likely-looking pumpkin-pie alternative: a
pumpkin soufflé
! I found the soufflé recipe online, along with a suggested serving of
bourbon and molasses sauce
which I decided to body-swerve, plumping for another round of my leftover
mango sorbet
instead.
So two deliberately un-Thai-style soups were on the table - a vegetarian
Cannellini and Kale Soup
(now with added pumpkin) or a chunky and very un-vegetarian
Salt Cod, Chickpea and Chorizo Soup
(also with pumpkin).
They were both excellent, to be honest, but I decided to go with the fishy, meaty one for the main event - it seemed more autumnal, slightly more substantial, plus it looked really good and I wasn't feeding any pesky tarians.
And so down to my local Fucking Supermarket™ to buy a cheap chicken to make stock with, noticing as I did so the
outrageous
price of ready-made fresh stock. To get more than a litre of stock it's actually
cheaper
to buy a chicken, plus then you also have a chicken-load of cheap, watery, hormone-laden chicken to eat up.
Hmmm, actually buying that stock is starting to look more attractive...
Cannellini, Kale and Pumpkin Soup
soup veg vegan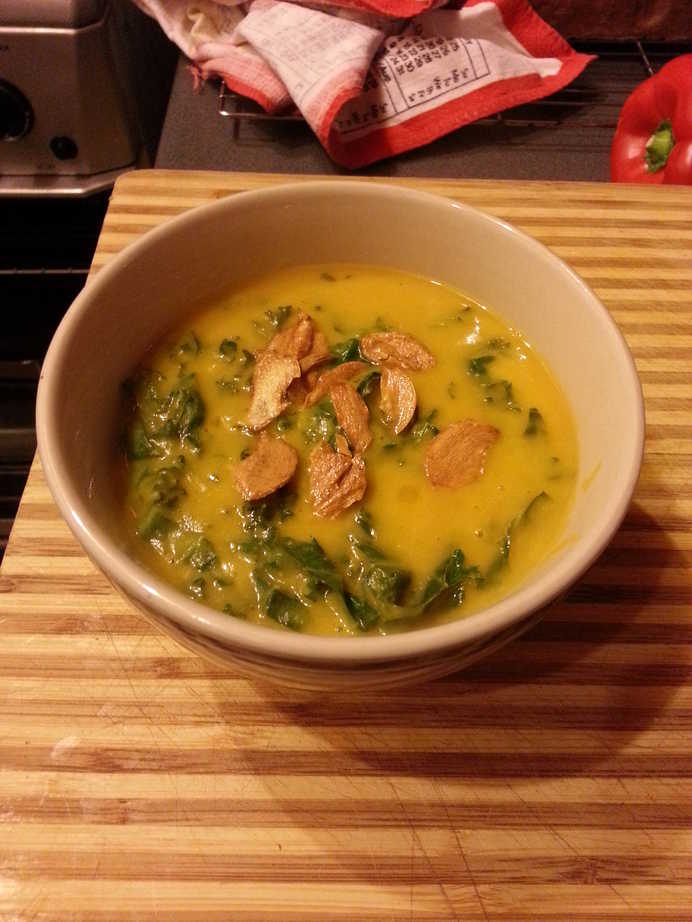 The puréed beans give this soup a very creamy texture and my pumpkin addition makes it a bright orange colour - perfect for Autumn. Although this was quite a tasty soup I wasn't over-impressed with the kale, though I'm often not. It seemed a bit on the tough and tasteless side and it rapidly turns an unappetising brown colour making it less attractive after reheating. I found my salting approach helped with this.

I had to use ordinary kale, but I've subsequently found that Sainsbury's stock Cavolo Nero (aka Tuscan Kale) which I'd like to try instead - it might be an improvement.
Serves 6
2 onions, chopped
1 medium carrot, chopped
olive oil
Coarse salt and freshly ground pepper
4 garlic cloves, minced, plus 2 garlic cloves, thinly sliced
1 tablespoon chopped fresh thyme
Scant 1/4 teaspoon crushed red-pepper flakes
1-2 teaspoons fennel seeds
340g/12 oz cannellini beans (2 cups), picked through and soaked overnight
1 small pumpkin, de-seeded, roasted
6 cups water or vegetable stock
3 dried bay leaf
8 ounces Tuscan kale (lacinato kale/cavolo nero), stems and centre ribs removed, leaves sliced crosswise 1/2 inch thick
Grind the fennel seeds and the red pepper with a teaspoon of salt to powder.
Thoroughly wash the kale, cut away the stalks (you can use them like the bay leaves to add flavour while cooking the beans if you like) and slice cross-ways about 1cm wide.
Heat a couple of tablespoons oil in a medium Dutch oven or a large pot over medium heat. Cook onions and carrot until just softened, about 5 minutes. Season with the ground spices and fry. Stir in the minced garlic and thyme. Cook for 1 minute.
Drain and rinse cannellini beans. Add to Dutch oven with stock or water and bay leaves. Bring to a boil. Reduce heat to low. Simmer, covered, until beans are tender, about 45 minutes. Let cool slightly. Discard bay leaves.
Cut the pumpkin in half, scrape out the insides and set aside the cleaned seeds for
roasting
. Lay cut side down on a lightly oiled oven tray and roast at Gas Mark 5 for 20-30 minutes until softened and the skin starts to separate from the flesh. Peel and cut into chunks and add to the pot.
Working in batches, purée soup in a blender until smooth, transferring it to a clean pot as you work.
Bring the soup to a simmer. Stir in the kale and 1/4 teaspoon pepper. Simmer until the kale is tender, about 15 minutes. Season.
Meanwhile, heat 2 tablespoons oil in a small skillet over medium-low heat. Cook sliced garlic, stirring often, until crisp and golden, 1 to 2 minutes. Transfer garlic to a plate using a slotted spoon. Reserve garlic oil.
Divide soup among 6 bowls. Garnish with garlic chips, and drizzle with garlic oil.
Pumpkin Soufflé
dessert veg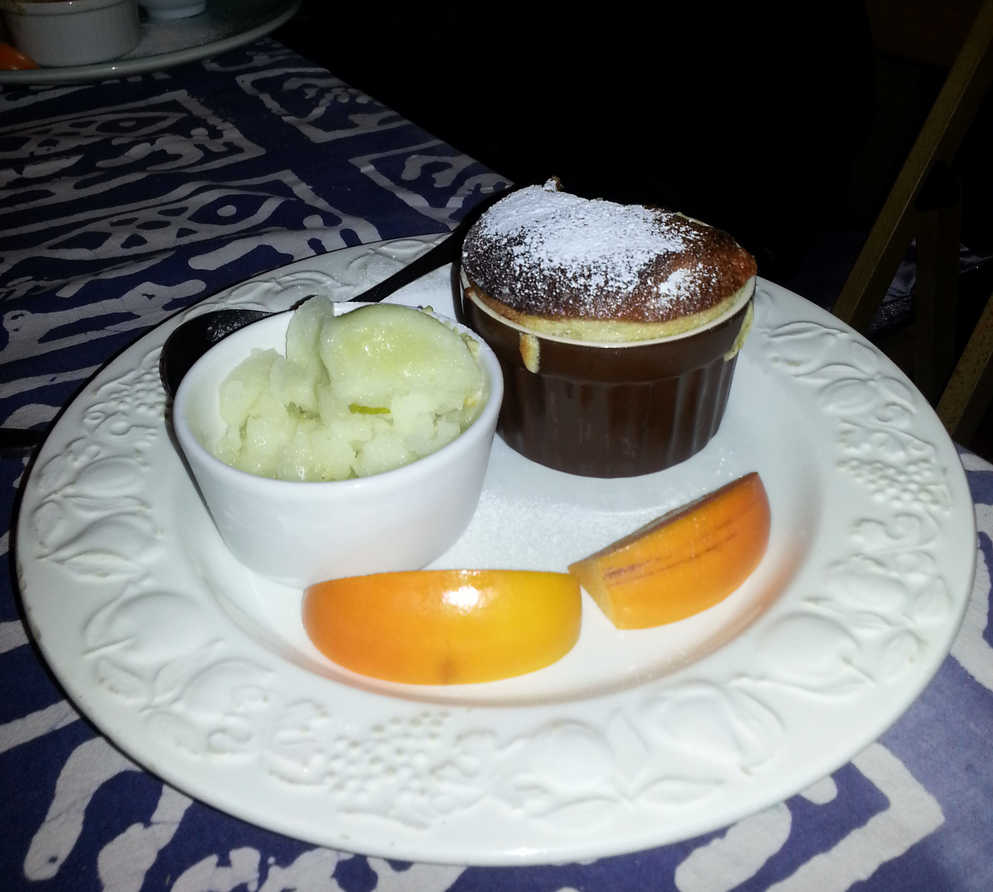 The online recipe calls for baking the soufflés at Gas 6, but I found they were starting to burn at that temperature - Gas 5 worked better for me. Also as online commenters have mentioned you could easily increase the quantity of pumpkin to 1 cup and reduce the eggs to 8 - I did have plenty of leftover, plus it might make them less .
I skipped the advertised Bourbon-Molasses sauce (which sounded a bit sickly and anyway I preferred the idea of Bourbon-Maple) and went for a refreshing
sorbet
instead.
The pumpkin mixture (without egg whites) can be made 1 day ahead and chilled.
Soufflés can be assembled 1 hour before baking and kept in freezer.
Baked soufflés can be re-puffed if necessary in a 200°C/400°F oven 10 to 12 minutes (serve quickly, as they will deflate a little faster the second time around).
Makes 8
½ cup whole milk
1 tablespoon cornstarch
¼ teaspoon grated nutmeg
¼ teaspoon ground cinnamon
⅛ teaspoon ground allspice
Pinch of ground cloves
¾ cup plus 1 tablespoon granulated sugar, divided, plus additional for coating ramekins
¾ cup puréed pumpkin
10 large egg whites
¼ teaspoon salt


8 x 6oz ramekins


icing sugar
Purée your pumpkin - Just halve a small pumpkin, scoop out the innards and bake at Gas Mark 5 for 20-30 minutes until the insides are soft. I find a potato ricer is really handy for mashing the flesh - leave out any stringy bits.

Whisk together milk, cornstarch, spices, and 1 tablespoon granulated sugar in a small heavy saucepan. Bring to a boil over medium heat, whisking, then simmer, whisking, 2 minutes.

Remove from heat and whisk in pumpkin. Transfer to a large bowl and cool to room temperature.

Preheat oven to Gas Mark 6/200°C/400°F with rack in lower third. Butter 8 6oz ramekins and coat with granulated sugar, knocking out excess, then put in a large shallow baking pan.

Beat egg whites with salt in another large bowl using an electric mixer until they hold soft peaks. Add remaining ¾ cup granulated sugar a little at a time, beating, then beat until whites hold stiff, glossy peaks, 1 to 2 minutes more.

Fold one third of whites into cooled pumpkin mixture to lighten, then fold in remaining whites gently but thoroughly. Divide mixture among ramekins, mounding it. Sprinkle their tops with a little extra sugar to give them a bit of a crispy glaze.

Bake soufflés until puffed and golden, 18 to 20 minutes. Dust with confectioners sugar and serve immediately.