Anuschkurries

Anuschka bought me
the curry book that doesn't exist
for her birthday. (I know - don't even try to make sense of that.) And I volunteered to make her any recipe she chose from it.
She picked the slightly long-winded but very tasty
tandoori chicken kebabs
which I finally got around to making for her and her son Willy today.
Fortunately I had some extra tandoori paste leftover from another meal, so it simplified the preparation slightly, but I still needed to get the chicken marinating on Thursday night to give it a good 48 hours to season.
Since I was up anyway I reduced some
khoya
whilst jointing the chicken, (you get just enough time to skin and de-bone a chicken thigh or leg before the milk starts to stick) and used it to make some
kulfi
for our dessert.
I wasn't really pleased with it to be honest, although the taste was good, the texture was very dense and heavy. (Though oddly it seemed lighter when it warmed up again!) Also the khoya seemed lumpier than I remembered. Whether that was down to not stirring often enough (read continuously!) or whether I need to stir through some cream at the end as several other recipes do I'm not sure.
Anuschka is terrified of hot spices (does that make it odd for her to buy me a curry book?) so I made a (fairly) gentle
saag paneer
side dish.
coconut mushroom curry
: coconut milk and mushrooms - what's not to like? Well, it sounds a lot more tasty than it turns out.
I used the whey from my
homemade paneer
and some of the leftover coconut milk as liquid for the basmati rice, and that was extremely tasty - so the mushroom dish wasn't a complete loss!
I'd make the chicken again, and maybe try and spice up the saag paneer, but the kulfi definitely needs work and I don't think I'd bother with the mushrooms.
In fact I've been dabbling with
another creamy mushroom curry
to have with the leftovers (together with a
banana chutney
which didn't make it to the first meal) that seems more promising.
It did cross my mind to wonder if Anuschka had bought me the cookbook in expectation of my volunteering to cook her some tasty curries from it, but Aline assures me that Anuschka just wouldn't be that devious.
I'm not convinced though - she's a woman after all.
Banana Chutney
sauce pickle veg vegan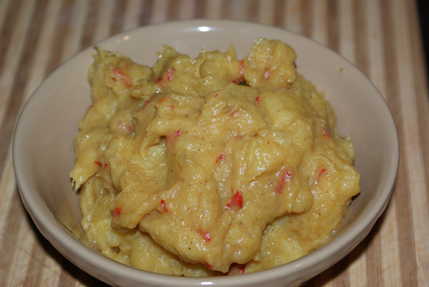 I was impressed with this chutney at David Bann's after
Mum and I had it with her meal there
. I wanted to have a go at it myself, but wasn't quite sure about the waitresses' instructions on how to ferment the bananas, so I emailed David for some more details and he very kindly sent this reply:
And here's my first attempt...
Makes plenty for 4
1 red chilli, deseeded and chopped
2 bananas, sliced
2 teaspoons sugar
1 teaspoon curry powder
juice of 1 lime
½ cup water
Dry-roast some aromatic spices (coriander, cardamom, cumin and fennel seeds for example) then grind them to a powder. Or just use some
curry powder you made earlier
. Add the sugar, lime juice, sliced bananas, chopped chilli and enough water to cover. Simmer gently for about 5 minutes until the banana just begins to break up. Add more water if necessary.
Saag Paneer
Spinach and Curd Cheese Curry
curry side veg
Spinach and curd cheese Indian curry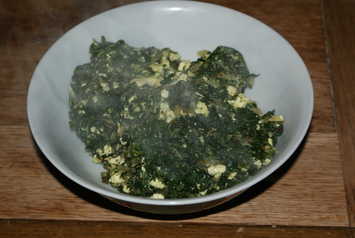 I finally got around to trying something from this
Reza Mahammad cookbook
I got as a Christmas present from Mum. About 10 years ago!.
Reza warns about the rubbery fried cubes of cheese he often suffers in restaurants, and suggests grating shop-bought block paneer rather than chopping it to avoid that particular horror.
I, of course, made my own. Which is too soft to grate but crumbles nicely when chopped up.
Plus you get to use the whey to make your rice.
Serves 4
450g/1 lb spinach, blanched and chopped
1 tbsp vegetable oil
2 tsps whole cumin seeds
1 medium onion, finely chopped
2 garlic cloves, finely chopped
a pinch of turmeric
100g/3½ oz paneer, crumbled or coarsely grated
100ml/3½ fl oz vegetable stock
salt
50ml/1¾ fl oz fresh cream
1 tbsp fresh coriander, finely chopped
Wash the spinach in plenty of cold water, letting any sand sink to the bottom, then rinse and drain well in a colander. Put in a large pan, cover with a lid, and place on a medium heat for 2-3 minutes. The spinach will cook in the steam made by the water clinging to its leaves. As soon as it begins to wilt, stir the top leaves to the bottom. As soon as all the leaves are wilted, remove the pan from the heat and drain, squeezing out as much liquid as possible. Allow the spinach to cool, press out the remaining liquid to get the spinach as dry as possible, and roughly chop.

Heat the oil in a saucepan until hot, then add the cumin seeds and allow them to sizzle. Now add the onion and cook until it becomes translucent in colour. Add the garlic and continue to cook until the onions have softened, then add the turmeric. Stir the spinach into the mixture, continue to cook for a further couple of minutes, then add the paneer and vegetable stock. Adjust the seasoning, pour the cream on to the saag paneer, garnish with the coriander, and serve immediately.