This week I will be mostly eating stuff from the back of the fridge.
...Where I found some Halloumi lurking. It had been lurking for quite a while (it's not my favourite cheese) so
I invented an aubergine dish to use it up
. It was so good I'd consider buying more Halloumi just to make it again!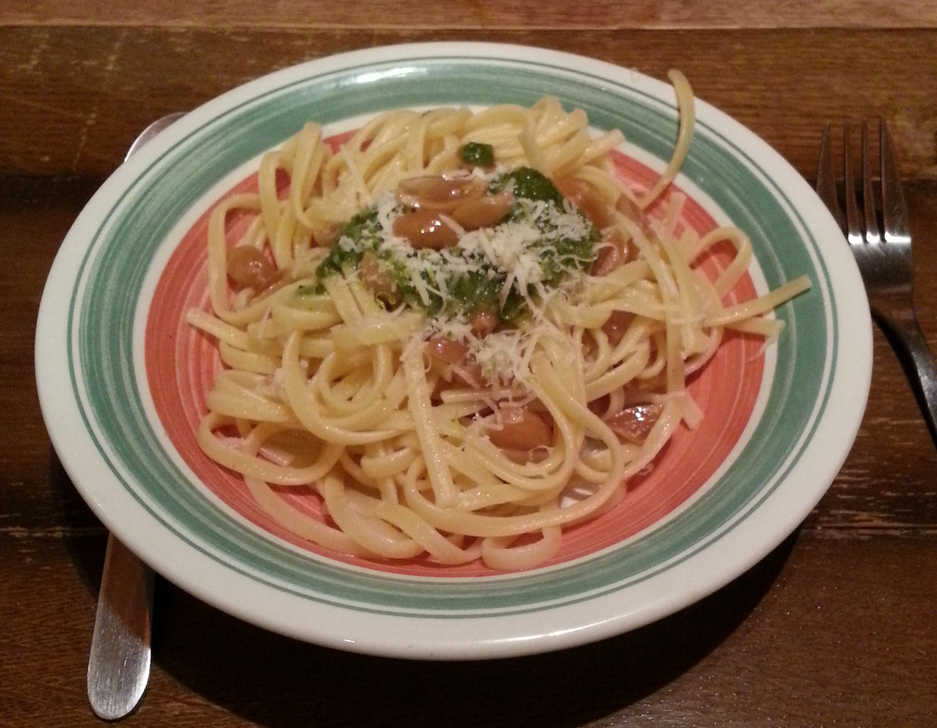 Next to the Halloumi was the remains of a jar of
home-made pesto
that I'd once used to
coat a slab of salmon
so I decided to work on another taste sensation that I've got a hard-on for: peanuts and pesto. Having once been surprised at how well crushed peanuts worked on a salad dressed with pesto, I've been searching for other ways to combine the two. I had a go at grinding peanuts into that
pesto crusted salmon
I figured the nuts would need to be considerably less crunchy if they were going to be at all palatable on linguine, so I boiled up a small bag of roasted salted peanuts in stock (well, water with a spoonful of Marmite in it) for half an hour or so to soften them, then threw them on top of the pesto pasta. I chucked the leftover softened peanuts into my Imam Kustu, so all was not wasted.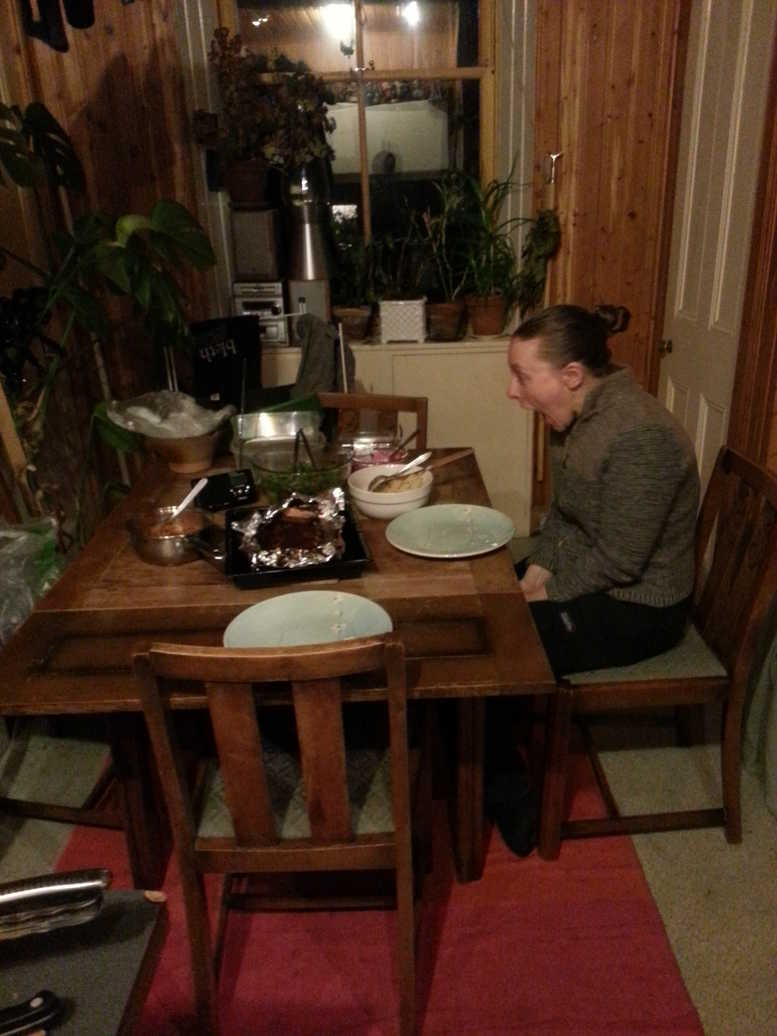 Meanwhile my temporary flatmate Doctor Jenny has been on holiday from her Edinburgh holiday, but returned briefly to collect her washing.
So I deep-fried the fatted calf for her dinner.
Well, of course, we didn't
really
have a fatted calf - my freezer isn't big enough for one, so we had deep-fried
buffalo wings
with
ranch dressing
instead and I baked some of the leftover barbecued spare ribs (sadly pre-barbecued and pre-packaged from Costco) that have been hogging space in the freezer since my
Birthday Barbecue
. Maybe I'll be able to get a calf into the new freezer, when I've finally emptied and replaced the one I've got?
As a break from all that fat, I bought a pack of four organic beetroots and mixed up a wasabi-flavoured version of
Joyce's beetroot and horseradish salad
which also went very nicely with the Imam Kustu as it happens.
To cook the beetroots I boiled them unpeeled in diluted white wine vinegar with some caraway seeds, rosemary and dill - since that's what I had lying around.
What beetroot I didn't use in Joyce's salad I grated over bowls of mixed salad greens for a nice and simple salad that was also pretty tasty.
As if Doctor Jenny hadn't been pampered enough already, I also treated her to some experimental
mashed potatoes with whisky-poached prawns
which were enthusiastically received. Maybe that's what she's looking so excited about?
Later my ex-partner Rachel announced a short-notice visit by our mutual friend Mary Poweroff, or at least it was short-notice for me - I'm sure Rachel knew all about it in plenty of time. Anyway, it gave me the perfect excuse to use up the
other
Reblochon cheese I brought back from my recent
French skiing trip
. This time I decided to make a smoked salmon
Tartiflette
replacing the original bacon (though without the frying). I added a few tablespoons of sour cream (and some chopped dill) too - so it was a bit sloppier than the bacon version, but still delicious.
Rich, but delicious.
To go with I made Elizabeth David's
courgette and tomato bake
; there's a meatless theme here - can you tell? Rachel's eldest Sophie ate (and ate and ate) with us, and she's now joined the legions of the vegetarian - the horror! Between the four of us there wasn't a spot left either, so I must have done something right :)
Speaking of creeping vegetarianism; what with the astonishing indoctrination of the younger generation by today's militant and unashamedly political teaching profession, it's really only a question of time until meat is banned. You already see the steady terrorising of meat as horror stories about the dangers of bacon, sausages or cow flatulence persistently infiltrate our
news
media.
So, my question is: What will the world look like when the skills and abilities and (*shudder*) opinions of these brainwashed youngsters are valued above those of their elders?
Don't think that's gonna happen? Don't think that's already happening?
Ask yourself what capitalism most desires:
A gullible, undiscerning, painfully fashion-conscious consumer, vulnerable to advertising and peer-pressure.


Products which change rapidly, are highly obsolescent, and are indispensable to a certain lifestyle or peer group
Methods of production which are facile to implement, require little training, education or scholarship
then look around you.
All that's thwarting this consumerist nirvana is youth's lack of disposable income. And that's where you old geezers come in (apologies to any 'yoof' reading). Too set in your ways to continuously re-organise your lives around the latest fads, too reluctant to endlessly shell out for products that last no longer than the time it takes to unwrap them, you need to be divested of your assets so they can be redistributed to the young.
Expect a two-pronged attack:
Promotion of the young:

foster the view of children as small adults
develop resistance to the idea of disciplining or controlling children and invent syndromes that require recalcitrant children to be appeased not opposed
praise the maturity of 'modern' children and encourage their independence:
promote the idea that children require ever earlier sexual education
press for a reduction of the voting age and promote the political engagement of ever younger children

Demonising of the old

scaremonger an 'ageing population'
present the elderly as expensive and unproductive - an increasing drain on precious resources
represent the retaining of homes with unused rooms by the elderly as a form of squatting - and accuse them of preventing hard-working families from affording suitable houses.
introduce mechanisms by which the elderly can be forced to liquidate their assets to pay for their subsistence or their health-care.
So Sophie - in answer to your question
do I think that the voting age should be reduced to 16?
:
Fuck You!
Fortunately, despite consumerism's best efforts to render obsolete any need for knowledge or experience, I know that ain't happening with cooking anytime soon (young Masterchefs of the year not withstanding) so
my
continuing utility is sinecured.
But the rest of you better watch out - you have been warned!