Curries To Bradford

Like shipping coals to Newcastle, no one delivers curries to Bradford. But they bring them
from
there.
I had a familial visit recently, and they obliged by restocking my freezer's
Spicey Cottage
curry collection.
They insisted I cook them a proper meal, apparently those
camping spaghetti bologneses
don't count, so I took the opportunity to use up one of my frozen haggii, and do them a nice Burns Supper.
We kicked off with the oysters left over from Flora's birthday party the previous day. Happy 30th Flora!
I processed up some breadcrumbs with garlic, red onion and parsley, drizzled in enough melted butter to start them clumping then topped the oysters for grilling
à les Halles
.
During our scenic amble up the Water of Leith to visit
Mary King's Close
we had come across a profusion of wild garlic, so I picked a carrier bag full. Though they'd mostly gone to stalks and seeds leaving none of their usual salad-like leaves, they still smelled plenty garlicky and I managed to turn them into some quite tasty
wild garlic tatties
by chopping the stalks then simmering them briefly in a mixture of milk and cream to soften them up before mashing them into the baked potatoes. They went well with the traditional
neeps
(with carrots and Grand Marnier), and
Drambuie sauce
.
To finish off I made up a very Scottish
raspberry cranachan
. Can't believe I haven't made this before. Or maybe I have and just forgot to write about it. We rounded off the evening with far too many games of
Pandemic
and a good time was had by all.
At least I hope it was?
I've still got a lot of food to use up before I take to the seas in my beautiful pea-sized boat, so after they left I made a
couple
of
curries
to celebrate. After all, I wouldn't want to use up the last of my Spicey Cottages prematurely now, would I?
Cranachan
dessert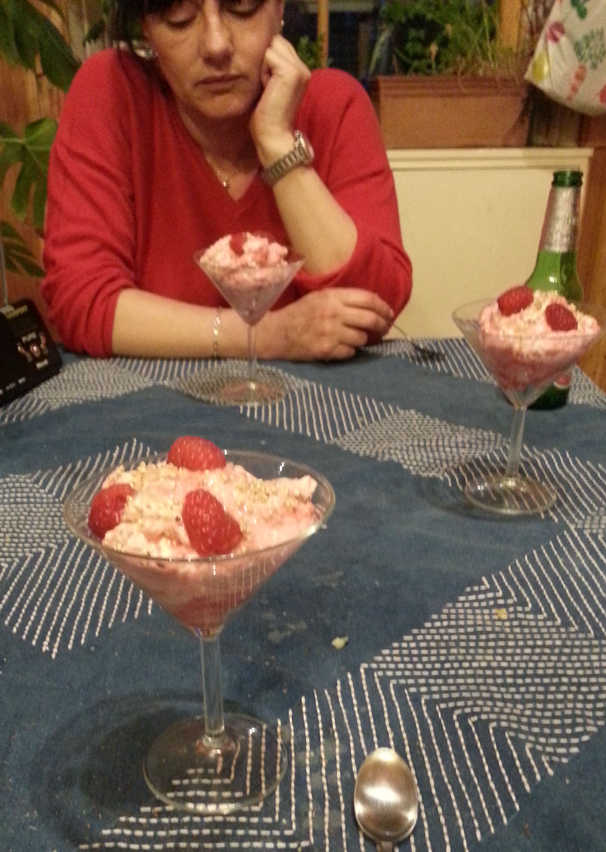 You get to choose your preferred type of oatmeal - pinhead is nice and crunchy, but you can use rolled if you prefer. Best not to use too smoky a whisky.
Serves 4
75g oatmeal
1 tbsp soft brown sugar
250g raspberries
500ml crowdie or double cream
4 tbsp honey, plus a little extra to drizzle
4 tbsp whisky
Heat a large frying pan over a medium heat. Add the oatmeal and sugar and toast, stirring until the sugar has melted and the oatmeal smells toasty. Tip on to a baking sheet lined with greaseproof paper and leave to cool.

Meanwhile, puree 175g of the raspberries until smooth, then pass through a sieve (if you want to be fancy).

Whip the cream to stiffish peaks, then fold in the honey and whisky. Crumble the oatmeal and add three quarters of it to the cream with the puree to give a ripple effect.

Spoon into four dishes and top with the remaining raspberries, oatmeal and a drizzle of honey. Serve immediately.
Chickpea and Mixed Nut Curry
curry main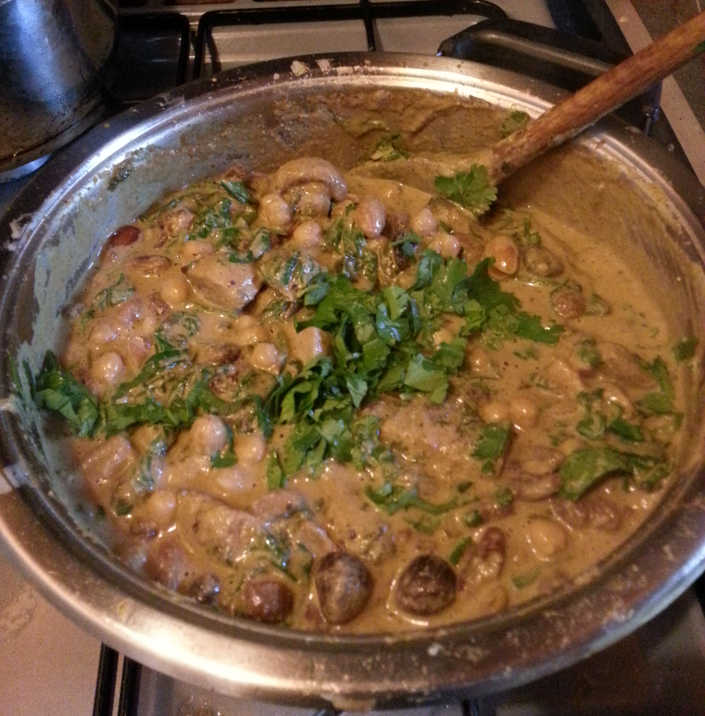 I took this
Serious Eats
recipe for a chickpea and cashew nut curry and extended it to use up my large and diverse collection of nuts. I had flaked almonds substituting for the cashews to be ground up, then whole (blanched) almonds, hazelnuts, pistachios, pecans and peanuts. And some raisins. But no cashews.
The basic recipe concept works fine - as long as you don't follow the instructions for burning your onion, garlic and ginger mixture.
I added some mushrooms too - I thought they'd work quite well. I think they'd have been better cubed to about nut size though, rather than quartered.
Serves 8


1 teaspoons whole cumin seeds, toasted
1 teaspoons coriander seeds, toasted
1 whole star anise, toasted
½ teaspoon black peppercorns, toasted
1 teaspoon mustard seeds
2 cloves
½ teaspoon ground cinnamon
¼ teaspoon grated nutmeg
1 blade mace
½ teaspoon ground turmeric
seeds of 1 black or 2 green cardamom pod
½ teaspoon cayenne pepper or chilli powder


3 tablespoons vegetable oil, butter, ghee or coconut oil
1 small onion, finely minced (about 1 cup)
4 cloves garlic, grated on the medium holes of a box grater
1 tablespoon fresh ginger, grated on the medium holes of a box grater
½ cup cashew nuts
1 (14-ounce) can coconut milk
assorted whole nuts
a dozen small red or green chillies, roughly sliced
a dozen button mushrooms, quartered if large
a handful of sultanas or raisins
2 (14-ounce) cans chickpeas, drained and rinsed
1 bunch (about 100g) flat spinach leaves, trimmed, rinsed, and roughly chopped
½ cup tender fresh coriander stems, roughly chopped
½ cup fresh coriander leaves
¼ cup fresh juice from 3 to 4 limes
salt
Soak the chickpeas overnight , then simmer them for about an hour until cooked. 1 cup dry beans will yield about 4 cups of cooked.
It's best to discard the first boil of water with all its scum, and simmer in fresh water. Feel free to add aromatics this time to give the beans some flavour.

Toast the cumin, coriander, anise and peppercorns in a dry frying pan or a Gas Mark 4 oven.

Combine all the dry spices in a spice grinder and grind to a fine powder. Set aside. Heat oil, butter, ghee, or coconut oil in a large saucepan over medium-high heat until melted (or until oil is shimmering). Add onion, garlic, ginger, and chili. Cook, stirring frequently, and scraping bottom of pan until golden brown and starting to burn in spots, about 10 minutes. Add cashews, and half of spice mixture. Cook, stirring constantly until fragrant, about 30 seconds. Add coconut milk and remove from heat. Scrape up any browned golden bits from bottom of pan.

Transfer mixture to blender and starting a low speed, slowly increase speed to maximum. Blend until smooth, about 30 seconds.

In the cleaned pot fry up a bunch of nuts, and sliced green chillies in a decent amount of coconut oil, add the mushrooms and cook a little. Add the sultanas and cook a little. Return the blended mixture to the pot with the whole nuts. Add chickpeas and as much cooking liquor as required, coriander stems and remaining spice mix and simmer gently over low heat stirring until the stems soften and the vegetables are heated through.
Add the spinach and cook until it wilts, about 10 minutes.
Add salt and lime juice to taste. Stir in half of coriander.

Transfer to serving bowl, sprinkle with extra coriander, and serve with lime wedges, Basmati rice pilaf, grilled naan, and coriander chutney, as desired.
Coriander Chutney
curry sauce
Actually, I had my nut curry with some yoghurt sauce that I'd already made up, but this looks like it would work too.
Makes About ½ Cup
2 cups picked fresh coriander leaves and tender stems
1 clove garlic
1 small green Thai bird chili
1 tbsp lime juice from 1 lime
water
Combine coriander, garlic, chili, and lime juice in a blender or in the cup of a hand blender and add 1/3 cup water. Blend until smooth, scraping down sides and adding water as necessary.
Season to taste with salt.
Deep Fried Potatoes in Spicy Yoghurt Sauce
Tari Aloo
curry main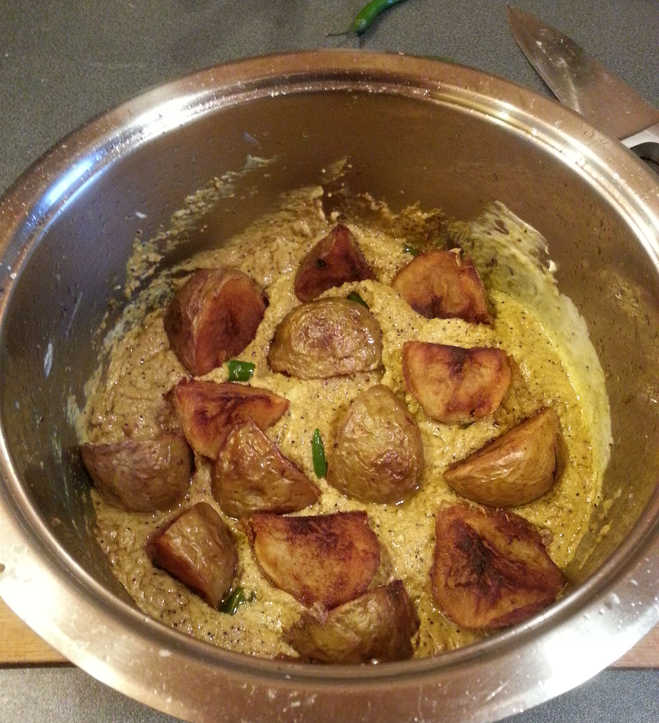 A really excellent deep fried potato curry I created. That's the potatoes that are deep-fried. Not the curry. That would be messy!
Serves 4-6
about 6 smallish potatoes or 12 new potatoes, around 1½lb
oil for deep frying
2 onions
6 cloves garlic
golf-ball-sized piece ginger
4 tablespoons ghee or butter
1 tbsp poppy seeds
a dozen almonds or 3 tbsps ground almonds
10 green chillies cut into fat slices
2 tsps salt
about 300g yoghurt
a handful of baby or cherry tomatoes, say 100g


1 tbsp coriander seeds
1 tsp cumin seeds
6 cloves
6 green cardamoms, seeds only
20 peppercorns
generous ½ tsp turmeric
½ tsp paprika
1 tsp chilli powder
1 tsp garam masala
Simmer the (whole) potatoes until easily penetrated by a knife - their skins may begin to crack.
Heat a pan of oil. Drain the potatoes and cut into halves or quarters depending on size and deep-fry until golden.
Set aside on kitchen paper.

Blend the onion, garlic and ginger with as much water as necessary to a smooth paste.
Crush the poppy seeds with the almonds or almond powder as best you can .
Grind the spices and the salt, then moisten with enough water to make a thick paste.

In a generous amount of ghee or butter or oil, gently fry the onion purée until it begins to caramelise and all traces of harsh aroma are gone, this may take some considerable time. Oil should be beginning to separate and float on top at this stage. You will need to reduce the heat very much towards the end of this process and stir frequently, add more ghee if the paste starts to stick. Watch carefully because the mixture absolutely must not burn.
When it's picked up some nicely coloured crusts, add the poppy seed and the almond paste and stir, add the chopped green chillies and then the ground spices.
Stir-fry until the raw aromas are gone and oil begins again to separate again without burning the spices, then add the yoghurt and mix well.
Drop in the baby tomatoes and cover with the sauce.
Press in the deep-fried potatoes so they are half submerged in the sauce, and throw on some whole green chillies, for luck. Reduce the heat to its lowest possible level and allow to cook gently, uncovered, for an hour until the sauce is thick and rich.

Serve with fresh coriander.