Garlic scapes are those eccentrically curly flowering stalks that grow out of garlic bulbs in the springtime -
amusingly described
as looking like a cross between a plant and an octopus.
If you're lucky you might come across bunches of them in a farmers' market. On the other hand, if you happen to have shuffled your Mum off to a respite hospice you might find them growing in one of their sheltered and well-tended gardens from where you can pluck a handful unobserved.
You can serve them up
quickly cooked on their own
as a side dish or starter, use them in pesto, soup, add them to a stir-fry, serve them with pasta or chop them into salads. They taste a little harsh raw, but the flavour mellows surprisingly when cooked.
When not stealing garlic scapes from Marie Curie, I've been popping into
The Star Inn
on my way to and from visiting Mum (though it turns out that Harome is not
that
close to the A1 and includes some pretty crappy roads).
I got to try their famous
Black Pudding and Foie Gras combo
and after complimenting him on the surprising crispness to his fried foie gras, that nice Mr Andrew Pern gave me a few pointers for getting my weeping, saggy livery pillows to turn out something more like his:
it's essential you begin with slices of fresh, high quality foie gras
get your pan blistering hot to

seal

the liver
let the slices gently cook through to completion at a lower temperature
Exactly how he both scorches the outside, but then continues to cook his foie gras slabs at a lower temperature I'm not sure - I wonder if he just slaps the liver into the pan, flips it, then leaves it to cook through off the heat? Most of the
advice I've seen
involves searing the liver in a smoking hot pan for only 30 seconds on each side then rest for 1 minute on paper towels before serving.
You might consider scoring the first side to cook too, or even dusting with flour to generate that extra crustiness.
Not only was his foie gras exquisite, but his accompanying reduced
apple chutney
was thinner, but crunchier than mine, suggesting that I'd reduced mine a little too hard. I wondered too if he might have added a second round of cubed apples after reducing, to maintain a level of fresh crispness whilst still managing to generate such plentiful rich jam?
To top everything off, Andrew's decorative apple slice was beautifully caramelised using a blowtorch too - rather than pan-frying as I had. I think that gives a better-looking result.
Anyhoo, I also had a fantastic
Tournedos Rossini
there for dinner, served with their own paté de foie gras, which inspired me to
make up some of my own
. With mixed results.
I'm going to have to do a lot better than this if I want to serve my own Rossini!
Charred Garlic Scapes
veg vegan starter side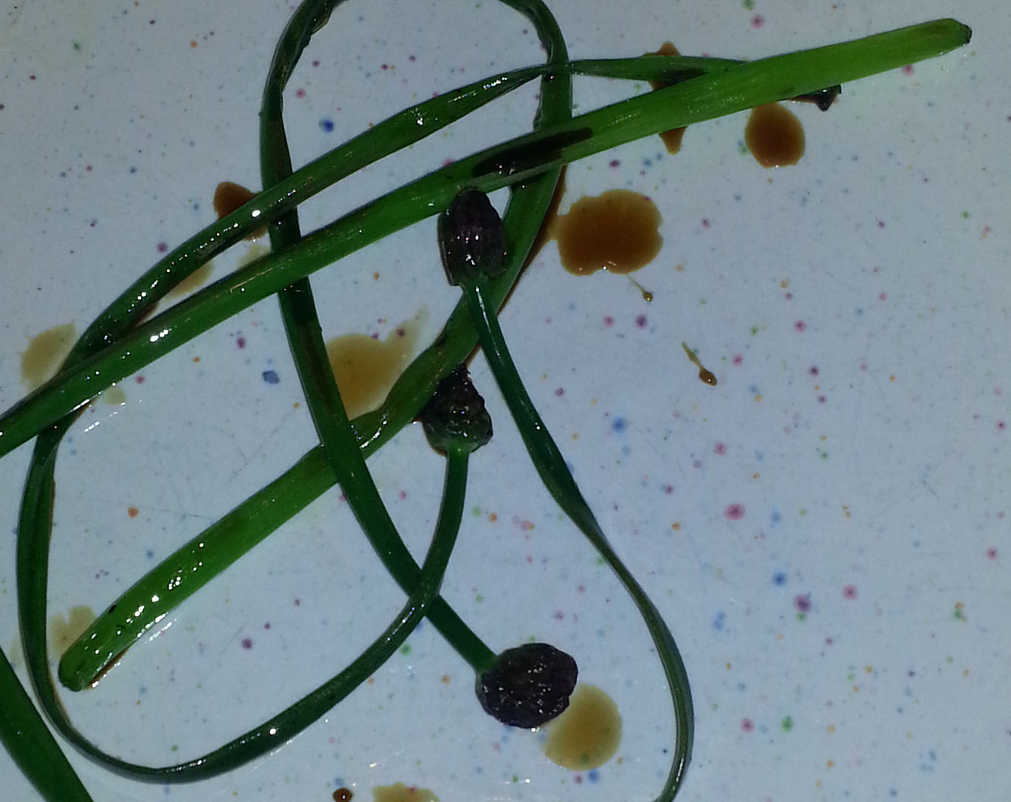 You can griddle, fry, or grill these little fellows. Toss them in a little olive oil first then cook them until they char in spots - like a discerning man's asparagus.
garlic scapes
a little olive oil
salt & pepper


lemon juice and zest
balsamic vinegar
soy sauce
Trim the scape ends if necessary and toss them lightly with olive oil and salt and pepper.
Fry or grill them, turning half way through, so they have a few charred spots and just start to wilt.

Serve them dressed with lemon juice and a little zest, or a drizzle of fine balsamic vinegar.
Paté de Foie Gras. Or is it a Terrine?
starter fowl experimental
I decided to have a go at making my own paté (or more accurately terrine) of foie gras, with mixed results.
I combined a few different approaches that I found, especially the one in
The Cook's Book
, but there's quite a lot of variation of flavourings (onion/garlic/herbs/spices) and alcohol (Armagnac, calvados, Sauternes) as well as cooking techniques. One approach which might be a useful fallback since it offers a bit more temperature control poaches half the liver and passes it through a sieve then presses it into a layered terrine together with pan-fried slices of the other half.
Makes about 500g
1 forced duck or goose liver
80ml port
80ml cognac
½ tsp salt
grinding of pepper
a grating of nutmeg
Pick of outer membrane and de-vein the liver.
Season the livers and arrange in a terrine, pouring the liquor over each layer. Use outer slices for the top and bottom layers. Cover with cling film and refrigerate for 5-6 hours.
Cook the terrine in a roasting pan half-filled with warm water in a preheated oven for 20-30 minutes.
Remove from the oven and lay a piece of foil-wrapped card or plastic (the foie gras container seemed ideal) on top of the liver. Weigh down with tins or water-filled jam jars to press the paté firmly. Leave to set in the fridge for 24 hours, and up to a week.