Astonish your friends. Impress your guests. Stuff their lamb with oysters!
Though judging from the leftovers on their plates, my guests were not so much impressed as horrified.
Browsing, as you do, the Guardian's back-catalogue of recipes I came across an interesting-looking idea for
stuffing a saddle of lamb with oysters
. Then as I was passing the ever-excellent butcher
George Bower
in Stockbridge I happened to notice their sign warning of the imminent sellout of their stock of spring lambs, so I thought I'd better get my hunk of sheep while the going was good. Remembering the oyster recipe, and observing the fishmongers opposite I decided to get myself a bunch of oysters and a saddle of lamb to stuff them with. A thirty-pound-sterling saddle as it turned out. These small sheep are getting bloody expensive - I wonder if it wouldn't be easier just to rear my own and slaughter them in the bath?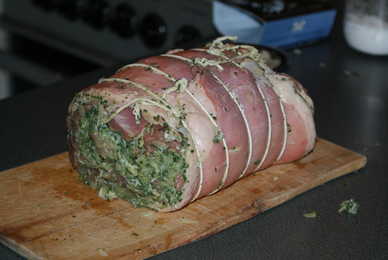 I bought myself ten fresh oysters in the vain hope they would yield the 8 oz of oyster meat called for in the recipe, and a pot of white crab-meat. In fact I had misread the recipe and thought it required both oysters and crab-meat, but it actually suggests smoked oysters and crab-meat as an alternative to the plain oysters, though in my defence it's not very clearly written. When my oysters yielded a disappointingly meagre 4 oz of flesh I also added a couple of ounces of the crab-meat and a half-dozen anchovies. But in the end there was rather more stuffing than my saddle could hold (and it
was
very nearly the required 3lb after boning and trimming as instructed), despite my best ramming efforts. The general opinion was that it really had quite enough oyster, I don't think the crab-meat added anything of great value but I quite liked the touch of anchovy saltiness, so I've amended the
recipe
accordingly.
According to the blurb at the top of
the recipe
, traditionally there were clear combinations of fish and meat - anchovies with beef, oysters with mutton, crab with lamb. Certainly there are
plenty
of eighteenth century
recipes
for shoulder of mutton with oysters, though I'm not so sure about the lamb and crab. The anchovies seemed to work for me though.
Anyway, since you can hardly find mutton these days this modern recipe calls for a saddle of lamb instead, and allows for (cheaper) frozen oysters which must be a particularly American thing - they don't seem to exist much over here.
The recipe also has something do with mustard, which encouraged me to a vaguely mustard-themed menu, with a
herby mustard bread
,
roast potatoes
with a floury mustard crust, and a
mustardy butternut squash gratin
. I stopped short at a mustard desert though - coward that I am. Perhaps I've been chastened by my experiments with
crab ice cream
?
On the whole a
pretty tasty meal
(well,
I
liked the lamb, the peas were oddly well-received and the panna cotta was as popular as ever) - apologies to my guests
Grecky
for the late invite, the lamb purchase was a bit spur-of-the-moment!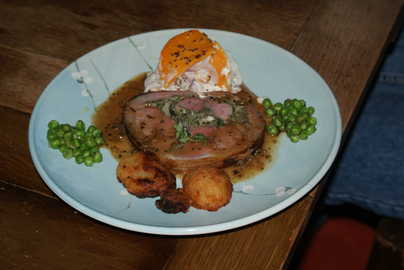 My joint was about perfectly medium cooked (just slightly pink) after 1½ hours cooking - I took it out when the internal temperature reached 125° and it finally peaked at 130° while resting. Myself I would have gone for slightly more rare, and pulled it out at 110°F, but the meat
was
beautifully tender.
Unfortunately, the skin was a bit like hard rubber - it completely failed to crisp up: I really should have cranked up the temperature to start with for 15 minutes or so.
The
gravy
was a bit weird - I thought it might have taken a bit more colour and thickened slightly, but it remained somewhat on the thin side and a little grey and anaemic looking. Still reasonably tasty though. I did add some water to the roasting tin under the racked lamb, and perhaps I put in too much which prevented any of the juices from crisping up in the tin to give some colour.
I've learned from bitter (!) experience with the Christmas Goose that if you want to deglaze the roasting tin to make gravy, it's a good idea to add a little water (or juice/wine/vinegar/etc) to the roasting tin just at the start so that the first meat drippings don't stick and burn to a horrible layer of charcoal.
If you're sitting the meat directly in the roasting tin you can just make a protective bed of bones, mirepoix or sliced onion.
Unfortunately if you add too much water the drippings will never caramelise in the tin so finding some kind of middle ground would be ideal - this rolled joint did seem to leak quite a lot of juices.
I'd definitely make this again. But better :)