Feeding Flora With Chicken Pie But No Cake
Chicken and Leek Pot Pie
main fowl
A Chicken, Leek and Mushroom pot pie with a puff pastry crust.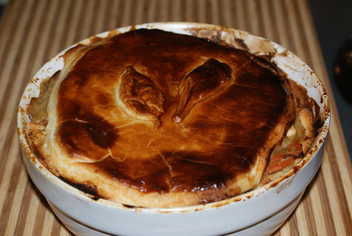 Not a bad Delia recipe - though it needs garlic!
Delia reckons you'll need a 1½ pint (7"x2½") casserole dish, but I used one about twice that capacity, though I did blind-bake a puff pastry casing into the dish before filling it. I like the soggy sauce-drenched pastry.
I didn't bother with the parmesan, and just went for 2oz mature cheddar in the sauce instead.
Serves 4
2 boneless chicken breasts, skin on
1 medium leek
half-dozen button mushrooms
10 fl oz (275 ml) dry cider
2 medium carrots, peeled and cut into 1/8 inch (3 mm) slices
1-2 bay leaves
sprigs of fresh thyme
8 oz (225g) block of fresh or frozen and defrosted puff pastry
a little flour for dusting
1 small egg, lightly beaten
1 tablespoon finely grated Parmesan, for sprinkling
salt and freshly milled black pepper


10 fl oz (275 ml) milk
3/4 oz (20g - 2 tablespoons) plain flour
3/4 oz (20g) butter
a pinch of cayenne pepper
1 clove crushed garlic
1-2 oz (25-50g) mature Cheddar, grated
1/2 oz (10g) Parmesan, finely grated
a little freshly grated nutmeg
salt and freshly milled black pepper
Pre-heat the oven to gas mark 6, 400°F (200°C).

First, pour the cider into a medium saucepan, along with the carrots, bay leaves, sprigs of thyme and freshly milled black pepper. Bring to simmering point, then cover with a lid and simmer gently for 5 minutes. Now take the tough green ends off the leeks, slice them in half lengthways and chop into 1/2 inch (1 cm) slices. Wash thoroughly to remove any hidden grit and drain them. If you are using mushrooms (and you should) wipe them down and cut them into eighths. Add the chicken and leeks to the pan and simmer, covered, for a further 15 minutes until the mushrooms begin to wilt and the chicken is cooked through.

If you want extra crust in your pie, then line the baking dish with pastry, cover with greaseproof paper or tin foild and fill it with baking beans and bake it blind for 15-20 minutes until browned - it can be still a little soggy though - it will cook more the second time around.

For the sauce, all you do is place the milk, flour, butter, garlic and cayenne pepper into a medium saucepan and place it over a gentle heat. Then, using a balloon whisk, begin to whisk while bringing it to a gentle simmer. Whisk continually until you have a smooth, glossy sauce, and simmer very gently for 5 minutes. Then add the cheeses and whisk again, allowing them to melt. Then season with salt, freshly milled black pepper and some freshly grated nutmeg. Next, drain the chicken and vegetables, reserving the liquid, but not the bay leaf and thyme. Now pour the liquid back into the pan, bring it to the boil and reduce to about 2 tablespoons.

Meanwhile, skin the chicken and cut it into bite-sized strips. Now stir the cheese sauce into the cider, bring to a simmer, and stir the chicken, carrots and leeks into the sauce, before transferring the whole lot to the dish.

Next, to make a lid, roll the pastry out thinly on a lightly floured surface. Cut out a 9 inch (23 cm) round, then roll out the trimmings and cut a 1/2 inch (1 cm) strip. Now dampen the edge of the dish with water and press the strip of pastry around the rim. Dampen the strip and carefully lift the pastry lid over the top. Press it firmly over the edge to get a good seal all round, then trim, using a knife.

Finally, gather up the trimmings and re-roll them to cut into leaf shapes. Brush the surface of the pie with beaten egg, and arrange the leaves on top.

Now, brush the leaves with beaten egg, sprinkle with Parmesan and bake on the baking sheet for 20 minutes.
Roast Chicken Legs with Tomatoes
main fowl
A simple dish of roast chicken legs with herbs and tomatoes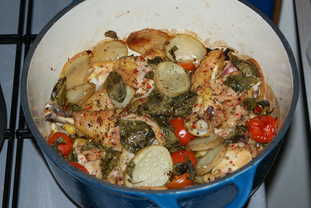 Quite a nice way of using up any leftover chicken legs. And meaty wings.
It's a bit fiddly to eat, but simplicity to turn out.
I added sliced potatoes to my dish, but it's good to have something else to soak up the juices. I baked some garlic bread, but a nice farmhouse loaf, lemon rice or couscous would work too.
Serves 2
2 chicken legs, jointed
sea salt and freshly ground black pepper
a medium bunch of fresh basil, leaves picked, stalks finely chopped
a big handfuls of red and yellow cherry tomatoes, halved, and ripe plum tomatoes, quartered
half a bulb of garlic, broken up into cloves
1 fresh red chilli, finely chopped
olive oil
2 new potatoes, sliced
Preheat your oven to 180°C/350°F/gas 4. Season your chicken pieces all over and put them into a snug-fitting pan in one layer. Throw in all the basil leaves and stalks, then chuck in your tomatoes. Scatter the garlic cloves into the pan with the chopped chilli and drizzle over some olive oil. Mix around a bit, pushing the tomatoes underneath. Place in the oven for 1½ hours, turning the tomatoes halfway through, until the chicken skin is crisp and the meat falls off the bone.
If you fancy, you can add some drained cannellini beans or some sliced new potatoes to the pan and cook them with the chicken. Or you can serve the chicken with some simple mashed potato. Squeeze the garlic out of the skins before serving. You could even make it part of a pasta dish - remove the chicken meat from the bone and shred it, then toss into a bowl of linguini or spaghetti and serve at once.
Jenny's Best Birthday Cake
sweet veg
Nigella Lawson's sponge birthday cake recipe with buttercream filling and chocolate icing.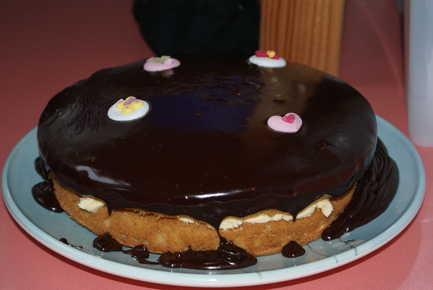 A fairly straight-forward cake from Nigella, though nothing particularly stunning.
It's slightly unusual in its use of custard powder, but it seemed to work.
Serves a birthday party
200g plain flour
3 tablespoons Bird's custard powder
2 teaspoons baking powder
1/2 teaspoon bicarbonate of soda
4 eggs 225g soft butter
200g caster sugar
2-3 tablespoons milk


125g icing sugar
4 teaspoons Bird's custard powder
75g soft unsalted butter
11/2 teaspoons boiling water


60ml water
2 tablespoons golden syrup
125g caster sugar (or use 50g if using milk chocolate)
175g good quality dark chocolate (or milk)
1 pot hundreds and thousands
Make sure everything you need is at room temperature before you start. Preheat the oven to gas mark 4/180°C, and butter and line two 20cm sandwich tins.
Let the tins sit on a cooling rack for 5 minutes and then turn them out on to the rack, peeling away the paper.


Process the icing sugar and custard powder to get rid of any lumps, and then add the butter, processing again to make the buttercream come together. Feed the boiling water down the funnel with the motor running to make the filling easier to spread. Then sandwich the cooled sponges together with the custardy buttercream.


Combine the water, syrup and sugar in a saucepan, stirring to dissolve over a low heat.
Let it come to the boil and then take it off the heat.
Break up the chocolate into small pieces if you are not using chocolate buttons and then add to the pan, swirling it around to cover in the hot liquid. Leave to melt for a few minutes, and then whisk the icing to make it smooth and shiny. Pour over the buttercream filled cake, letting it drip down the sides, and then sprinkle generously with the hundreds and thousands before the icing sets.

Stud with the appropriate number of candles. Light. Bask in the glow.
Put all of the above ingredients except the milk, into a food processor. Process to a smooth batter, and then add the milk a tablespoon at a time to make a soft dropping consistency. Divide between the two cake tins and bake for 20 minutes. The cakes will have risen and feel spookily puffy; this is because of the cornflour in the custard powder.