The Currants of Wrath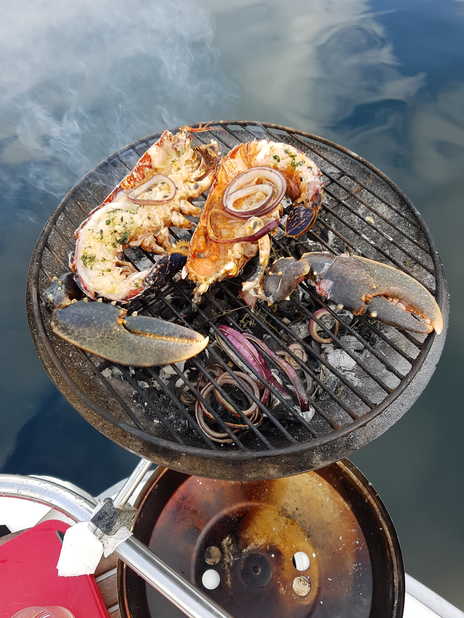 Moving right along.
From Kinlochbervie marina, around Cape Wrath at the North West corner of Scotland, along its short Northern coast and then into the Pentland Firth. It's a strangely empty stretch of coastline and not a good place to be caught out by bad weather. Kinlochbervie is the last homely house before the Wrath and the ideal leaping off point for the trip around the top of Britain - if you can find space on their limited but popular pontoons.
It used to be a busy fishing port, but these days you will struggle even to find someone to sell you diesel there.
Lobsters, on the other hand, are a deal easier - you can just hail one of the many passing lobster boats and offer them a tenner for one of their living catch. If the weather is accommodating then just pop the lobster in a bucket of seawater (you might want a lid) and anchor for free around the corner in Loch Clash. It's a pleasant, sandy bay with what used to be Kinlochbervie's main pier, and a fine anchorage when the wind isn't from the west.
Hang your barbecue from the stern guard-rails, slice your squirming lobster in half, slather with garlic butter and get grilling.
Yumsk!
On an unrelated note, I've now come to the firm conclusion that all the time, trouble, mess and cleaning involved in barbecuing for one on a boat is just not worth it :(
Cape Wrath itself is a well-titled horribly exposed rocky headland which has notoriously lethal tides and overfalls that any amount of rough weather can quickly roil up into a small-boat-eating maelstrom. Despite approaching the cape in settled mellow, if misty, weather a surprisingly strong wind whipped up around the headland and there was enough churning washing-machine tidal action to encourage me to keep well away from the rocky coastline. Which left me with little to see in the persisting sea fog over the whole of the next two days.
In fact I arrived at the charmingly named port of Scrabster, at the eastern end of the north coast of Scotland, in a complete pea-souper barely able to see my anchor in front of my bow. Thank goodness for my GPS chart plotter, and for Scrabster harbour's radar operator letting me know about the giant fishing boat also inbound.
I was so pleased with this blog title
The Currants of Wrath
that I just
had
to invent a
recipe
to go with it. It would have been appropriate if I'd made it during my sail around the Wrath, but I didn't have any currants. Or raisins. Fortunately there's a Local Fucking Supermarket™ on the outskirts of Thurso which does.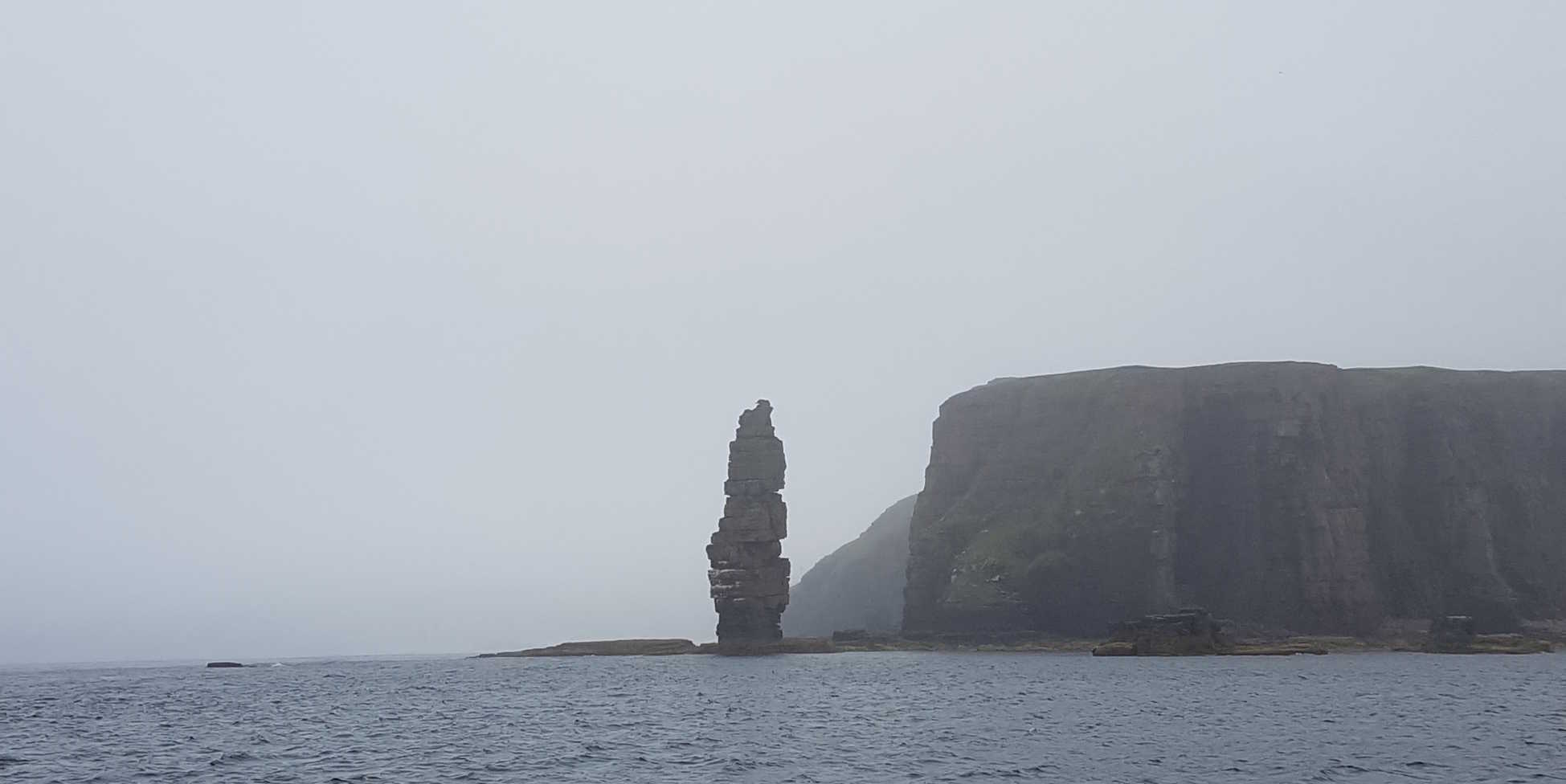 After a couple of days banging off the filthy tyres fending the Scrabster harbour wall (like Kinlochbervie, Scrabster has limited but popular pontoon space), I set off across the Pentland Firth for Orkney.
I'd been in two minds about skipping the northern Scottish islands completely and just continuing on around the coast to Wick. There's a lot of up north up north. I could easily spend weeks sailing around Shetland and the Orkneys but I was running out of year. Also, to be honest, I was quite nervous about the whole thing; the Orkney islands are bedevilled by fearsome tidal streams, and north of Fair Isle is getting disturbingly remote. Still, it seemed a shame not to do the whole circumnavigation thing properly, so I screwed my courage to the sticking place and sailed north. With good weather, careful planning and a good bit of luck I made my way through Scapa Flow to Stromness (handy for picking up
fresh mackerel
from neighbouring yachts who are much better fisherman than I), then up the west coast of Orkney and on to Fair Isle. After a rough night tied alongside the Fair Isle ferry Good Shepherd IV in the north harbour (and I have the blue paint marks to prove it!) I finished the leg up to Shetland. Probably the worst crossing of the three year voyage :(
But the next day dawned clear and sunny and I spent the week visiting Scalloway (where I learned the wonder of
reestit mutton
) and happily meandering around the west coast of Shetland, before making my way back south to Orkney.
I had such a good return crossing that I was able to skip Fair Isle completely and make landfall at North Ronaldsay. What a difference the weather makes! Unfortunately several days of storms were forecast, so I picked up one of Orkney's handy free mooring buoys for a few days - in Elwick Bay, behind the picturesque island of Shapinsay across the sound from Kirkwall marina..
And there I saw the sea monster. An honest-to-God actual sea monster. It happened like this...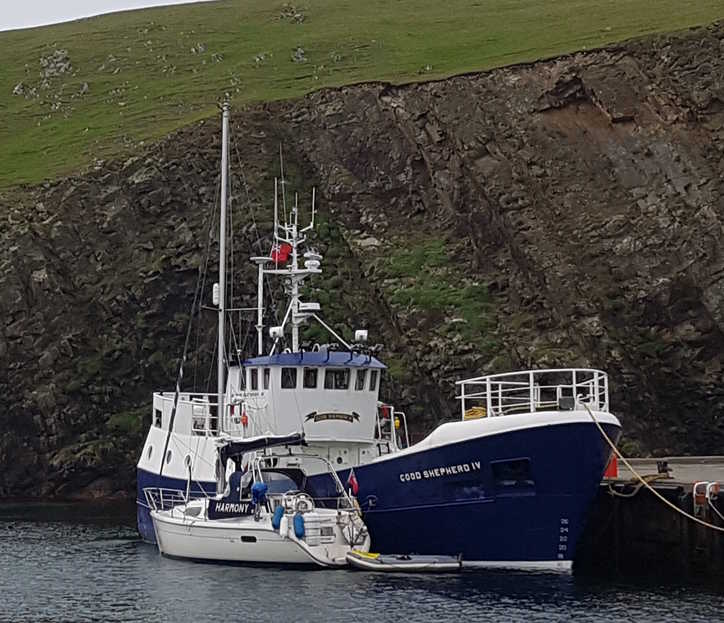 About three days in, fairly late in the evening as the light was failing, I had finished my dinner and was just starting in on the whisky and happened to glance out of the cockpit. I noticed a puff of smoke, as from an engine exhaust, so I popped my head up to take a look (you never know when you might be on for some free fish).
I heard a cough from the engine and could clearly see the smoke drifting over the low-lying island in towards the shore, but could see no sign of the boat.
Wait, what low-lying island? And how come that low-lying island is drifting? Moving?? Swimming???
And so I watched in astonishment as a vast oily black behemoth oozed its way past my boat just an arms-length off in the gloom, glistening and puffing with barely a ripple just a great dark hump showing, the damn thing easily the length of my boat. And as it disappeared off into the twilight I was left in a strange mixture of excitement and terror.
And it was at that point that I ran for my camera.

Which is why I have no photographic evidence, honest! Anyway it was already pretty dark, and I'd only have ended up with Loch Ness Monster quality photos. Though I'm pretty sure it was actually a basking shark.

After that, re-crossing the Pentland Firth back to mainland Scotland was something of an uneventful letdown!

Edinburgh here I come...
The Currants of Wrath
fowl curry
Well, the Raisins of Wrath actually :)
I liked the title so much that I had to invent a dish to go with it. Use currants if you're a linguistic purist. I was originally thinking of something along the lines of a mild Moroccan or Latin American meat stew with raisins and capers, flavoured with perhaps nutmeg and parsley, but settled on making it angrily hot in keeping with the title.
You can make it as wrathful as you like.
I made it with chicken though I suppose you could use beef, lamb or pork. If you make it without any of them it becomes a south Indian
raisin gojju
.
Serves 2
2 chicken breasts, cubed
oil for frying
½ tsp mustard seeds
1 tsp cumin seeds
1 tsp onion seeds
1 tsp chilli flakes
a few curry leaves
½ tsp ground pepper
1 tsp turmeric
1 tsp tamarind concentrate
1 cup currants (or raisins), soaked in water and wine
½ tsp sugar
juice of ½ lemon
a few fresh chillies
salt to taste
Chop the chicken into pieces, feel free to leave the skin on. Soak the raisins overnight in half wine half water . Blend the raisins roughly with a stick blender .
Heat a generous puddle of oil in a kadai or a deep frying pan. When it's on the point of smoking add the mustard seeds, onion seeds, and cumin seeds until they sputter. Then add the chilli flakes until they begin to colour. Add the curry leaves, the chicken pieces and the ground pepper and stir-fry until the chicken colours. Add a teaspoon turmeric and stir through, then a teaspoon of tamarind.
Add the raisins, sugar, season with salt, throw in the fresh chillies, partially cover and cook for 10-15 minutes until the chicken is cooked. Remove from the heat, add the lemon juice and stir.
Serve with rice or Indian bread.
Chicken and Dried Mushroom Tagine
fowl main stew
I liked my idea of using dried mushrooms in a tagine. So here it is.

A recipe perfect for those 1.5kg Ullapool supermarket specials on chicken legs or thighs. Only a buck 65 per kilo! Make sure you use flavoursome olives though such as the ones marinated in oil and herbs or stuffed with anchovies - those watery, insipid ones will be very disappointing. You might want to try adding more traditional tagine spices like cinnamon, perhaps instead of the lemon.

You can add a roughly chopped aubergine after the chopped peppers, but it doesn't seem to enhance the stew much.
I also tried re-hydrating a large mild dried chilli pepper with the mushrooms and adding that too - I couldn't really tell.
Feel free to throw in some par-cooked potatoes if you like that sort of thing.
Serves 6
2 tsps mixed peppercorns and allspice, crushed
2 tsps fennel or cumin seeds, lightly crushed
1.5kg chicken pieces
2" ginger, grated
2 onions, halved and thinly sliced
half a dozen garlic cloves, sliced
2 sweet peppers, cored, roughly chopped
15-20g dried porcini mushrooms, soaked
chicken stock
1-2 lemons, zest grated and juiced
generous bunch of thyme, leaves stripped
200g olives
Set the dried mushrooms to soak in warm water. When ready, strain the water to remove any grit and retain.

Grind the peppercorns and the allspice , then add the fennel or cumin seeds and crush a little. Fry the chicken pieces, skin on, in oil a few at a time coated with the crushed spices until nicely browned. Set aside.

Fry the grated ginger in the pan until it colours, then add the sliced onion and fry, stirring until it begins to caramelise. Add the sliced garlic and stir. Add the chopped peppers (any colour - though green is fine) and stir.

Return the chicken to the pot, add the grated lemon zest, the lemon juice, mushrooms, mushroom water, thyme leaves, chicken stock, olives. Bring to a gentle simmer until the chicken is tender.
Mackerel with Spinach, Mustard and Sour Cream
fish starter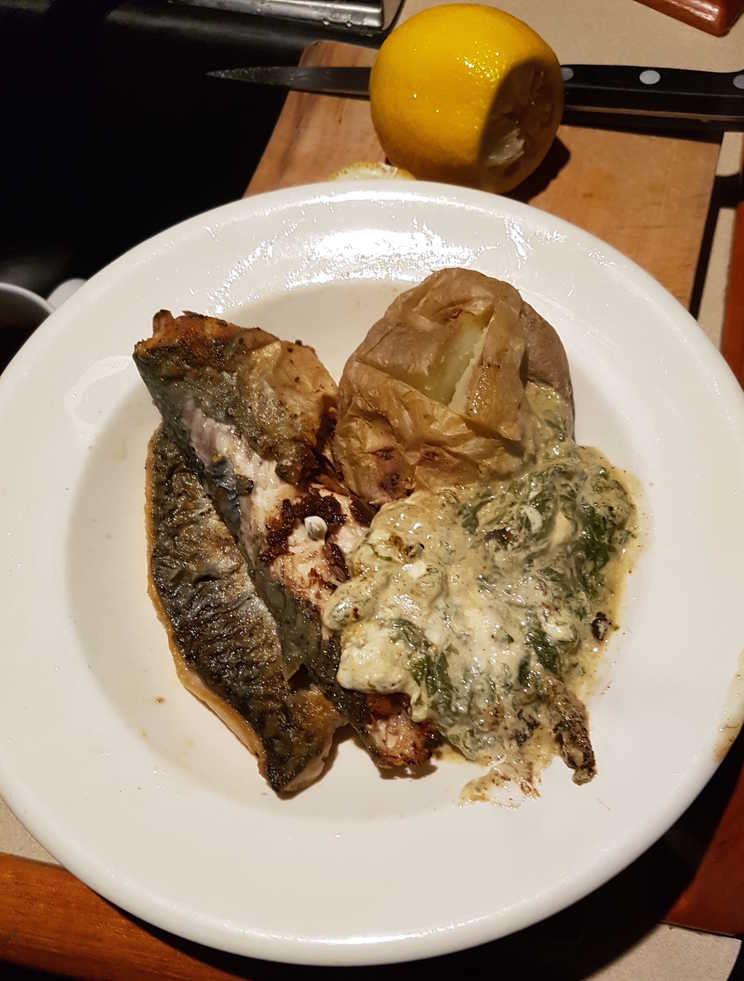 I helped take the lines for a yacht arriving on the next-door berth at Stromness, and in return they gave me a mackerel they'd just caught. Fortunately in my fridge I had a container of spinach I'd cooked earlier to stop it wilting so quickly. And so this dish was born.
Serves One
1 mackerel
seasoned flour for coating
a cup of cooked spinach
a teaspoon of Dijon mustard
a tablespoon of sour cream
a generous squeeze of lemon juice
Gut the mackerel :
Remove the head and tail and split into two fillets; cutting each half of the mackerel away from its backbone with horizontal cuts of a knife.
Pick or scrape away any large pin bones from the centre of the fillets.
Shake the fillets in a plastic bag with flour, salt and ground black pepper.
Fry the fillets in a hot pan lightly olive oiled, skin side first.
Set aside.
Add a few handfuls of spinach to the frying pan (or a cup of pre-cooked spinach with its water), cook until collapsed then swirl through a teaspoon of mustard, a tablespoon of sour cream, and a squeeze of lemon juice.

Serve the mackerel fillets with new or baked potatoes and the spinach sauce on the side.
Reestit Mutton Soup
Preserved Mutton Soup
soup meat
Reestit mutton is a traditional Shetland method for preserving mutton with salt for cooking during the winter months. The mutton is salted or brined then hung in the house rafters (reests) to dry and cure in the smoke from the peat fire.
Store the reestit mutton in a dry environment, do not refrigerate. Alternatively, cut into pieces and freeze.

I spent a pleasant couple of days hiding from the weather in Scalloway Boating Club bar where a particular generous member turned me on to this Shetland delicacy and even donated me a bag of reestit mutton so I could try it out! He also recommended including leeks and Shetland kale, whatever that is! I actually ruined improved the traditional recipe myself by adding a few chopped celery stalks along with the other vegetables which I think nicely lifts the rather strongly earthy flavour.

Once cooked and softened my reestit mutton had surprisingly few bones, but many of them were very small and sharp, so you will need to pick over the softened meat carefully before adding back to the soup. I more-or-less followed Martin Wishart's family recipe (thanks Martin!) which uses golf-ball sized pieces of the vegetables, cooked slowly until sweet and soft. The more common method seems to be to cut the vegetables into small dice and cook for less time after boiling the meat for 2 hours.

Serves 4
1lb dried reestit mutton
1 onion, roughly chopped
2 potatoes, peeled and cut into large pieces
1 small turnip, peeled and cut into large pieces
2 carrots, peeled and cut into fat rounds
2 stalks celery
2 pints lamb stock or water
Put the reestit mutton pieces in a large pot and cover with cold water. Bring to the boil and simmer for an hour or more until softened.
Remove the meat from the pan and carefully pull away bones and gristle. You can cut up or shred the meat at this stage too if you prefer.
Pour off the cooking water into a jug.

Peel the root vegetables and cut them into large pieces the size of golf balls. Cut the onion into moderate dice and slice the celery into moderate pieces. Put the vegetables into the large pan, cover with stock or water and a ladleful or so of the mutton water.
If using the whole mutton pieces add them to the vegetables now too, otherwise add chopped or shredded meat later. Bring to the boil and simmer for an hour or until the vegetables are soft and tender.
Add more of the reserved mutton water to taste, but be cautious - it will be very salty.

Mash up the potato pieces with a fork if you like and serve with buttered bread or bannocks.
Yet Another Savoury Bread Pudding
main meat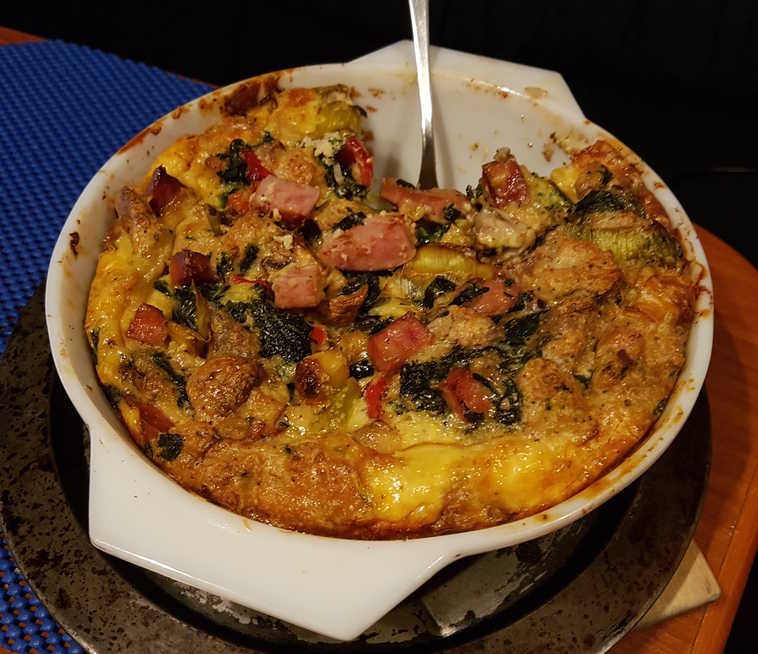 I made this savoury bread pudding with Warburton's super seeded wholemeal sliced bread (from which I had cut away the crusts and the mould) and it worked just fine. It really seems surprisingly hard to go wrong with this recipe idea.
Perfect for boat work!

It reheats perfectly well in the microwave, but if you live on a boat and can't spare the propane to warm it back up in the oven you can just fry slices of it in an oily frying pan.
Serves 6
6 eggs
1 cup milk
2 cups double cream
⅓-½ loaf seeded wholemeal bread
100-150g mature cheddar cheese, grated
200g garlic sausage, chunked
200g spinach
1 small red onion, thinly sliced
6 mushrooms, quartered
4 garlic cloves, sliced
1 leek, sliced
1 red pepper, roughly chopped
1 tsp dried oregano or thyme or other herbs
Slice the leek into reasonably fat rounds and wash well, then drain.
Chop the garlic sausage into about ½" chunks.
Slice the onion thinly. Slice the garlic.
Quarter the mushrooms (chopping them larger or smaller depending on size).
Core and de-seed the red pepper and slice into chunks.

Heat a little oil in a large frying pan and fry the leeks until they colour around the edges. Decant into a large casserole dish.
Fry the red pepper until they soften slightly and add to the dish .
Fry the garlic sausage to colour, adding the onion, garlic and then the mushrooms. Continue cooking until the onion and garlic caramelize a little and the mushrooms begin to lose some liquid. Add to the casserole dish.
Pack the spinach into the frying pan (in batches if necessary) and cook until it collapses. Add to the casserole dish.
Grate the cheese into the casserole dish.
Cut enough of the bread slices into chunks to top off the casserole dish.
Mix everything thoroughly, especially spreading around the spinach which tends to clump.
Whisk the eggs and dried herbs with enough cream and milk (in the ratio of about 2:1) to almost fill the casserole when poured in - leave room for the custard to expand and allow some of the bread mixture to poke out on top.
Let sit for an hour or two for the bread to absorb the liquid .

Bake on an oven tray at 175°C/350°F/Gas Mark 4 for 1-1½ hours until the top rises and browns and the mixture sets through.
Hot Broccoli Salad with a Garlic Sausage and Blue Cheese Sauce
meat side salad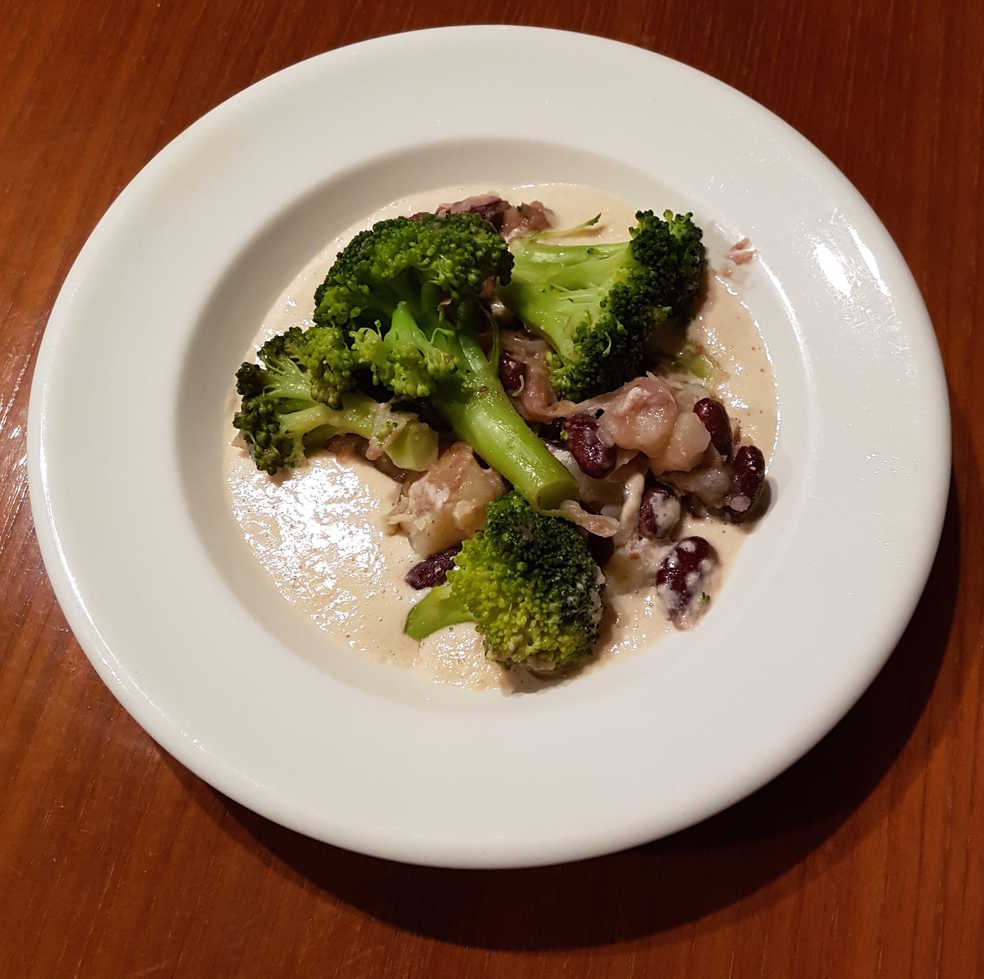 This is a version of a jotted down recipe for
Broccoli in Stilton Sauce
. This time I included the tin of red kidney beans and the potatoes though not the celery, but I substituted Strathdon Blue for the Stilton and blended some garlic sausage into the sauce (!).
Don't try this in Shetland though - neither of Scalloway's shops are stockists of any kind of blue cheese!
The sauce is actually magnificent - I think it would make an ideal pie filling. Perhaps with chicken or ham.
I did use some of the leftover sauce in a potato gratin dressed with extra Strathdon Blue. It wasn't half bad.
Serves 4
3 smallish potatoes
large head of broccoli
1 oz butter
1 onion, roughly chopped
1 can red kidney beans, drained


200g garlic sausage
200g Strathdon Blue cheese
juice of 1 lemon
1 egg yolk
300ml double cream
parsley leaves
Simmer the potatoes until tender, drain, cut into hefty chunks, no need to peel unless they're particularly hoary.
Separate the broccoli florets, peel any tough stems, then slice the stems fatly. Cook everything in boiling water for 5 minutes and drain.

Chop up the garlic sausage and grind it in a food processor or with a stick blender using the lemon juice to lubricate. Mash in the blue cheese, egg yolk, then stir through the cream.
Heat through gently until thickened in a saucepan.

Meanwhile melt the butter in a large pan and fry the potato pieces until colouring, adding the onion about half-way through. Cook until the onion turns glassy, add the broccoli and fry for a few more minutes, then stir through the kidney beans.

Pour the sauce over the hot salad, dress with parsley and serve.