Start clarifying the butter for your Béarnaise sauce.
Scrub and slice the potatoes evenly into 1cm rounds then into chips and set aside in cold water (unless you are one of these fabulous cookbook-kitchens with an endless supply of fresh ice?).
Finely chop the shallots and tarragon, separate your egg yolks and crack your peppercorns for the Béarnaise sauce.
Trim your steaks as necessary, then oil and season them.
Boil water in a pot for the sauce, and fill a serving jug with boiling water to warm it. Turn the oven or grill on low to keep the steaks warm, and set the pan of groundnut oil on the hob.
You need to "blanche" the chips (as Anthony calls it) - which means frying them 2 or 3 times, in increasingly hot oil. So you can do the first round of cooking early and leave the chips to cool in between - rinse and dry them as far as possible, then cook the first round in moderately hot oil (280°F/140°C) for 6-8 minutes until their colour has paled from opaque white to a semitranslucent white. Don't let them start to brown. Set aside, spread out on an oven tray if you can.
Heat a nice heavy frying pan until
very
hot. Slap on the steaks to sear them, turning them over only when nicely charred. Set them aside to relax under the warm grill or oven.
Make the Béarnaise sauce - then set aside in the warmed serving jug.
Cook the chips for their second round in hotter oil (375°F/190°C) for 2-3 minutes until crispy and golden brown.
If necessary, remove the chips, reheat the oil and repeat should they take too long to cook or the oil cools down too much.
Drain the chips and throw them in a basket and season with salt.
Serve it all up.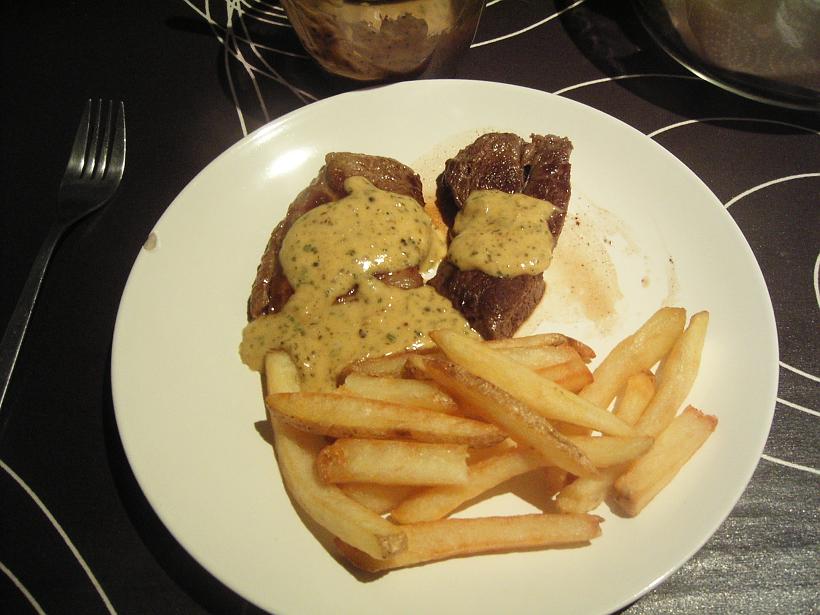 You can use the leftover tarragon to make a tarragon oil, and then a nice salad dressing with added sherry vinegar and orange juice.
To make tarragon oil: briefly blanch the tarragon then drop into chilled water (if you can be bothered), dry, roughly chop and blend with olive oil. Leave to infuse in the fridge for a day, if you have the time, strain if you need the oil clear.