Had a visit from my ex-New York buddy Becky Knowall - who is
still
a vegetarian, despite my best efforts.
A fine opportunity to revisit those famous tourist sites of Edinburgh which I only ever see with, er, tourists, kicking off with the fabulous Forth and Clyde canal Kelpies, and the Falkirk wheel. Then toasting Greyfriars bobby, a particular Becky favourite, before that long haul up Arthur's seat which almost killed her.
Though she hid it well.
Stoic, Becky is.
We also hit all the top vegetarian foodspots - the usually-reliable
Kalpna
, which had unreliably run out of aubergines (for their excellent
Baingan Bharta
) and naan breads (for everything else).
And
David Bann
, unfortunately David too seems to be a victim of his success, The service was cursory, the food solid but uninspired, and I had to fight tooth and nail to get my chilli margarita properly chilled and served in a salted glass.
Unimpressed.
Becky scoffed down
Thai fritters of broccoli and smoked tofu with banana chutney and plum dressing
followed by
Aubergine, chick pea and cashew koftas with roasted sweet potato in a spicy aromatic cocounut and courgette tomato sauce
- you've got to admire her determinedly curried diet. The waitress was adamant that the fat slices of roasted sweet potatoes were in fact the pieces of sweet papaya from the salad promised in the menu.
We remain unconvinced.
I had a pleasant
Ravioli parcel of artichoke, chickpea and basil
succeeded by stodgy
Mushroom strudel baked in Heather Ale wrapped in filo pastry served with creamed potato and roasted Mediterranean vegetables
. Chick Pea Overload!
Fortunately the Scottish National Gallery of Modern Art was as dependable as ever, providing Becky with a fascinating view of Eduard Paolozzi's studio, plus
Roman Standard
aka
bird on a pole
- the only piece of work by Tracey Emin that's actually recognisable as art.
The walk up from Leith, along its waters, is a fine stroll made more entertaining by decorative stacks of stones piled ingeniously in the running water, more art, presumably. In the wild, so to speak.
Despite their appearance, these precarious piles were not held by glue or cement either - I know because I almost destroyed one of them by the merest touch of my finger.
If only more of Emin's
art"
were as fragile.
Back home I asked Becky what she might fancy as a homemade dinner, since we'd run out of vegetarian restaurants, and this suitably
morel
moral
vegetarian mushroom risotto
was the result. Well, vegetarian except for the distinctly beefy Monchega cheese.
Damn those cow's stomachs - they get in everything!
Mushroom, Carrot and Courgette Risotto
main veg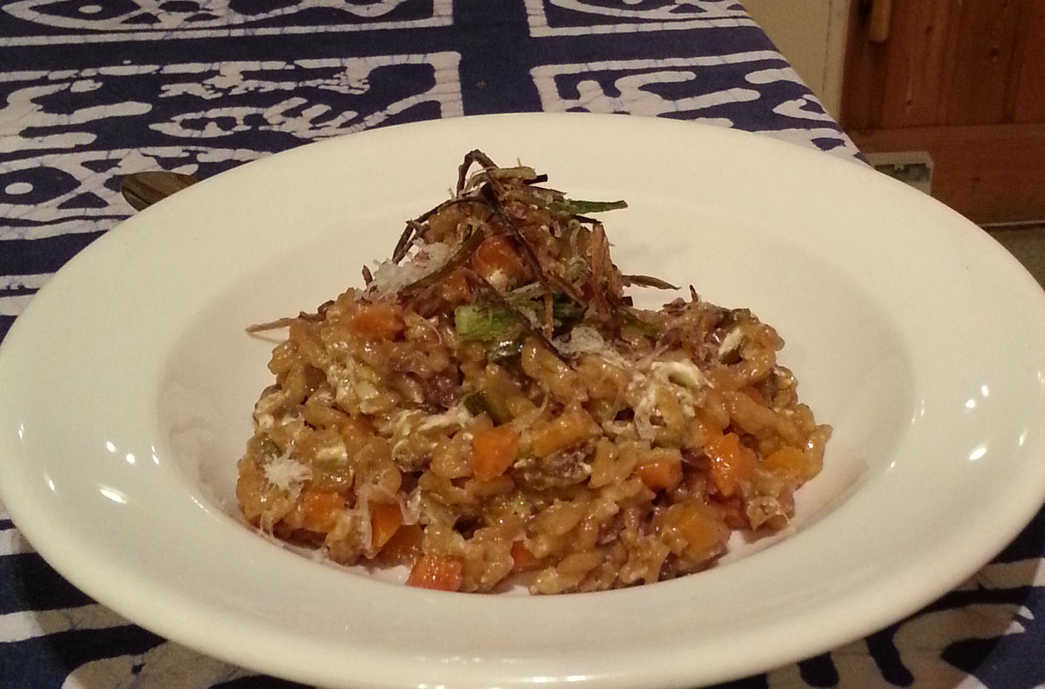 A delicious vegetarian
*
risotto made with a bunch of fortuitous leftovers I had lying around after a visit from my vegetarian friend Becky Knowall. Apologies for the use of the stock cube - feel free to make your own!
May contain non-vegetarian cheese
Serves 3-4
30-50g dried porcini mushrooms
1 generous cup/250g/8oz Arboria risotto rice
about 75g soft goat cheese, or whatever you have left
about ½ cup grated Manchego cheese
plenty of butter
4 banana shallots
3 garlic cloves, minced
2 glasses white wine
vegetable stock cube or pot
2-3 carrots
1 courgette
pinch of dark sugar
pinch coriander powder
salt & pepper


leeks, finely shredded
oil for frying
Soak the dried mushrooms in boiling water for 10 minutes or so, then drain and rinse thoroughly keeping the soaking liquid and the rinse runoff. Strain the soaking liquid carefully to remove any grit , set to simmering over a low heat and add a vegetarian stock cube or
pot
. Cut up any particularly massive soaked mushrooms and set aside.
Peel or scrape the carrots, cut into 1cm cubes and put in a pan with a tight-fitting lid together with a generous knob of butter, a pinch of dark sugar, salt, coriander powder and a splash of water. Sweat gently over a low heat, adding more water if the pot dries, until very tender - perhaps 30 minutes. Remove from the heat until required.
Peel away any thick skin from the courgette in strips, so it looks stripey, then cut into 1cm cubes. You should have about 2 cups each of carrots, courgette and onion.
Finely chop about 4 banana shallots (or more small, round ones) and fry in a generous amount of foaming butter until glassy.
Add a generous cup of Arboria rice and stir to coat thoroughly with the butter.
Add 3 minced garlic cloves and the soaked mushrooms, stir briefly, then add a glass of white wine and bubble to evaporate, then the second, evaporating again. Add the courgette , then add the rest of the stock one ladle at a time, bubbling off in between each round until the rice is cooked but still firm: 20-30 minutes.
Stir through another knob of butter and the grated Manchego until it melts. Season to taste. Add the carrots. Remove from the heat. Gently stir in the soft goats cheese, leaving some streaks and swirls in the mixture to look pretty :)
Thinly slice a 3" section of white leek stalk, rinse and dry well. Heat some oil in a deep pot and
fry the shredded leek
until golden, drain on kitchen paper.
Serve the risotto decorated with more grated Manchego and the crispy fried leeks.