Macaroni Cheese
main pasta
Totally has the Georgina seal of approval
Probably feeds 8, or 1 Eldorado family for day after day after day after day...
1lb Macaroni
6 oz mascarpone
4 oz Gruyère, finely grated
4 oz Parmesan, finely grated
1 oz butter
2 Tblsps olive oil
8 oz cubed pancetta
1 large onion, finely chopped
6 cloves garlic, pressed
2 oz plain flour
20 fl oz milk
¼ whole nutmeg, grated
4 large eggs, separated
salt & pepper

Weigh out all the ingredients, grate the cheeses, separate the eggs, mix the mascarpone and egg yolks to a smooth paste, chop the onion, bring a large pot of salted water to the boil.
In a large saucepan, heat the olive oil and fry up the pancetta until cooked through, add the butter and onions and let them soften uncovered without browning for 5 minutes, add the garlic purée.
Add the flour to the pan, stirring in to make a smooth paste, then gradually add the milk, a little at a time, stirring vigoroulsy with a wooden spoon. Then switch to a balloon whisk and keep whisking until you have a smooth sauce . Season and add the nutmeg and leave the sauce to cook gently for 5 minutes.
After that turn off the heat and whisk in the mascarpone and egg yolks, followed by the Gruyère and half the Parmesan. Preheat the oven to 180-200°C, Gas Mark 6 and put in the baking dish .
Boil the macaroni 4-6 minutes until al dente (it will cook further in the oven).
Whilst the macaroni is cooking whisk the egg whites to soft peaks. Drain the pasta in a colander, shake off excess water then tip it back into the pan and stir in the cheese sauce until evenly coated.
Now lightly fold in the egg whites, using a cutting and folding movement so as to retain as much air as possible. . Remove the warm dish from the oven, fill with the pasta mix, scatter the reserved parmesan over and return to the oven top for 15 minutes or until the top is puffy and lightly browned.
Serve immediately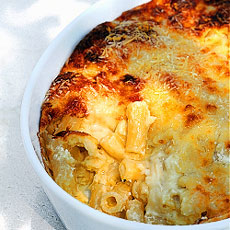 Crispy Leeks
side veg vegan
Oil for deep frying
A leek
Plain flour

Heat the oil in a small deep-sided pan
Shred the leek into matchsticks
Test the oil with a leek strand to see if it fizzes up. Fry the leeks in batches until starting to colour then remove and strain. Dust with plain flour through a sieve.
Reheat the oil and when it is hot enough finish off the leeks until golden.
Drain on kitchen roll and serve.