Cooking On Boats
I'm just back from a loooooong 10 days voyage onboard
Erin
. We started out with the
race to Orkney
, which we abandoned in favour of getting on with our holiday due to boredom and a general lack of wind, putting in to Wick harbour for a night of rest, relaxation and scallops. Or rest and relaxation anyway. Aidan scored two dozen great big fresh scallops straight off an unloading fishing boat for a tenner, and I learnt how to open them by holding them with the flat shell uppermost, getting your sturdy sharp knife into a handy gap and cutting the flesh away from the top shell, slicing from the scalloped edge inwards, until the shell opens at the hinge (unlike opening an oyster where you crack open the hinge first). Then you can use your thumbs to pop away the skirt with any grit and black organs to leave the meaty white muscle and the orange/grey coral, which you can cut free and quickly rinse.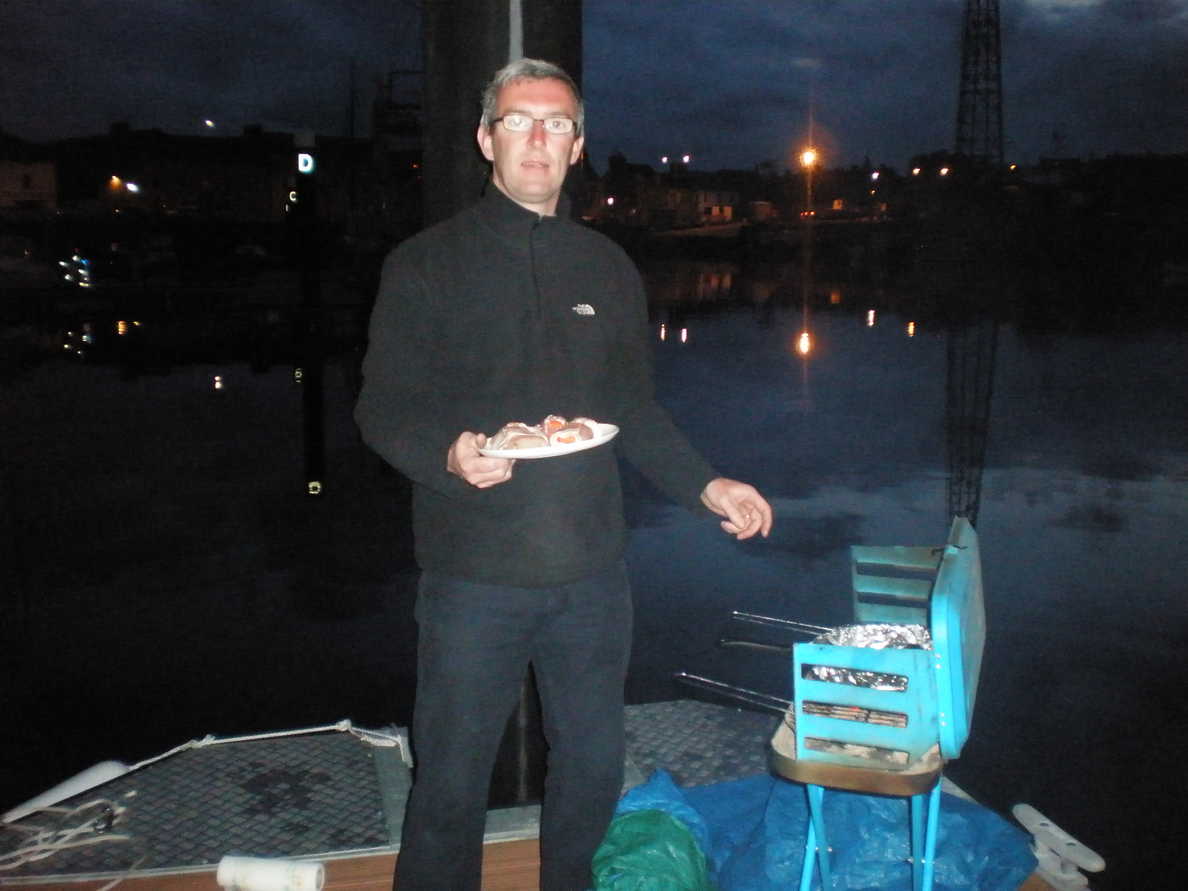 Unfortunately I also learnt that you should never attempt a barbecue without using just as much charcoal as it will physically hold.
So we will speak of half-barbecued, leathery scallops no more.
Next stop Stornoway where we picked up our holiday supply of
Charles McLeod
's most succulent and delicious black pudding. We were a bit worried after a previous disappointing experience with a
Stromness butcher
's dry and tasteless Orkney black pudding but we needn't have worried. The black pudding of Lewis fully earned its reputation.
I had been charged with the task of developing
Erin's signature West Coast dish
, and rather fancied attempting a stack of
black pudding,
caramelized apple rounds, or possibly baked parmesan disks
pancetta (BACON!),
scallops
lime-butter or Mornay sauce
We now had the black pudding, the apples, the limes and of course the bacon, but totally failed to acquire any more fresh scallops on our trip, so this dish is still just a distant dream!
In any case, wouldn't Erin's true signature dish be rather more
Dolmio
oriented?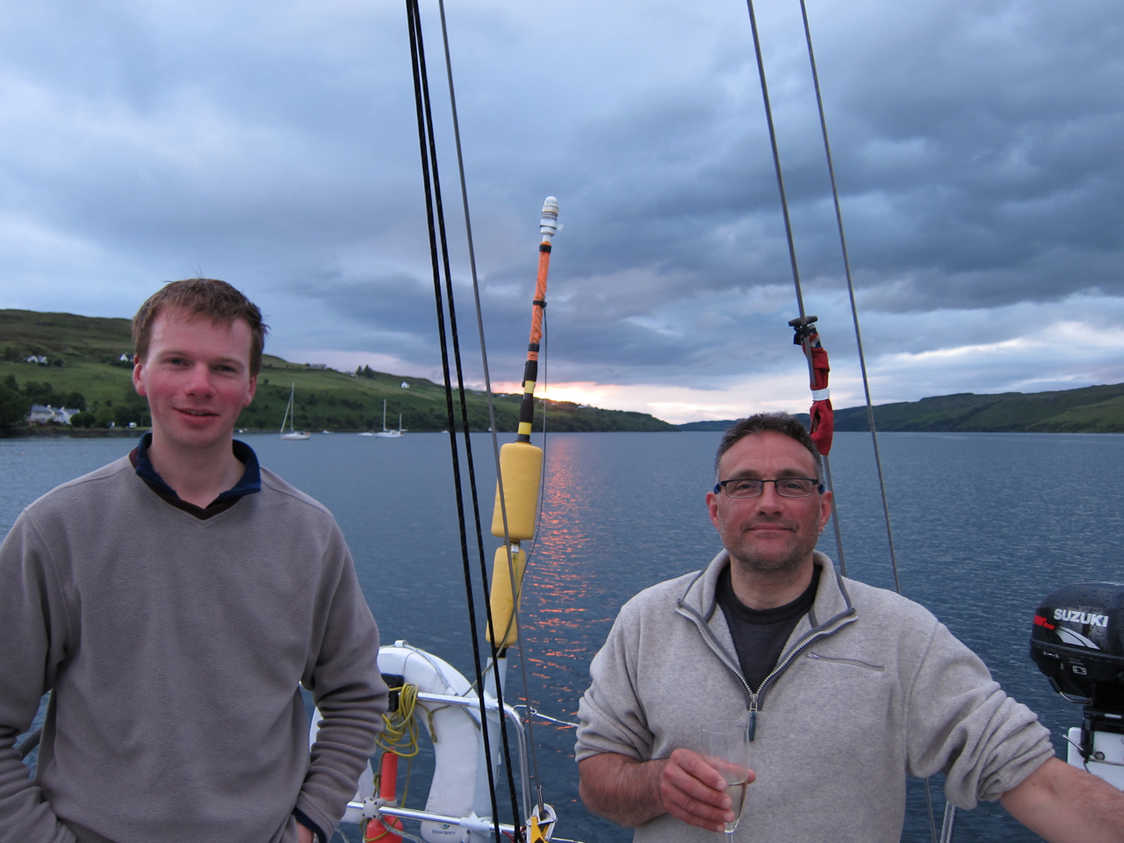 And so we munched our way around the Outer Hebrides:
- Lunching on Stornoway hot-smoked salmon whilst anchored off the Shiant Islands where we watched Guillemots harrass Golden Eagles attempting to feast on their children.
- Visiting Tobermory and enjoying both the deep-fried scallops from the (quite rightly)
Les Routiers award
-winning Fish and Chip Van on Fisherman's Pier and the night life at the Mishnish (Hi Alyson Filth! If that's your real name. That's the name I have in my phone anyhow.)
- Stopping off in Lismore to visit Luke's Grandparents and have an idyllic barbecue (using enough coals this time), giving me the chance to snag a bunch of Grandad's herbs and (thanks Luke!)
Grandma's fennel kedgeree recipe
, and giving Judith a chance to completely block their toilet with an enormous poo.
- Finishing up in Oban, on the sunniest day I've ever seen there, we lunched at
EE-USK
whose shellfish is just fabulous (More Scallops!), accosted a nice girl heading off to Belfast on the Jubilee Trust's
Lord Nelson
rust bucket, er, schooner (Hello Emma! If that's your real name).
We finally got the hell out of Dodge in Gus's (if that's his real name) shiny new BMW, sadly constrained by the number and speed of trucks, lorries and FUCKING CARAVANS.
I naturally did my fair share of cooking onboard, getting quite inventive with
lime
(there are
always
limes aboard - for the GinAndTonics don't you know) and
bovril
, foolishly attempting a
roast dinner
and finally making a nice
beef stew
on time, so I can now pass on Erin's simple shipboard cooking rules:
All food must be ready to eat the instant the crew is hungry.
There shall be no food ingredients used onboard unknown to Dolmio. A small jar of mixed herbs provides all the adventure cuisine requires.

Corollary: Dishes too Eastern, too Southern, too vegetarian or just too bloody foreign are not to be trusted. Irish stews, stroganoffs, goulashes and (certain) pasta dishes are acceptable, curries, tagines, and kebabs are not.
Beans (unless of the baked variety when they are compulsory) and, bizarrely, flour are largely frowned upon.
Spice is a terrifying prospect to be treated with extreme caution.

Each meal is required to include a goodly portion of meat.
Meat consists of beef, chicken, pork or sausages.
Lamb, duck or venison are dubious alternatives.
Mutton, veal, horse, whale, emu or any kind of offal are not meat and are prohibited.

Corollary: Vegetarians must bring their own food.
Corollary: Seafood is prohibited aboard the boat. (I know, boats float above a convenient and endless supply of fish, lobsters and scallops. Go figure.)

There is no possible higher culinary achievement onboard than chicken with peppers and onions in a jar of Dolmio sauce. This may be served over rice or pasta.
Crunchy, firm, Al Dente, tangy, zesty and tart are all terms synonymous with undercooked.
All dishes must contain bacon.
Actually the bacon one is my personal rule, I find a generous supply of bacon in their diet acts much like Valium on the crew mood. Or it did before the VEGETARIAN arrived! (Hi Maggie! If that's your real name)
Despite these explicit restrictions, it is sometimes nice to break out of the Dolmio straitjacket, smuggle some garlic, balsamic vinegar, flour or (shudder) spices on board and just go wild. So for those moments of madness I give you my recommendations for an easy life Cooking On Boats:
The pressure cooker is your friend
You can reduce the cooking times for stews or root vegetables by a factor of three or four. It isn't enough to simply have dinner ready for a planned time; once the skipper notices that you have started cooking he will expect dinner in the time it would take to warm Dolmio sauce. Therefore either start cooking while everyone's busy so they don't see what you're up to (and prepare to field questions such as

What's that awful smell?

) or COOK FAST.
Keep It Simple Stupid.
The Dolmio principle - one big pot of protein and another of starch is the place to start; stew and boiled potatoes, sauce and pasta, goulash and rice kind of thing. Make sure that what you're making can be abandoned at any stage, to put up a spinnaker for example, or will happily wait for the crew to come to table if they are delayed by circumstances well within the skipper's control. Over-boiled potatoes make perfectly acceptable mash by the way, if mixed with enough butter.
Once you're feeling adventurous, go for an extra side pot of green vegetables. But make sure you boil the fuck out of them. Crunchy vegetables are not to be trusted.
Treat It Tidily Stupid
Organise your dishes so that everything cooks sequentially going into pots, pans or the oven as you prepare the ingredients - so choose recipes wisely. This avoids the disaster of an unexpected tack (unexpected to the cook, obviously everyone on deck knows perfectly well what is going on, but to them you slave in an invisible magic kitchen) dumping all your bowls of lovingly prepared components into the bilges.
The best way to arrange this is to have one large pot for browning/crisping/frying and a large warming dish securely lodged in the sink. Cook each batch of ingredients as soon as they are prepared in this pot, then decant to the warming dish when done, freeing the pot for the next batch. Return everything from the warming dish to the pot at the end for their final simmering/stewing/burning.
Too much visible effort is not to be trusted
Cook food you can prepare, set cooking then leave alone while you clean up, do the washing and set the table for an unhurried and effortless final delivery.
The oven is not to be trusted
It is useful for keeping things warm, baking sausage rolls or pastries or even cooking things securely wrapped in tin foil but don't even think about using it to roast a dinner.
Something I learnt on this last trip - if the skipper randomly brings aboard a bunch of parsnips, telling you he enjoys them roasted and is a particular connoisseur of their quality, lose them overboard at the first opportunity.
It takes an hour to successfully roast par-boiled vegetables even in a reliable oven, and your ship's oven will randomly half-burn both you and the vegetables and cover the galley in a thin film of grease.
The skipper will certainly notice both the grease, and the fact that his dinner was not ready two hours ago, but will completely fail to notice the quality of your parsnips.
The sea is not to be trusted
On days which show any sign of getting rough, cook a big pot of stuff early and set it to one side so you can quickly reheat and serve it in less time than it takes to become ill.
Be inventive
The ingredients (officially) on board to cook with are very limited, so be adventurous with what you have. Fruit will enhance most dishes and is surprisingly undetectable, and those bottles of port and blackberry Genever that've been hanging around since the last New Year jolly can be smuggled into sauces quite easily. But be warned, flambéing is STRICTLY PROHIBITED. If seen.
Salt is your friend
This one's for Aidan (that IS his real name). Who hates and fears salt.
On the whole, I quite enjoy cooking within the restraints of a small galley, challenging conditions and limited resources, but that enjoyment is not always shared by my crewmates.
Roast Pork Chops Dinner
main side meat nautical
A roast dinner for unreliable ovens on boats.
This dinner will take at least 1½ hours to prepare, more like 2½ hours if you have to hoist spinnakers half way through boiling your veg. On the plus side, once everything is roasting in the oven there isn't a lot to do.
Serves everyone. Eventually.
1 pork chop per person
garlic
mustard
olive oil, lots of olive oil
carrots
potatoes
parsnips
Heat the oven to whatever approximates Gas 6, put in a roasting tray with a generous amount of olive oil and a couple of slices of bacon
Leave them to roast for an hour, basting regularly, or until the proportion of burnt vegetables exceeds the proportion of undercooked vegetables.
Meanwhile get on with the pork:
Line an oven tray with tin foil, fry the pork chops in batches in a little olive oil over a high heat just to give them a little colour.
Add each fried batch to the oven tray.
Peel and finely slice some garlic cloves.
Season the pork chops, smear with mustard and scatter over the garlic.
Tightly cover with tin foil and put into the oven.
Make your
apple sauce
, which will keep for as long as required.
Serve when the veg is ready.
Savoury Apple Sauce
sauce veg nautical
A nice apple sauce for cooking on boats. That have limes for GinAndTonics.
The onion is an unusual addition, but seemed to work nicely for a slightly savoury sauce to go with pork chops.
Serves 6 on the side.
1 smallish onion, grated
2 apples, peeled, chopped
juice of 1 lime
sugar
butter
salt
Peel and finely grate the onion into a small pot and set to simmer gently with a generous knob of butter.
Meanwhile, peel and core the apples and cut into pieces. Add these to the pot.
Add the juice of a lime (or to taste).
Season the sauce, add sugar as desired - maybe a tablespoon - demerara if you have it, and leave to simmer until the apple breaks down and the sauce thickens.
Lime and Caper Chicken
main fowl nautical
A one-pot tangy chicken cacciatore for cooking on boats.
You must have limes aboard - otherwise how can you drink your GinAndTonics?
Serves a crew of 6
6 pieces of chicken, preferably with skin on
peel and juice from 2 limes
juice of 1 orange
2-3 teaspoons capers, crushed
salt and pepper
½ teaspoon mixed herbs
4 cloves garlic
2-3 slices smoked bacon
olive oil
2 onions
2 bell peppers
starch to serve
Cut deep gashes into your chicken pieces, skin on would be best.
Grate the peel and squeeze the juice from 2 limes, Roughly crush a couple of teaspoons of capers. Mix everything together, add half a teaspoon of mixed herbs and season with salt and pepper.
Set aside to marinate for half an hour or so.

Fry a few chopped up slices of smoked bacon in a little olive oil to extract the fat, and when the meat is shrivelled and hard scoop it out and discard.
Shake the chicken pieces free of marinade and fry in the bacon fat until nicely browned.
While the chicken is frying, roughly chop the onions. Then set the fried chicken aside in the warming dish, reheat the pot adding more oil if required and fry the onions until lightly browned.
While the onions are frying, de-seed and roughly chop a couple of bell peppers, add the cooked onion to the serving dish, reheat the pot, add more oil if required and fry the peppers gently until they soften.
While the peppers are frying, peel and slice a few cloves of garlic and throw them in to the pot too.
When the peppers are ready, add everything from the warming dish back to the pot, add any leftover marinade, add the juice of an orange, and simmer for 20 minutes or until the chicken is cooked through and the sauce has evaporated and sufficiently thickened.

Serve with rice, or potatoes, or mash or pasta or even couscous. I suppose.
Bovril Broccoli
side nautical
Broccoli. Now with added Bovril. Perfect for cooking on boats.
Got a spare Bovril (or Oxo) cube on board? Don't waste it - add it to your broccoli!
Serves a crew
1 Bovril (or Oxo) cube
juice of 1 orange
1 large head broccoli
½ teaspoon ground black pepper
Mix the Bovril cube with just enough boiling water to dissolve it into a thick black sludge.
Separate the broccoli into florets and halve or quarter them as necessary.
Juice the orange.
Put everything in a small pot, add a generous grind of pepper, bring to the boil, cover, simmer until the broccoli is overcooked.
Drain off all evidence of Bovril.
Serve.
Oxo Mushrooms
side nautical
Mushrooms. Now with added Oxo. Perfect for cooking on boats.
Still not finished up all the Oxo?
Use the rest to give your mushrooms a deliciously deep and rich flavour.
Other stock cube varieties are also available.
Serves a crew
carton of button mushrooms, wiped
½ an Oxo cube
generous knob of butter
Wipe the mushrooms and cut in half or quarters if they're large. Pop them in a pan with a generous knob of butter, crumble over an unseemly amount of Oxo cube, cover tightly and let them simmer up gently until the mushrooms begin to collapse.
Beef Bourguignot
main meat nautical stew
Like Beef Bourguignon. But not. A quick beef stew with port for cooking on boats.
Like Beef Bourguignon, but not. A very straight-forward, but tasty stew, and a good way to use up some of that left-over port you have washing around on board.
Serves a crew of 6
1 large pressure cooker
olive oil
½ kg smoked bacon, sliced into lardons
2kg stewing steak, cubed
2 onions, roughly chopped
2 leeks, quartered, chopped
2 apples, peeled, cored, cut into eighths
6 garlic cloves, roughly sliced
6 button mushrooms, quartered
2 carrots, peeled, sliced, or a tin of carrots
6 potatoes, peeled, cut in eighths
1 cup port
1 teaspoon mustard
salt and pepper
Heat a pressure cooker pot over high heat. Cut the bacon into lardons and fry with a little olive oil until they release their fat. Scoop out the cooked (but not shrivelled) bacon, leaving the fat, into a large warming dish and set aside.
While the bacon is frying, cut the stewing steak into reasonable chunks, about 1". Reheat the pot. Brown the steak in batches in the pot reheating and adding more olive oil as required. Set each batch aside into the dish when it is browned or starts leaking water like a steam engine.
While the steak is browning, roughly chop the onions, reheat the pot, add more oil and fry them next.
While the onions are turning glassy and beginning to caramelise, wash and quarter the leeks and chop into rough pieces, add the onions to the dish with the meat and start frying the leeks.
While the leeks are frying, peel the apples, cut them into eighths and remove the section of core. add the leeks to the dish, reheat the pan, add more oil as necessary and caramelise the apples.
While the apples are caramelising, peel and roughly slice the garlic, then add to the pot with the apples until they start to release their aroma.
Deglaze the pan with the port, let it bubble for a while and scrape off any browned bits from the pot then add back the contents of the warming dish.
Whilst the pot is reheating, peel and chop your carrots into chunks (or open the tin) and add to the pot.
Peel the potatoes, cut into eighths and add to the pot.
Wipe the mushrooms, cut into quarters and add to the pot.
Add a teaspoon or two of mustard, season to taste, add a little water if necessary which you can use to rinse the warming dish, I wanted an inch or two of liquid in the bottom, but not too much - and certainly not to cover. Put the lid on the pressure cooker, get it up to temperature and leave to cook for 30 minutes.
Give it a good shake every ten minutes to make sure nothing is sticking and burning.
Wash everything up, clean the surfaces, set the table.
Serve the stew. It won't need anything extra (though I did consider couscous - quick and easy) - the potatoes will have started to break down nicely and it should be rich and thick.