Wine in the Mouth, Love in the Eye


      Love comes in at the mouth
      And wine comes in at the eye;
      That's all we shall know for truth
      Before we grow old and die.
      I lift the glass to my eye,
      I lick you, and I sigh.
    
Another short stay in Eyemouth. This one not short enough, however.
We planned a simple overnight visit - in and out on our way to Lindisfarne, but the sea had other ideas. It rose into mighty crests which burst heavily into the harbour entrance for two days preventing us from leaving. We were particularly put off by the sight of a trawler being almost rolled onto the beach by an enormous wave which broke across it as it cockily put out to sea.
Then just when we thought it was finally safe to leave and made our way out through the swell, a series of massive waves rolled in at just the wrong moment pitching our boat so much that our companions still ashore claimed they could see our propeller!
We did get down to Holy Island for a day though. A very nice day too, so it all worked out.
To sustain us during our elongated stopover, and compensate for our persistent failure to book ourselves a table at the fabulous
Churches
seafood restaurant, I made the most ridiculous ship-board meal I could think of for our last dinner - a
beef wellington
!
Bet you haven't had
that
on a boat before?
Eyemouths lamentable lack of digestible restaurants is easily matched by its dearth of food shops. It does boast a decent butcher , who also grows potted herbs out back and is happy to hand a few over with your surprisingly expensive order of meat. I don't imagine the local demand is large.
Otherwise there is a fantastic baker, a greengrocer with unfathomable opening hours that I assume exclude any daylight, and the standard Local Fucking Supermarkets™.
One of which did, in fact, stock a fresh herb. It was coriander. I did visit them on a Tuesday, so perhaps they stock a different herb on other days. Thank God for the butchers eh?
Beef Wellington
meat main nautical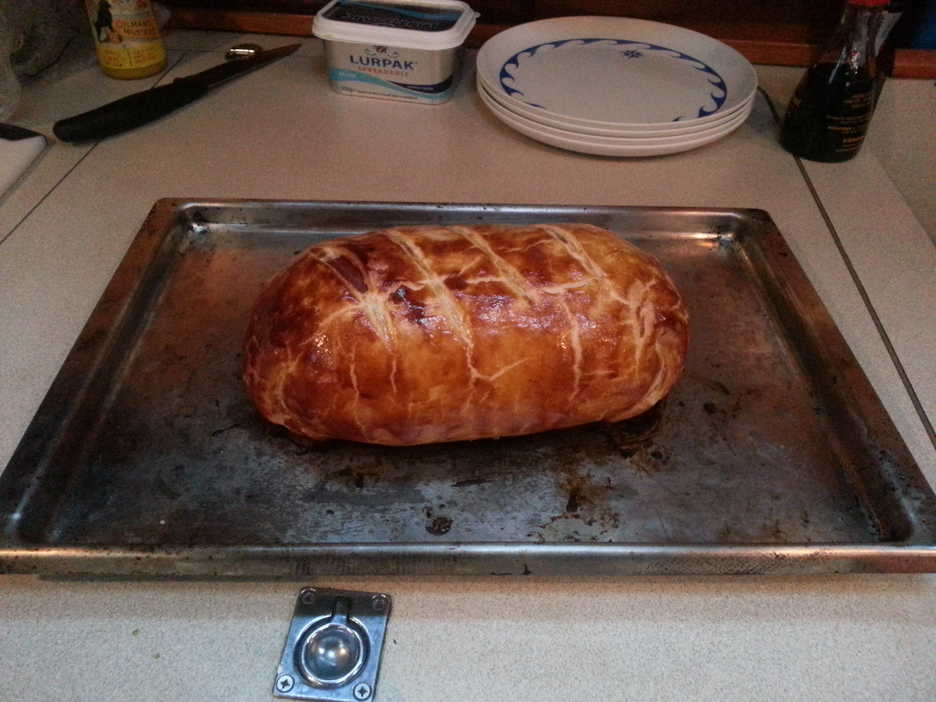 I loosely based my Wellington on a couple of
Gordon
Ramsay
versions adapted from his
Sunday Lunch
. You could try substituting (or adding to) the mushrooms duxelles with duck or chicken liver paté or with some blanched spinach a la
James Martin
. Or even foie gras. But do bear in mind that the beef fillet, for which you will have paid around £35 if you went to the same butcher I did, ought to be the unchallenged centrepiece of the dish.
The idea of the ham (or prosciutto) is to protect the pastry from the moisture cooked out of the meat. I'm not convinced it works, since the bottom of my pastry was still deliciously soggy, and possibly the ham detracts slightly from the beefy goodness?
Cava bottles do not make good rolling pins due to their conical shape - be sure to have a few straight beer or wine bottles to drink onboard too.
Broccoli in soy sauce goes well as a side dish, as does spinach. It's also good to have some kind of liquid to pour over the beef - you can deqlaze the frying pan with wine or madeira to make a quick sauce, or you could use the buttery stock from
pressure-cooked potatoes
Serves 6
400g chestnut mushrooms
egg yolk with a dash of water
thyme
400g puff pastry
Cava , or brandy, or madeira
2x 75g packs Parma ham (10-12 slices)
4 cloves garlic
2lb beef fillet
1-2 tablespoons English mustard
Heat the oven to 200°C/400°F/Gas 6

Heat a frying pan. Season the beef and rub all over with a little olive oil. Sear in the hot pan for 30 secs only on each side . (You don't want to cook it at this stage, just colour it.) Remove the beef from the pan and leave to cool, then brush all over with the mustard.

While the beef is cooling, chop the mushrooms as finely as possible so they have the texture of coarse breadcrumbs. You can use a food processor to do this, but make sure you pulse-chop the mushrooms so they don't become a slurry.
Heat 2 tbsp of the olive oil and 50g butter in a large pan and fry the mushrooms on a medium heat, with 1 large sprig fresh thyme, for about 10 mins stirring often, until you have a softened mixture. (Lightly) Season the mushroom mixture, pour over 100ml Cava and cook for about 10 mins until all the wine has been absorbed. The mixture should hold its shape when stirred. Remove the mushroom duxelle from the pan to cool and discard the thyme.

Lay a sheet of cling film on a work surface and arrange the Parma ham slices on it, in slightly overlapping rows. With a palette knife, spread the mushroom paste over the ham, then place the seared beef fillet in the middle. Keeping a tight hold of the cling film from the edge, neatly roll the Parma ham and mushrooms around the beef to form a tight barrel shape. Twist the ends of the cling film to secure. Chill for 15-20 mins to allow the beef to set and keep its shape.

Using a beer bottle roll out the puff pastry on a floured surface to a large rectangle, the thickness of a 1 coin. Remove the cling film from the beef, then lay in the centre. Brush the surrounding pastry with 2 egg yolks beaten with 1 tsp water. Fold the ends over, the wrap the pastry around the beef, cutting off any excess. Turn over, so the seam is underneath, and place on a baking sheet. Brush over all the pastry with egg and chill for about 15 mins to let the pastry rest.

Lightly score the pastry at 1cm intervals and glaze again with beaten egg yolk. Bake for 15-20 minutes until golden and crisp , then lower the oven setting to 180°C/350°F/Gas 4 and cook for another 20-15 mins.
.

Allow to rest for 10-15 mins before slicing thickly and serving with the accompaniments. The beef should still be pink in the centre when you serve it.



Pressure Cooked Potatoes with Parsley Butter
veg staple nautical
A quick and easy way to cook potatoes that also gives you a bit of sauce to work with. Would work similarly with other root vegetables - carrots, say.

I used the same technique to cook spicey potatoes for a curry too - browning the potoates first in a little oil flavoured with ground black pepper and red chilli flakes , then throwing in some garlic and a crumbled oxo cube before moistening with a little water.
Well, Anne liked them.
potatoes, preferably new
vegetable stock cube
mixed herbs (dried are fine)
softened butter, lots of butter
bunch parsley
Clean or peel the potatoes and cut into chunks if large.
Mash the stock cube with about a cup of water in the pressure cooker, add any dried or rooty herbs you fancy, season, bring to the boil and pressure cook for 10 minutes.

Meanwhile roughly chop a bunch of parsley and mash into a generous amount of softened butter. When the potatoes are cooked, dress with the parsley butter and serve, strained, reserving the stock to use as an anaemic gravy.
Broccoli with Soy Sauce
veg vegan side nautical oriental
This oriental-styled broccoli goes nicely with the a
beef wellington
. Don't overdo the soy - it's meant to be quite a subtle flavouring.
Serves 4
head broccoli, florets separated
oil
2 cloves garlic, finely sliced
soy sauce
basil leaves
Break the broccoli into florets and slice thick stalks into diagonal sections. Heat a little oil or oil and butter in a pan, add ground pepper and the broccoli (add any stalks first) and fry to colour lightly. Add the sliced garlic and fry to darken without burning. Add a generous, but not overwhelming splash of soy sauce, cover and simmer gently until tender.

Tear up the basil leaves and stir through the broccoli to serve.