A Fishy Supper

Another dinner for Flora. This time her demands were simple: So fish it is then.
Some quick-fried
prawns
with a
Horseradish Marmalade Sauce
to start, then speedy
fishy parcels
to follow, with instantly
grilled pak choy
and a fruity risotto-like
orzo pasta
dish that was not only fast but more tasty than it had any right to be.
The delicious
chocolate-flavoured dessert
is something I made earlier, and just needed reducing to thicken a sauce for serving.
With vanilla ice cream.
Which I bought in a shop.
Coconut Prawns
starter fish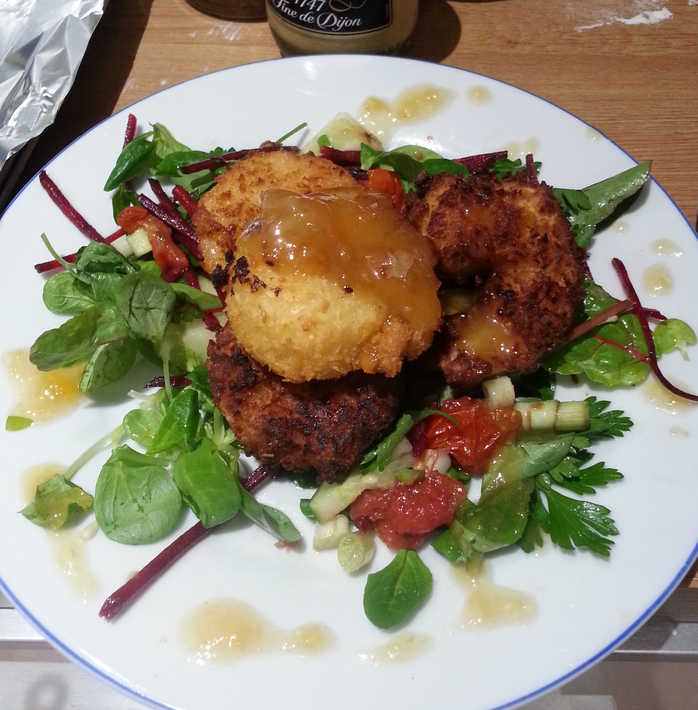 There's a lot of versions of this concept online, and I found
this one
.
The fishmonger had some nice-looking king prawns, so I made it with those instead, which worked just brilliantly. In any case, most of these online recipes are American, and those guys call every decapodal crustacean shrimp. Probably they'd call the prawns I used
Jumbo Shrimp
?
I think you want to use moist, sweetened shredded coconut rather than the normal desiccated variety which will be a bit too hard and dry.
You definitely don't want the oil to be too hot or the sugars in the coconut will burn. You want the prawns to turn golden brown in just a couple of minutes.
Serves 4.
Or a Couple of Pigs.
12 king prawns, or 24

shrimp

3 cups oil for frying
¼ cup plain flour
2 cups flaked coconut


1 egg
½ cup all-purpose flour
⅔ cup beer
1½ teaspoons baking powder
In medium bowl, combine egg, ½ cup flour, beer and baking powder. You're looking for a reasonably thin batter.
Place ¼ cup well-seasoned flour and the coconut in two separate bowls.
Hold the prawns by the tail, and dredge in flour, shaking off excess flour. Dip in egg/beer batter; allow excess to drip off.
Roll the prawns in coconut, and place on a baking sheet lined with wax paper or foil.
Refrigerate for 30 minutes. Meanwhile, heat oil to 350°F (175°C) in a deep-fryer.
Fry prawns in batches: cook, turning once, for 2 to 3 minutes, or until golden brown.
Using tongs, remove prawns to paper towels to drain.
Serve warm with your
favourite dipping sauce
.
Horseradish and Marmalade Sauce
sauce jam veg vegan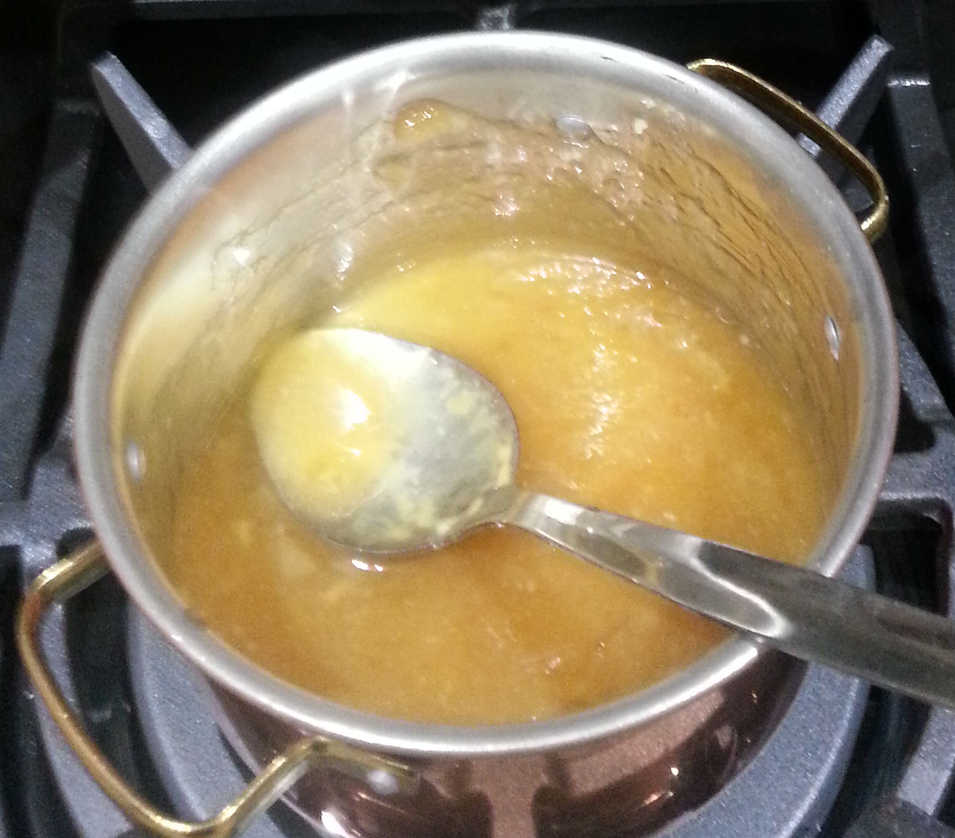 I used some freshly-grated horseradish in my sauce, though probably most of these online (and
American
) recipes are referring to
prepared
horseradish, which is just grated horseradish preserved in vinegar.
I didn't measure anything out so I don't know how close it was to the suggested quantities below, which seems a bit spicy to me. It's easy to overdo the mustard.
I also warmed my sauce up gently to serve as a dressing with deep-fried prawns, but I'm sure it would have been fine
I've seen a version that replaces the 2 tablespoons of mustard with a tablespoon of rice vinegar and some crushed red pepper.
Makes a Cup
1 cup orange marmalade
2-3 tablespoons horseradish
2 tablespoons Dijon mustard
Blend the marmalade, grated horseradish and mustard in the quantities above, or to taste. Loosen with a little water, orange or lime juice, or vinegar if required.
Oven-Dried Tomatoes
ingredient snack veg vegan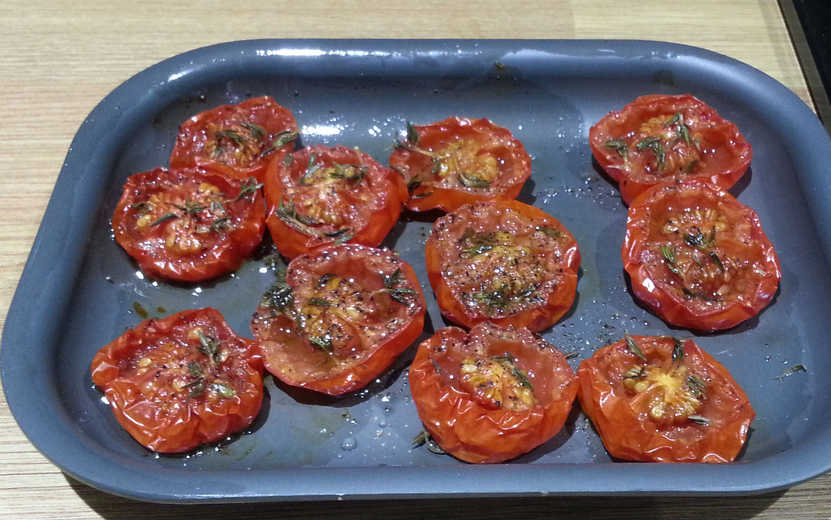 A bit like what Nigella calls
moonblush
tomatoes. Except these ones aren't left overnight, and dry out in a couple of hours.
cherry tomatoes
sea salt
sugar
thyme
olive oil
Preheat the oven to 220°C/gas mark 7/450°F.
Slice the tomatoes in half cross-ways and sit them cut-side up in an oven dish.
Sprinkle generously with salt, herbs and sugar .
Drizzle with olive oil.

Put them in the oven, give them a few minutes (up to 15) and then turn the oven down to gas mark 1-2 or off if you're following Nigella and leaving them overnight. Leave them to bake for a couple of hours, adjusting the oven temperature if they start to burn or don't seem to be shrivelling.
They're ready once they've shrunk to about half their original size, by which time their flavour will be nicely concentrated.
Witch Sole with Oven-Dried Tomatoes, Olives and Herbs En Papillote
main fish
The fishmonger had some nice fresh fillets of witch sole, so that's what bought.
I had some ready-prepared oven-dried tomatoes, and some cured black olives, and since Flora's place, where I was doing the cooking, didn't provide any other herbs or any tapenade (which would have been preferred) I went with what I had.
One Parcel per Person
1 fillet with sole
a few oven-dried tomato halves
a few halved black olives
a few tarragon leaves
a drizzle of gin
Cut a circle of greaseproof paper and lay a circle of aluminium foil on top (or just use the paper if you're feeling brave).
Fold in half to get a crease in them, lay in the filling ingredients (off-centre to allow for folding), drizzle with gin (or other liquor), fold carefully and seal thoroughly.
Put into your hottest oven for 15 minutes or until the package puffs up.
Remove immediately.
Grilled Pak Choy
side veg vegan
Pak choy grills well, like chicory, but without the edge of bitterness. Though it can turn a bit leathery.
Allow one small bulb per person
pak choy
olive oil
soy sauce
garlic, fruit zest, herbs, olive slivers or other flavours
Slice the pak choy in half and lay on a grill pan.
Drizzle with olive oil, soy sauce, give them a grinding of salt and pepper, and scatter with any choice of herbs or zest.
Grill until blackening at the edges and tender in the centre

Try and arrange the grill so that the thick root end of the stalks are either nearer the heat or closest to the centre of the grill.
Pears Poached in Chocolate
dessert veg vegan
A recipe I found in Tom Kitchin's
Kitchin Suppers
while looking for dinner ideas in Waterstones bookshop.
Serves 4
4 medium ripe pears, preferably Comice, Williams or another roundish variety


400ml water
100g caster sugar
100g good-quality dark chocolate (70% cocoa solids), in pieces
juice of ½ lemon
For the poaching liquor, put the water, sugar, chocolate and lemon juice into a medium heavy-based saucepan. Heat gently, stirring occasionally, until the chocolate is completely melted, then allow to simmer for 10 minutes.

Meanwhile, carefully peel the pears, keeping their shape and leaving the stems intact. Scoop out the core and seeds from the base . Cut a thin sliver off the bases so the pears will stand upright.

To poach the pears, gently lower them into the simmering poaching liquid. Cover with a piece of parchment paper and weight down with a heatproof plate that fits inside the pan, to keep them submerged. Poach gently for 30-40 minutes, or until the pears are just soft, but retaining their shape. Using a slotted spoon, lift the cooked pears out of the pan onto a warm plate. Increase the heat to medium and let the poaching liquor bubble steadily until reduced to a glossy chocolate sauce with a syrupy consistency.

Serve the warm pears with the hot chocolate sauce poured over and a scoop of vanilla ice cream on the side.